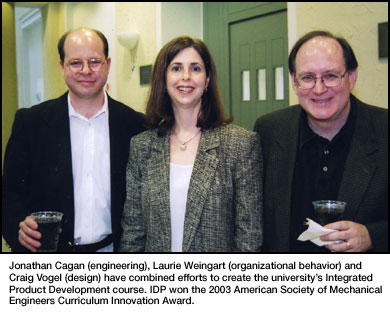 Product Development Course Wins Curriculum Award
Carnegie Mellon's Integrated Product Development (IPD) course received the 2003 American Society of Mechanical Engineers (ASME) Curriculum Innovation Award last month in Washington, D.C. The course is taught by an interdisciplinary team of faculty including Jonathan Cagan, professor of engineering; Craig Vogel, professor of design; and Laurie Weingart, professor of organizational behavior and theory.
ASME annually recognizes one course in mechanical engineering or mechanical engineering technology within higher education as a way of encouraging the distribution of exemplary curricular innovations throughout the engineering academic community. The award is given to the course that demonstrates a significant advancement in engineering education, has the potential for significant impact on meeting the changing needs of the profession, has the ability to be adapted by many schools in an affordable and effective manner and could be widely adopted.
During the course, engineering, industrial design and MBA students collaborate in interdisciplinary teams to create products for a corporate sponsor. Previous sponsors of the course include Ford Motor Company, BodyMedia and Respironics. Ford was so impressed with prototypes created by the students in the past that the company has patented five of the products students designed for the Ford F-150® and the Ford Escape SUV®.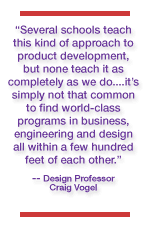 "Several schools teach this kind of approach to product development," said Vogel. "But none teach it as completely as we do. Carnegie Mellon is the right size for true collaboration, and it's simply not that common to find world-class programs in business, engineering and design all within a few hundred feet of each other. This is part of what makes Carnegie Mellon unique as a university and what makes IPD so successful."
In the course, students learn the ideal method for product creation according to Cagan and Vogel's 2002 book, "Creating Breakthrough Products." The approach—team integration based on fulfilling the needs, wants and desires of customers— is organized into four phases: identifying, understanding, conceptualizing and realizing an opportunity to create a product that will be highly valuable to a customer.
"It is the best way to close what we call the 'Product Opportunity Gap' between what is currently on the market and new or improved products resulting from emerging trends," said Cagan. "Engineers often skip the 'understanding the opportunity' phase. Bringing the marketers, designers and engineers together at the beginning of the process can increase creativity, lower investment costs, shorten production pipelines and teach colleagues with different perspectives how to work better together."
"Interpersonal and intra-team communications, understanding and bridging perceptual gaps, and constructive approaches to team negotiation are critical to a successful process," said Weingart. "Teams learn to leverage their functional differences—differences that could otherwise lead to misunderstandings, lack of communication or irreconcilable arguments. By working together, team members develop an understanding of and respect for what the other disciplines can offer."
"Winning the ASME 2003 Curriculum Innovation Award is a major achievement for the faculty teaching the course, the deans of the colleges supporting the course and the university for its commitment to interdisciplinary education," said Vogel. "We may be the first university to receive this award with three faculty from different colleges named as recipients. It helps to confirm that Carnegie Mellon is helping to shape the future of university education. As an industrial design educator, I am honored to be recognized for a contribution to another discipline."
Top
—Mike Laffin