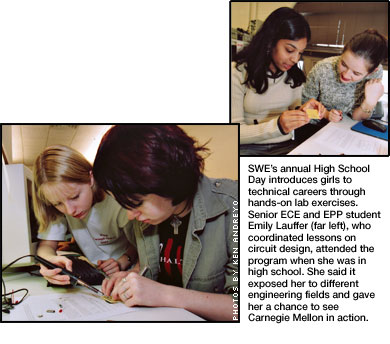 SWE Connects High School Girls with Engineering
"Have you ever soldered before?" Electrical and Computer Engineering (ECE) Lecturer Tom Sullivan asked the eager young crowd.
Although a few hands shot up, most of the 30 high school juniors and seniors had no experience building circuits, but Carnegie Mellon's student chapter of the Society of Women Engineers (SWE) soon changed that. ECE juniors Lisa Gentry and Yun Zhou organized SWE's annual High School Day, which introduces girls to technical careers through hands-on laboratory exercises led by faculty and SWE members. Recruiting teenagers from high schools within 60 miles of campus, this year's event brought nearly 250 prospective engineers and scientists to Carnegie Mellon earlier this fall.
"Engineering is such a broad and exciting field, and our goal for High School Day is to pass that sense of excitement on to high school girls who are potentially entering a technical field," said Zhou. She hoped to motivate students by showing them the creative and dynamic nature of an engineer's work.
ECE and Engineering and Public Policy (EPP) senior Emily Lauffer coordinated lessons on circuit design in which all of the girls built their own small flasher circuit using the same type of kit from the Introduction to ECE course. Each circuit had a printed circuit board, resistors, adjustable light emitting diodes (LED) lights, a capacitor, invertors, a battery and wires connecting the components. SWE members showed the girls how to measure high and low voltage, capacitance and resistance.
Bhavani Ramesh, a junior at Winchester Thurston School, dove into the activity. "I am really interested in engineering because I like math and science," she said.
Renee Leroy from Butler High School also enjoyed the chance to put her technical skills into action. "It (the day) shows you what it will be like if you go into that field," she said, adding that many of her peers don't know the difference between the various engineering disciplines.
Leroy, who attended the program with her mother and aunt, plans to study electrical and computer engineering. Renee's mother, Kim, was happy that her daughter had the chance to sample the vocation before college. Linda Mueller, Renee's aunt, knew the activities would be challenging. "It's interesting. They can see what they are getting into. It's not always as simple as they think," she said.
Lauffer's own experience before college led her to take charge as an ECE student. When she participated in the High School Day as a high school student, she knew about the different types of engineering because her father is an electrical engineer. But Lauffer realized that many of her classmates weren't acquainted with the occupation.
"I want to make sure girls are exposed to the field and see it as a possible career path," Lauffer explained. "I always knew I wanted to be an engineer, but this program exposed me to the different fields within engineering. It also gave me the chance to see Carnegie Mellon and encouraged me to attend."
Deborah Lange, a research engineer in the Department of Civil and Environmental Engineering, delivered the seminar's keynote address on the engineering profession.
Throughout the day, students participated in up to four hands-on sessions that accommodated 20 to 30 students each. These labs included topics in chemical, mechanical and materials science engineering as well as EPP, chemistry and virtual reality activities. Nearly 100 students took advantage of tours of Carnegie Mellon's clean room, conducted by Nanofabrication Facility Director Chris Bowman. A panel of Carnegie Mellon students was also on hand to answer questions about college life and engineering.
SWE's mission is to "stimulate women to achieve their full potential in careers as engineers and leaders, expand the image of the engineering profession as a positive force in improving the quality of life and demonstrate the value of diversity." Their High School Day is just one way SWE achieves this goal. Other SWE outreach programs include a career guidance workshop for girls in Pittsburgh's public schools, a technical opportunities conference and a technical internship expo.
Top
—Jessica Kreger