Carver Offers Tips To Avoid Tearful Holidays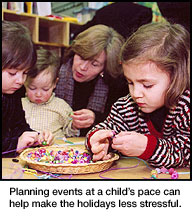 The holidays can be the most wonderful time of the year—especially for children—but they can also be stressful. Sharon Carver, director of Carnegie Mellon's Children's School, offers a few tips to keep the holidays fun for children and relaxing and memorable for parents.
1. Take your time. Children enjoy helping in family preparations (such as decorating, gift wrapping and table setting) when parents allow the time to follow children's pace. Gift-giving also should be leisurely; allow children time to play with special gifts before rushing them to the next item.
2. Keep it simple. Be realistic about your child's tolerance for excitement and novelty. Dress children in comfortable clothes and bring your own "child-appropriate" foods if you anticipate hosts will serve unusual or sugar-filled foods. Expect more shyness than usual in crowded situations with people who haven't been seen recently.
3. Pace yourself. Space exciting events widely so the family can rest and prepare carefully; relax and discuss each event afterward. Plan only a few activities that require changing sleep patterns.
4. Give extra hugs and kisses. Holidays can be stressful times for all family members. Extra attention and affection from parents can help children relax. Bringing a special toy from home can also provide the comfort a child needs in a new situation.
"The key point is to keep the holidays in developmental perspective. What will matter most 10 years from now is the relationships you have built along the way, so focus each day on positive interactions that celebrate family connections," Carver said.
Top
—Jonathan Potts