At its staff recognition awards ceremony this spring, the Mellon College of Science (MCS) honored staff members for outstanding achievement based on their job performance, commitment, attitude and teamwork.
Cynthia Davis (middle), business manager in the Department of Biological Sciences, received the $1,000 Merit Award, given to an MCS staff member or team for outstanding service. Nicole Pavetti (left), student program assistant in Biological Sciences, received the $200 MCS Rookie Award. Margie Zamborsky (right), financial assistant in the Molecular Biosensor and Imaging Center, and Kenneth Hackworth, senior computational science consultant with the Pittsburgh Supercomputing Center, both received the $250 MCS Outstanding Achievement Award.

SEI Director Accepts VP Post at Georgia Tech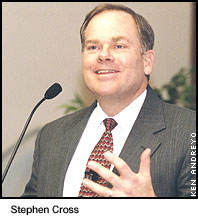 Stephen E. Cross, director and chief executive officer of the Software Engineering Institute (SEI), has been named vice president at the Georgia Institute of Technology and director of the Georgia Tech Research Institute, effective September 1.
Carnegie Mellon Provost Mark Kamlet said that Cross has exemplified and personified excellence in leadership during his tenure at the SEI.
"Steve's passion for the advancement of better software engineering practices has positioned the SEI, and thus Carnegie Mellon, as a leader in software engineering and Internet security," Kamlet said. "We will miss his leadership, his vision and his energy."
Cross has been the director of the SEI since 1996. He joined the university in 1994, acting as a member of the research faculty and as the director of the Information Technology Center, a department in the School of Computer Science.
"The SEI operates at the leading edge of technical innovation, and I have been honored to lead this organization for the past seven years," Cross said. "The SEI is a great place to work, and its technical staff has had truly remarkable impact in the world. I have been personally inspired by all of the accomplishments of everyone within this organization."
Angel Jordan, University Professor of Electrical and Computer Engineering, Emeritus, has been named acting director of the SEI. Jordan, former Carnegie Mellon Provost and a founding father of the SEI in 1985, received the SEI's Director's Office Award for Excellence this past spring and the SEI Auditorium was renamed the Jordan Auditorium as a tribute to his contributions.
"More than any other person Angel Jordan was responsible for the creation of the SEI," said Provost Mark Kamlet, who is chairing a search committee for a new director. "Angel's been highly involved in its activities and is very familiar with all of its aspects. The university is very grateful for his willingness to become acting director as we search for Stephen Cross's successor."
Tiny Procession at Children's School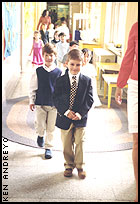 Carnegie Mellon's Children's School held a graduation ceremony for 22 kindergarteners and their families to celebrate the school's achievements during the past year. The Children's School, founded 35 years ago as part of the Psychology Department, received accreditation this year from the National Association for the Education of Young Children.

MAM Program Celebrates 15th Anniversary
More than two dozen executives of national and local arts and arts service organizations gathered to discuss management issues and strategies at a mid-May forum hosted by the Master of Arts Management (MAM) program in honor of its 15th anniversary. The MAM program is an interdisciplinary joint graduate program of the Heinz School and the College of Fine Arts.
Participants included executives from nearly all of the national arts service organizations as well as a number of prominent arts managers and experts, faculty, staff, students and alumni.
MAM educators hope to use information gained in discussions throughout the celebration to enhance academic programs to meet specific needs.
For the past 15 years the MAM program has provided graduate students with the organizational and management skills necessary to lead arts organizations and cultural institutions in today's complex social and economic climate. The program draws upon academic, research, arts and management expertise from both the Heinz School and the College of Fine Arts to provide rigorous management training with a specific focus on arts organizations.
GSIA Rewards Staff for Excellence, Service
MBA Program Assistant Joyce Maszle received the Staff Excellence Award at the Graduate School of Industrial Administration's (GSIA) recent staff recognition ceremony. The Team Award went to the GSIA Work Processing Center: Amy Ashley-Matta, Shane Barnhill, Rosanne Christy, Jeff Easter, Angela Labuda, Rosemarie Lang, Mary Ann O'Brien, Lawrence Rapp, Carol Salerno and Bonnie Schultz. Executive Director of Finance Richard Schaeffer was honored for 25 years of outstanding service to GSIA.
Alumnus Philip Dowd Creates New Seed Fund
Carnegie Mellon alumnus and trustee Philip L. Dowd (E'63) has created a new, $1-million seed fund to support graduate research. The Philip and Marsha Dowd Engineering Seed Fund, administered by the Institute for Complex Engineered Systems (ICES), is designed to foster multidisciplinary research and provide seed support for innovative research on projects by graduate students for which traditional sources of funding may not be readily available. Two graduate student fellowships will be awarded per year.
Mentors Help Middle-School Students Win State Competition
Two middle school students in the Carnegie Mellon/Milliones Physics Concepts Program were honored at the recent Pennsylvania Junior Academy of Science State Competition in Harrisburg. The students, from Milliones Technological Academy, a middle school in the Hill District, worked one-on-one with Carnegie Mellon student mentors.
Charles Gipson, a seventh grader, worked with architect major Yu Hsien to construct chalk bridges with various supports to test the concepts of tension versus compression. Gipson developed a chalk bridge that could withstand a load of more than 35 pounds.
Janthina Johnson won a second-place award for her work with physics major Denia Djokic to perform a spectral analysis of the sun. By analyzing the spectra of known atomic systems and comparing them to the sun's spectrum, she could identify some of the major components of the sun.
Gipson and Johnson were among a group of about 30 students who studied physics concepts and developed experiments to test related hypotheses as part of the Carnegie Mellon/Milliones Program, led since 1998 by Professor Leonard Kisslinger. Professor Thomas Ferguson is co-coordinator of the program, which receives support from the Buhl and Grable Foundations and relies on assistance from Principal Lecturer Barry Luokkala and Special Lecturer Stacey Benson.
NREC Wins Grant To Build Unmanned Ground Vehicle
The National Robotics Engineering Consortium (NREC), part of the Robotics Institute in the School of Computer Science, has been awarded a $2.3 million Phase II contract from the Office of Naval Research to continue development of the U.S. Marines' Tactical Unmanned Ground Vehicle (TUGV).
The NREC-led Team Excalibur won the Phase I contract in June 2002 and has completed preliminary design and analysis of a highly mobile vehicle suitable for a variety of expeditionary missions conducted by the Marines. The team will now complete the vehicle's design, assemble a prototype and conduct operational demonstrations early in 2004. Initial fielding of TUGV is expected in 2006.
The TUGV is planned to be a robust, easy-to-transport, semi-autonomous, multi-purpose vehicle system possessing a scouting and direct engagement capability. It will provide the Marines with remote reconnaissance, surveillance and target acquisition; nuclear, biological and chemical reconnaissance; obstacle breaching; and direct fire capability to neutralize threats and reduce risk to the soldier.
University Receives Award for Innovative Use of Technology
The American Council on Education (ACE) has awarded Carnegie Mellon's Institute for Strategic Development an ACE/AT&T Award for Technology as a Tool for Internationalization. The award recognizes the innovative use of technology to promote international learning at U.S. colleges and universities. Only six institutions were selected nationwide to receive the honor. The program, which offers awards in the amount of $7,500, is underwritten by a grant from the AT&T Foundation.
"Internationalization is a vital component of Carnegie Mellon's strategic plan," said Paul Goodman, director of the Institute for Strategic Development and professor of organizational psychology in the business school. "One part of this strategy is to create novel learning environments that will help our students operate in a global setting," he added. "We have focused on technology-enhanced learning to internationalize education."
Carnegie Mellon's approach links students in Pittsburgh with students in other countries to facilitate global, educational dialogues and collaborate on problems in a real-time environment. In one course, two undergraduate students at Carnegie Mellon worked as part of a "virtual team" with two students from Delft University in the Netherlands though a technological educational environment using interactive video, a specially designed Web-based document system, videoconferencing, email, chat rooms and the telephone.
Students to "Blast-Off" at RoboCamp
Students in grades six through eight can learn about the challenges, science and excitement behind creating robots at this year's RoboCamp, sponsored by the Robotics Academy at Carnegie Mellon's National Robotics Engineering Consortium (NREC). The theme, Planetary Robotic Odyssey Beta Expedition (PROBE), will allow students to "blast-off" in robot expeditions journeying into the far reaches of outer space.
The NREC will host six sessions of the week-long day camp in July and August. Two of those sessions—July 7-11 and August 4-7—will be open for girls only. For more information about the camp, visit www.rec.ri.cmu.edu/education/