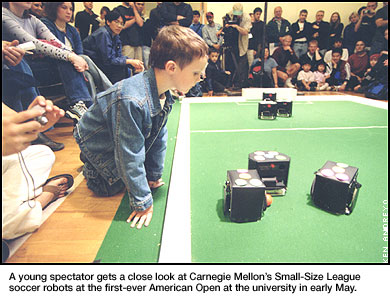 Padua, Italy Next Stop for RoboChamps
Carnegie Mellon's autonomous robot soccer team in the Sony Legged League will defend its world championship at RoboCup 2003, July 2-11, in Padua, Italy. Last year Carnegie Mellon's soccer-playing "dogs" defeated the University of South Wales, Australia, in the world title match 2-1 in penalty kicks after regulation play ended in a 3-3 tie. RoboCup 2002 was held in Fukuoka, Japan.
At the first-ever American Open, held at the university in early May, Carnegie Mellon placed first in the Sony Legged and Small-Size leagues. Carnegie Mellon's robot soccer program is headed by Computer Science Professor Manuela Veloso and Robotics Institute Systems Scientist Brett Browning.