New Award Category Rewards Inclusive Workplace Culture
There will be a new face at the Andy Awards this year—and it won't be one of the nominees. Among the standard awards for Innovation, Enthusiasm, Citizenship and Dedication, will be a new award for Fostering a Balanced and Inclusive Workplace Culture.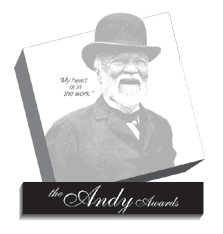 Called "Culture," for short, the new category recognizes an individual or group whose initiatives and achievements demonstrate a commitment to providing a welcoming environment, related in particular to diversity, professional development and/or work/life balance. Nominees should have created a positive and supportive work environment and should bring out the best in each individual and organization by recognizing the potential in every person.
"By recognizing individuals and teams that are 'fostering an inclusive workplace,' we hope to integrate this value into the culture of the university and focus attention on its importance to the university," said Barbara Smith, assistant vice president for human resources.
The development of the category stems from the results of a morale study completed by Human Resources last summer. While the results were mostly favorable, there was some concern from employees about receiving proper recognition from supervisors and about opportunities for career development. Introducing an Andy Award for commitment to providing a welcoming work environment encourages supervisors to do just that—and boost employee morale in the process. The award was also inspired by a diversity culture/climate study performed in 2001.
Smith noted that the award also aligns with the university's strategic plan, which articulates Carnegie Mellon's commitment to "community success" and underscores the university's dedication to all aspects of diversity.
If you know someone whose hard work for Carnegie Mellon should be rewarded, fill out the nomination form at www.cmu.edu/andyawards/. Nominations for the 2003 Andy Awards will be accepted until July 18, and two statements of support must accompany each nomination. Winners will be announced at the awards program in the fall.
Top
Susan Cribbs