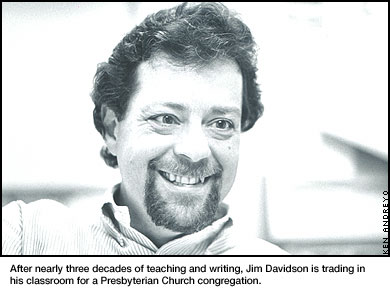 Teacher, Editor Has "Something New To Do Right Now"
Jim Davidson has been a successful writer in almost every type of outlet possible.
He's been a staff writer for the Sunday magazine section of the late Pittsburgh Press, as well as a city desk reporter and editor of the paper's lifestyle section. He's taught English composition or American studies at five colleges, and has been a freelance writer for numerous publications from magazines to legal reports.
Most recently, he's been the editor of Carnegie Mellon's Focus and an adjunct professor in the university's English Department. His journalism and news writing classes are staples for students with dreams of being professional writers.
But this past May marked a milestone in Davidson's life. After nearly three decades of teaching and writing, he's trading in his classroom for a congregation. Davidson is working toward ordination as a pastor in the Presbyterian Church.
The transition from writer to pastor might seem like a giant leap for most people, but when asked about his decision, Davidson merely smiles as though the choice were an easy one.
"The decision really came out of the experience of losing my job at the Pittsburgh Press in 1992 and, in that next year, spending a lot of time talking to other former Press people who were trying to figure out what to do with their lives," he said. "I was given this rare second or third chance in life where I could sit down and do what I wanted to do instead of just moving automatically ahead in a job I really liked—and probably would have kept until I retired.... What I concluded was that God had given me a gift of being able to be with people in a pastoral way."
It wasn't until 1998—nearly six years later—that he decided to take action on that conclusion. Davidson attended East Liberty Presbyterian Church with a professor from the Pittsburgh Theological Seminary and "after tossing and turning one night, not being able to sleep, the idea of taking some courses popped into my mind. I called my professor friend and he sent me over to the seminary." Davidson was allowed to sit-in on a course that spring, had a positive experience in it and decided to apply to the master of divinity program at the seminary.
"I started that fall and never looked back," he said.
His goal is deceptively simple. "I would like to be a pastor in a church, ...doing all the things a pastor does," he said.
But the road from master's student to graduation and, ultimately, ordination as a pastor, isn't an easy one. Students in the seminary are required to take 37 classes in subjects like history, theology, pastoral care, Hebrew, Greek and ethics. While the school operates on a quarter system, the program still amounts to three years of study for full-time students. With editing Focus, teaching courses and completing assignments as a freelance writer, Davidson took four years to finish his master's degree. He graduated from the program last spring.
Holding a master of divinity degree is only the first step in becoming an ordained Presbyterian minister, though. Candidates for ordination must also complete a rigorous set of five written exams in Bible content, theology, worship, church polity and either Greek or Hebrew exegesis. Davidson took most of those exams this past February and will take his final one in September. This fall, he hopes to become an official candidate for ordination, and after that to be approved by the ruling body of the Presbyterian Church to apply for a position as church pastor. The process isn't a predictable one, but Davidson hopes to have his own church to lead in 2004.
Until that time, he'll continue the work he does as a freelancer and as a writing tutor for international students at the seminary. He also has numerous preaching engagements this summer at churches whose full-time ministers are on vacation. "Other opportunities will present themselves," he said with a smile. "I just don't know what they are yet."
Davidson passed his keys to the Focus office on to its new editor, Head Science Librarian Lynn Berard, last month, but he has Carnegie Mellon memories that will stay with him long into his pastoral career. Some of his favorites include holding a class in the third-floor hallways of the College of Fine Arts more than once because they were locked out of the room, and listening to experimental theater director Robert Wilson speak about his craft for three or four hours on campus. Davidson also said that one of the highlights of his time at Carnegie Mellon was talking to President Cyert for a few hours one afternoon. "I was there for a story," he said, "but it went beyond that."
What will he miss most about Carnegie Mellon? "The day-to-day contact with the students," he said quickly. "That's high on the list." He also noted that he'll miss his location in the Old Student Center "where there's wonderful Indian food and great people in the post office." He'll also miss his working relationship with Focus Managing Editor Brian Connolly and the time he spent in the classroom, although he's confident he'll stand in the front of one again someday.
As he walks into a future that holds different experiences from those he's known thus far in his career—and is more than a little uncertain—Davidson is quick to note that he is hopeful and excited about the new opportunities in his life. "I think there's a real temptation to stay too long in places and just let inertia take over. I've got something new to do right now and I'm eager to go do it."
Top
Susan Cribbs