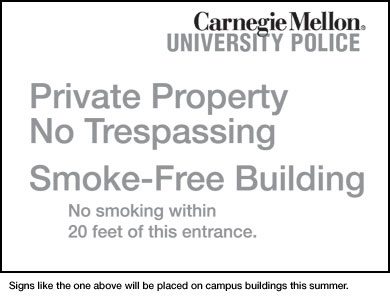 Council Approves New Campus Smoking Policy
On a walk across campus, it's common to see employees sitting directly outside a building, having a cigarette. Beginning in September, though, those smokers will have to move a little farther away from entrances to campus buildings when they light up.
It's all part of Environmental Health and Safety's (EH&S) new smoking policy, which passed unanimously at the May 8 meeting of the President's Council. The new policy establishes more stringent guidelines for students, faculty and staff smoking on the Carnegie Mellon campus.
"Eighty percent of the campus wants to be smoke free," said Madelyn Miller, director of EH&S. "We're going to try to accommodate the smokers and the other 80 percent that doesn't even want to come into contact with second-hand smoke.
"In general, the policy calls for courtesy, respect and cooperation among all members of the community. Acceptance of the new smoking policy is going to be a culture change," she said.
The biggest difference outlined in the policy is a new 20-foot, smoke-free buffer zone around entrances to campus buildings. These areas will be clearly marked with signs indicating that members of the campus community won't be permitted to smoke in those areas. There will be designated smoking areas, complete with self-extinguishing ashtrays, near each building, though.
"We don't want smokers near operable windows or places where there are air conditioners that would pull smoke in. As long as there are inoperable windows in areas where smokers can be protected with an overhang, we're going to make sure they can be accommodated," Miller said.
Miller also noted that not all campus buildings would have their own smoking areas. Buildings that are close to one another, like Porter, Hamerschlag and Wean halls, may share one central smoking location.
The new policy also prohibits smoking in all university offices unless they are designated as a specific smoking area by EH&S. In order to be considered an indoor smoking area, the room must be clearly posted as a designated smoking area, have floor to ceiling walls, be used solely for smoking (not for university business) and have a ventilation system that prevents second-hand smoke from entering adjacent areas or air-handling systems. Any costs incurred for making these areas adhere to EH&S requirements must be assumed by the requestor.
Smoking will also be prohibited in all campus dining areas and university-owned buses, vans and police vehicles. The Student Dormitory Council (SDC) voted to end smoking in private rooms in campus residence halls last February. All residence halls are now smoke-free with the exception of Fairfax and Webster, which will remain smoking environments to accommodate smokers.
EH&S developed the new smoking policy, but Miller said the initial drive toward making Carnegie Mellon more smoke-free began about three years ago in different organizations across campus. One of those groups was Housing Services.
A recent Harvard School of Public Health survey found that smoking among college students increased from 22 to 28 percent from 1993 to 1997. The study also showed that half of college-aged smokers tried to quit at least once in the preceding year and that those students were 40 percent less likely to take up smoking again when they lived in smoke-free dorms.
In response to this data and concerns expressed by students, Housing formed a task force of students, faculty and staff in 1999 to investigate smoking in residence halls. The group slowly began working toward smoke-free residence halls. In 2000, Housing introduced the first non-smoking floors in residences halls. The following year, 33 percent of all university-owned rooms were designated as non-smoking. That number reached 66 percent in 2002.
While Housing was busy developing its new smoking policy, Staff Council was receiving numerous complaints from employees bothered by second-hand smoke. There was also concern about the amount of smoke employees walked through to enter buildings.
As a result of these complaints, Staff Council formed a no-smoking policy subcommittee in the fall of 2001. The committee outlined a policy that EH&S thought was in line with their own concerns and those of Housing Services.
In 2002, these independent campaigns to reduce smoking on campus were united into a central effort, headed by EH&S, which resulted in the new policy. It has since been reviewed and approved by Staff Council, Student Senate, the Graduate Student Assembly, SDC, Faculty Senate, the President's management team, and, most recently, the President's Council.
"There was overwhelming support for the policy," Miller said. "In fact, we were surprised. I didn't know how it was going to go over, but it was very well received."
Miller also said that many employees she spoke to who smoke outdoors weren't bothered by the idea of moving farther away from the building entrance.
"The people who do go outside to smoke said they didn't care where they smoked," she said. "I hope there won't be an issue with people who are used to being able to smoke in their offices. There are volumes of studies about the hazards of second-hand smoke. Eliminating smoking in buildings is needed to improve the indoor air quality within our buildings."
Although most smokers aren't concerned about having to move 20 feet from where they smoke now, there are some who are upset about the new regulations.
"I don't like the proposed policy because I think smokers' rights are being squelched in so many places," said one smoker. "I'm a polite smoker who will not smoke if people don't like it.... So as a considerate smoker, rules like this bother me even more."
Another point of contention is that some view the policy as almost unenforceable. Miller said that really isn't the case. "Enforcement will most likely be simple requests from our community for people to move away from the doors. For problem resolution, they can always call our office to see if we can help resolve these issues."
Top
Susan Cribbs