Loftness, Morgan Earn Top Academic Honor
Vivian Loftness and M. Granger Morgan have been named university professors, the highest academic distinction faculty members can achieve at Carnegie Mellon. The title is awarded on the basis of national and/or international recognition for research, artistic and literary accomplishments and other scholarly activities.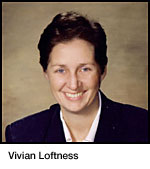 As professor and head of the School of Architecture, Loftness has made major contributions to the definition of total building performance for a range of building types—museums, research laboratories, courthouses and offices. She encourages faculty to support a multidisciplinary approach to architecture, and her research advances the understanding of spatial, thermal, visual, acoustic and air qualities. She also focuses on long-term building integrity through effective architectural decision-making, systems integration and improvements in the building delivery process.
"Vivian Loftness is most deserving of the recognition of university professorship. It is a testament to Vivian's achievements worldwide in architecture teaching and research," said Martin Prekop, the Gumberg Family Dean of the College of Fine Arts.
Loftness provides technical consulting and research in the areas of energy conservation, passive design and building climatology for the Department of Energy, the National Academy of Sciences, the National Endowment for the Arts and the World Meteorological Organization. Her private sector work has led to the design and construction of numerous energy-conserving buildings both in the United States and abroad.
M. Granger Morgan is professor and head of the Department of Engineering and Public Policy. He is also a professor in the Department of Electrical and Computer Engineering and in the Heinz School.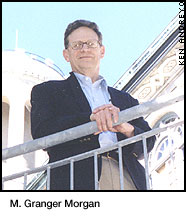 Morgan's research focuses on problems in science, technology and public policy. Much of it has involved the development and demonstration of methods to characterize and treat uncertainty in quantitative analysis. He works on risk analysis, management and communication; on problems in the integrated assessment of global change; on improving health, safety and environmental regulation; on energy systems focused particularly on electric power; and other topics in technology and public policy.
"Granger is a champion for integrating social science with engineering to improve society's ability to make prudent decisions on policies connected to the impact of technology," said College of Engineering Dean John Anderson. "His leadership shines nationally and internationally. It is most fitting that he receive this honor."
Morgan and Carnegie Mellon Professor John Peha have penned a new book aimed at giving more technology advice to Congress.
The book, "Science and Technology Advice for Congress," begins with an overview of the use of technical information in framing policy issues, crafting legislation and the overall governing process. The second part of the book responds to requests from congressional leaders for practical solutions.
Morgan and Peha wrote the book to address the challenges faced by Congress when the Office of Technology Assessment (OTA) was eliminated in 1995. Loss of the office left Congress without any institutional arrangement to bring expert scientific and technological advice to policy decisions faced by legislative decisionmakers. The book is slated for publication later this summer.