Make collaboration seamless and simple by locating on or near our Pittsburgh campus. CMU is uniquely situated to understand your company's location, workforce and technological needs.
Proximity is power, and you can be in the midst of our valuable resources and researchers who are seeding the world's innovations.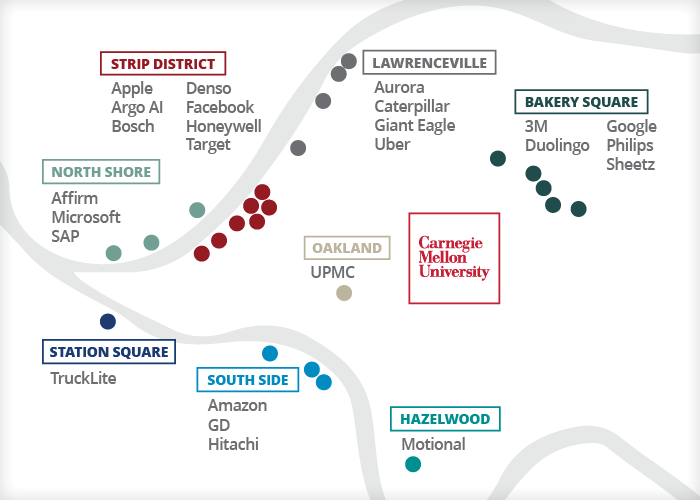 STRIP DISTRICT
Argo AI
Bosch
Apple
Target
Facebook
Honeywell
DENSO
HAZELWOOD
Motional
NORTH SHORE
Microsoft
SAP
Affirm
OAKLAND
UPMC
STATION SQUARE
TruckLite
BAKERY SQUARE
Duolingo
Sheetz
Google
Philips
3M
LAWRENCEVILLE
Caterpillar
Aurora
Uber
Giant Eagle
SOUTHSIDE
GD
Amazon
Hitachi
Collaborative Innovation Center (CIC)
The CIC provides laboratory and office spaces to companies that want to collaborate with Carnegie Mellon on innovative projects — Apple, Intel, Facebook and Google have all had space here! This building is also home to the Carnegie Mellon's CREATE Lab, which is a robotics lab sponsored by Microsoft, as well as Cylab, CMU's security and privacy institute.
ANSYS Hall
The recently completed ANSYS Hall incorporates a maker space with immediate access to the outdoor Maker Courtyard, student collaboration space, classrooms and offices. The courtyard is a direct extension from the building's high-bay maker space that provides full-size manufacturing capabilities and can showcase large-scale prototypes such as solar-powered boats and race cars. ANSYS, the simulation software company headquartered in Pittsburgh, made a transformational gift that made this facility possible and has a dedicated office suite for their employees in the building.  
Tata Consultancy Services (TCS) Hall
Home to the Center for Business Engagement, Tata Consultancy Services (TCS) Hall was newly opened in 2020. This building was made possible with a gift from Tata Consultancy Services, a leading global IT services, consulting and business solutions organization. The building's fifth floor is home to TCS's newly established Pittsburgh office, which the company invested in to forge even stronger ties with CMU faculty and students.
Find the Right Partnership