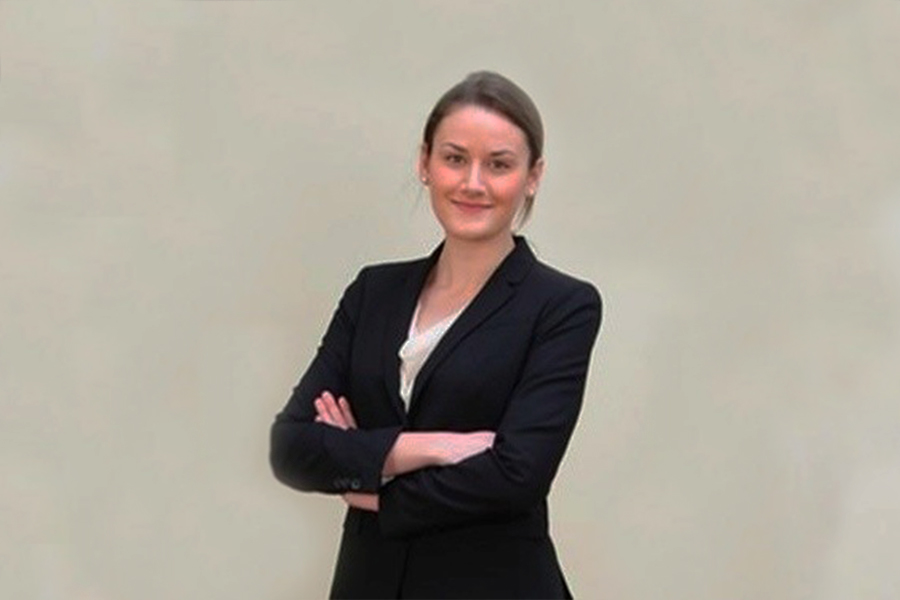 Elisabeth Madden (DC'10)
Inspired by Senior Honors Thesis, Alumna Finds Success as Air Force Attorney
By Mikaela Wolf-Sorokin 
After graduating with degrees in public policy and management and decision science, Elisabeth Madden (DC '10) worked at the non-profit Compass Center for Women and Families and taught English in Chile. Madden then attended the University of Michigan Law School, graduated cum laude in 2014 and clerked for a federal district judge in Detroit, Michigan.
Madden now serves as an attorney in the United States Air Force Jag Corps, where she is responsible for a variety of work ranging from criminal litigation under the Uniform Code of Military Justice to ethics counseling. She recently answered questions about her experiences as an undergraduate at Carnegie Mellon University as well as her career and life after law school.
What inspired you to pursue law?
My senior honors thesis inspired me to pursue law. I wrote about Chilean water policy and the transition from a fully privatized water system to a more regulated market. In the process, I learned about the Chilean constitutional amendments that in turn enabled policy change. I was fascinated by the process and wanted to be a part of the legal system.
How did your work at CMU influence your career? 
I still use the decision science principles I learned at CMU every day. As an attorney, especially as a litigator, it's important to be able to think a few steps ahead. I learned many risk assessment skills in my CMU coursework that apply not just in policy, but also in the law.
Describe some of the challenges you faced in law school and how you overcame them.
One of the biggest challenges was adjusting to having only one exam at the end of the semester for each class. I had to learn to keep myself accountable for my own learning and put systems in place to make sure I had enough time to study throughout the semester. Legal hiring was also a new world for me. I had to learn to be proactive about networking and interviewing for the jobs I wanted.
What has been the most exciting part of your career as a lawyer? Most challenging?
Becoming an Air Force officer has been a very exciting time in my career. I love being able to serve my country while working to become a better leader and lawyer on a daily basis. My clerkship challenged me to think about the law from a big-picture perspective, analyzing how a single case might change the development of the law in a particular area.
What advice would you give to a CMU student considering pursuing a career in law?
I highly recommend watching public court proceedings, so you can get an idea of what it's like to be in a courtroom. Reach out to people who are doing interesting legal work and ask them to describe their day-to-day practice. Also, keep in mind where you want to live and practice before choosing a law school because you will need to make career decisions much more quickly in law school than you did as an undergraduate.