Thomas M. Kerr, Jr. Pre-Law Society
The Thomas M. Kerr, Jr. Prelaw Society is a recognized Carnegie Mellon University student organization for current students and alumni who are interested in law school, the legal profession or generally interested in law-related issues, events and activities.
The society is named for the late Thomas M. Kerr, Jr., a celebrated Pittsburgh attorney and Carnegie Mellon faculty member who also served as university pre-law advisor from the 1960s until the mid-1990s.
About Thomas M. Kerr, Jr.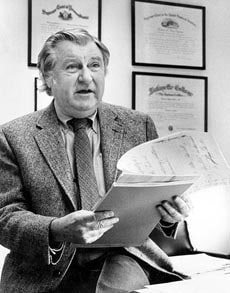 Thomas M. Kerr, Jr.'s career spanned the military, government service, corporate law and decades of university teaching, 37 of which were at Carnegie Mellon University.
Kerr was a graduate of Lafayette College and received a law degree from George Washington University. He was well known for his contributions to the American Civil Liberties Union and civil rights efforts.
At CMU, Kerr taught antitrust law and business ethics in the Tepper School of Business. He also served as the university's pre-law adviser for more than two decades.
Kerr retired from CMU in 2001 and died in 2006. As a tribute to his remarkable career and longtime association with Carnegie Mellon, the university's pre-law society was renamed in his honor in 2009 and the annual Thomas M. Kerr Lecture on Law and American Society was launched.