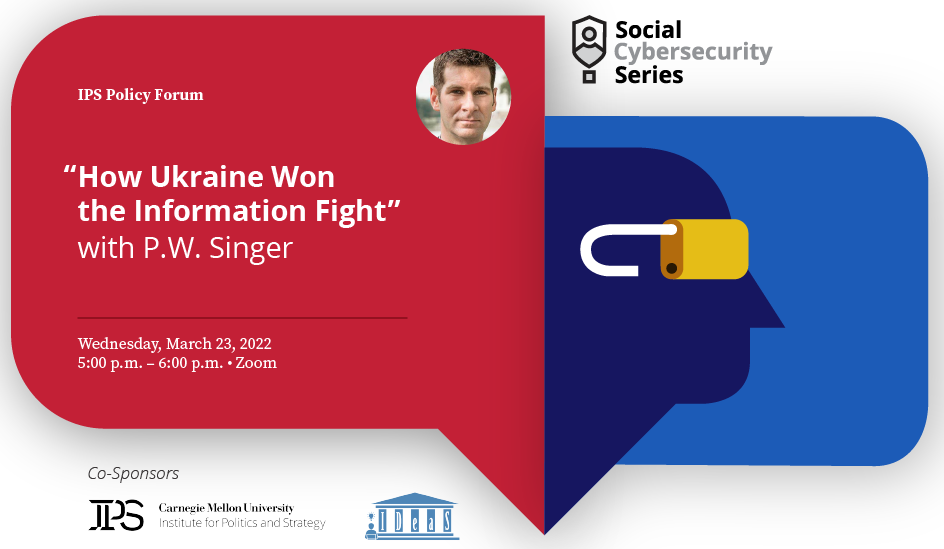 March 18, 2022
The CMU Institute for Politics and Strategy presents: "How Ukraine Won the Information Fight" by P. W. Singer
by P.W. Singer
Please note: The program has been updated since the Weekly Essentails  email that was sent on Friday, March 18, 2022.
Wednesday, March 23, 2022
5 p.m. to 6 p.m. ET
Zoom: Register here
Join us for a talk with P.W. Singer, best-selling author whom The Wall Street Journal described as "one of Washington's pre-eminent futurists," and a consultant for groups that range from the CIA and the Chairman of the Joint Chiefs to Hollywood and the Call of Duty video game series, as he discusses how Ukraine has already won the information fight, and how the key trends that are emerging today will shape the world of technology and security tomorrow.
This event is a part of the Social Cybersecurity Series and is co-sponsored by the Center for Informed Democracy and Social-cybersecurity (IDeaS).