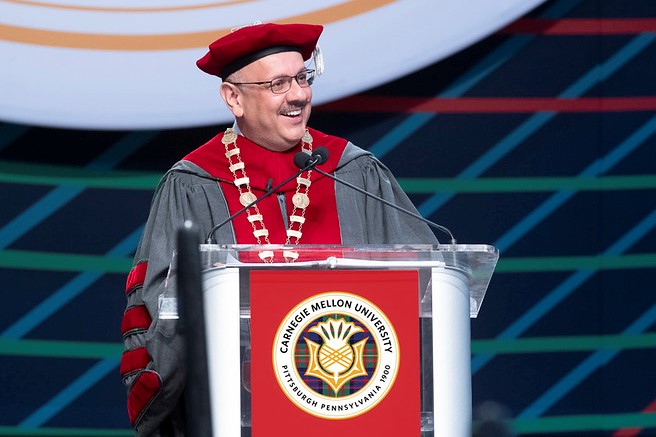 July 02, 2020
CMU Confronting Racism and Promoting Equity and Inclusion
Dear Members of the CMU Community:
I write to you today with a critically important communication on behalf of the leadership of Carnegie Mellon University. In the weeks since the tragic killing of George Floyd in police custody, hundreds of thousands of people have stood up in protest against the racism and systemic injustices against Black Americans that plague our society. The voices raised represent a broad cross-section of our society and they are echoing around the globe. As we witness our nation confronting the legacy of racial injustice, we are committed to ensuring that Carnegie Mellon stands on the right side of history through bold and concrete actions moving forward.
The Carnegie Mellon University community stands unequivocally against racism and the systems that have perpetuated racial injustice. We support those exercising their rights to protest for the protection of the historically marginalized and to speak out against senseless brutality at the hands of police. We join them in proclaiming that Black Lives Matter.
The past several weeks, we have heard from faculty, students, staff and alumni through emails, petitions and conversations. We are grateful for all of your suggestions and have given each one thorough consideration. In particular, I want to acknowledge and thank our Black community members for engaging in an open and constructive dialogue with me, Provost Garrett and other CMU leaders through countless Zoom calls over the past three weeks. I am humbled by the insights gained from listening to these candid and courageous reflections. Too many stories highlighted that the pain associated with systemic racism and structural barriers to access and opportunity in our society has only been heightened by times when CMU has not served its community better, and for that, I am truly sorry. I acknowledge we need to do more and, like so many of you, we seek to respond and hold ourselves accountable to this individual and collective call to action.
During this profound moment of reckoning for our nation and for institutions across our society, we must start by acknowledging that Carnegie Mellon exists within the very system that has failed Black Americans. This is an uncomfortable reality, but if we do not confront it, we will not create true cultural change for CMU or for the communities we serve. It is our responsibility to work together — intentionally and with clarity of purpose — to assure that racism and injustice are not tolerated on our campus and to leverage our position of power and influence in advancing true progress in our society. This is neither a side project nor a temporary distraction. This work is critical to the future of Carnegie Mellon and it demands the sustained commitment of faculty, students and staff across the university. Anything less will simply not be enough.
Commitments and Actions
To make our commitment actionable and accountable, we are putting forth a set of commitments and new initiatives today, which are outlined in more detail in this PDF document and on the CMU website. I encourage you to read carefully through this material, which also seeks to answer many of the questions we have received from our community in recent weeks. All of these actions are drawn from the input of faculty, students, staff, alumni and partners and have been endorsed by CMU's leadership team, with the support of our Board of Trustees. These efforts also build on the foundation developed through the CMU Experience and Campus Climate initiatives over the past several years, which have focused on promoting a more enriching, inclusive and equitable community for all Tartans.
We undertake this important work bearing in mind that we are an academic community with the ability to create meaningful forums within which constructive dialogue can and should flourish. We also have the power to apply our research and creativity towards creating actionable solutions to society's most challenging issues. We further recognize that it is our obligation to use our privilege, our influence and our resources to extend the fight for racial equity and justice beyond our campus.
Our commitments span three broad areas of impact: (1) Commitments to the CMU Community; (2) Commitments to the Expansion of Knowledge and Expertise at CMU; and (3) Commitments to Engagement and Economic Empowerment for the Broader Community.
We commit to engage every member of the CMU community in working together to build and sustain an inclusive culture that promotes equity for all and is intolerant of racism, discrimination and bias.
 
We commit to recruit and develop a student body that truly represents the vibrant diversity of our nation and the world, where all Black and marginalized students feel supported throughout their education and experience.
We commit to recruit, retain and develop Black and underrepresented faculty and staff and to provide all of our employees with an environment that fosters their collective success.
We commit to build greater trust, understanding and transparency between the CMU community and the CMU Police.
We commit to grow our leadership in the study of racism and systemic injustice for the purpose of influencing public policy and developing meaningful interventions.
We commit to partnering with our community to collaboratively develop positive social innovations that expand access, opportunity and economic empowerment in the Pittsburgh region and reverse the undeniable trends of racial injustice and inequality.
In pursuit of these commitments, we have developed 34 concrete actions, with short-, medium- and long-term horizons. Again, these actions are outlined in more detail online and will soon be incorporated into a new, expanded webpage with detailed tracking measures. These steps will also require changes to policies and structures at CMU and we are committed to making this progress.
All of these commitments and related actions will require accountability, leadership and dedicated resources. As announced previously, as a result of the Campus Climate Initiative, we are launching a search for the new position of Vice Provost for Diversity, Equity and Inclusion to lead a new university-wide office dedicated to DEI. I am pleased to share that this search will be co-chaired by professors Eric Anderson from the College of Fine Arts and Linda Babcock from the Dietrich College. This vice provost will partner with Provost Garrett and me to hold ourselves and the community accountable for the commitments we are outlining today, and any future actions.
We are at a profound inflection point – for our community, for Pittsburgh and for our global society. I am grateful for the thoughtful input from faculty, students, staff, alumni, trustees and other partners in formulating this road map, which amounts to the boldest and most sweeping plan in our university's history to promote a more diverse, inclusive and equitable CMU. I am especially grateful to the leaders of our Black student organizations, as well as the leaders of CMU's undergraduate and graduate student governments, whose engagement helped shape many of the ideas, and whose partnership we appreciate as we move forward.
Next Steps
By no means do I underestimate the enormity of the challenges we face and the work ahead of us. Especially given the uncertainty caused by the pandemic and the related financial challenges, we will need to engage creatively and collectively on next steps. In the coming weeks, the leadership team will continue to hold conversations with key stakeholder groups, such as Faculty Senate, Staff Council, Student Government, leaders of academic and administrative units, alumni, local partners, and the CMU community members with whom we have been engaging throughout our planning. These conversations will help us fine-tune our strategies and develop the appropriate implementation and assessment plans, with a focus on sharing transparent, measurable progress. We also invite members of our community to send feedback and reflections regarding this work and the university's commitments.
Inevitably there will be those who think these actions do not go far enough and those who believe they go too far. The truth is: these are deeply complex issues and we do not have all of the answers today. But we know that the only way to find meaningful solutions is to dig into this work together and in a manner that is authentic to CMU.
I want to assure you that these will not be the last actions we announce, and that this is the start of a larger, ongoing effort that must involve every single person in this community. The scourge of racism will only be cured when we all step up to do the right thing and hold ourselves and each other accountable to make meaningful progress.
At CMU, we have always approached major societal challenges with a trademark fearlessness and commitment to impact, and I believe we are equipped with the power to forge a new future. Together, let us embrace this historic opportunity to reshape the arc of justice with passion, conviction, and action.
Sincerely,
Farnam
Farnam Jahanian
President
Henry L. Hillman President's Chair