April 12, 2012
Zenyuk and Litster Publish: Electric Double Layers in Water-Filled Electrodes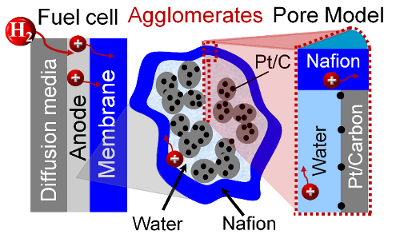 In April 2012 TPES researchers Iryna Zenyuk and Shawn Litster published a new paper in Journal of Physical Chemistry C titled "Spatially Resolved Modeling of Electric Double Layers and Surface Chemistry for the Hydrogen Oxidation Reaction in Water-Filled Platinum-Carbon Electrodes." The work presents a multi-dimensional, multi-domain model that elucidates the coupled proton transport and reaction kinetics in the water-filled mesopores  of a polymer electrolyte fuel cell's anode.
The motivation for this work was the limited understanding on how incomplete ionomer coverage affects transport and kinetics in fuel cell electrode. This work finds that the platinum within a water-filled pore is only 5% effective at typical anode overpotentials.
The Journal of Physical Chemistry C published this work in volume 116, pp: 9862-9875. It is available online with DOI 10.1021/jp300360m, or in our publications section.