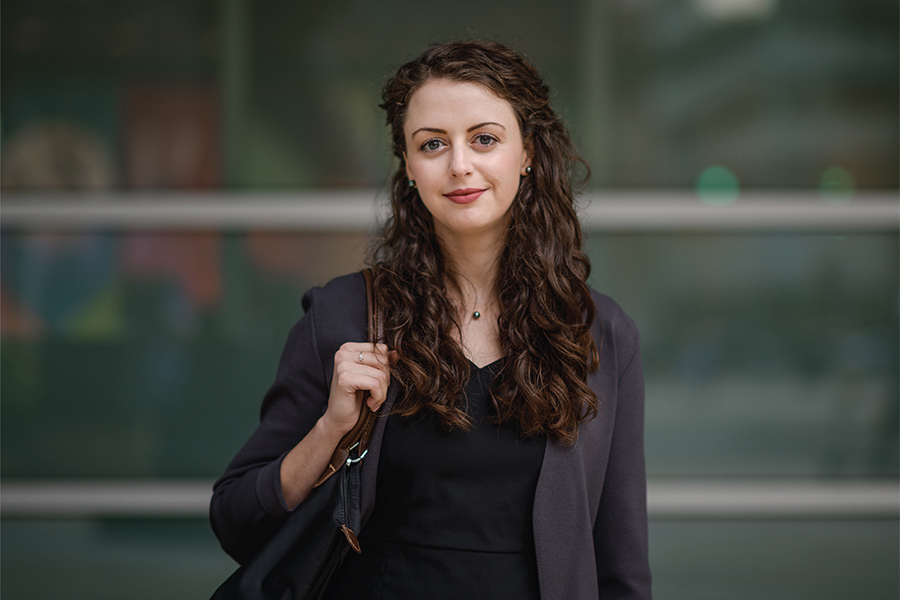 February 01, 2021
"You don't know what you'll need, and CMU has everything": Real estate law with Corinne Rockoff
By Bill Brink wbrink(through)andrew.cmu.edu
UCLA or Berkeley, Corinne Rockoff had decided. The Los Angeles native had narrowed her college choices to the two in-state options, but her parents made her a deal: They'd pay for a visit to one out-of-state school. Of all the college mail she received, one school consistently stayed out of the recycling bin. Her mother, a dog lover, liked Carnegie Mellon's Scotty mascot.
So off they went to Pittsburgh, where Rockoff and her father lucked into being the only attendees at an information session with the head of the psychology department. What would make it worthwhile, she asked, to learn humanities here, 2,400 miles from home? 
"You can go be a musician at Juilliard and you're going to interact with all of the best musicians in the world, and that's pretty much it," he told them. "But whatever you study at Carnegie Mellon, you're going to meet some of the best musicians in the world. You're going to meet the best computer scientists in the world, you're going to meet some of the best researchers in all kinds of disciplines."
That sold Rockoff, who graduated in 2014 with degrees in International Relations and Politics and Psychology. She now works as an associate attorney for Maddin, Hauser, Roth & Heller, PC, in Southfield, Michigan, specializing in real estate and mortgage litigation and securitization transactions.
"I had been one of those people that, when I was 6, I realized that if you're an archaeologist, the dinosaurs are already dead by the time you get to them," she said. "Once I passed that hurdle, I realized, you're probably going to be a lawyer."
Though Rockoff intended to major in psychology, she fell in love with political science during a freshman introductory class in which students read about the Mothers of the Plaza de Mayo. She found herself enjoying the heated arguments with classmates.
"Every time that happened, it was about something international relations and politics related," she said. "I realized I have very strong feelings and enjoy arguing with people about the structure of government. That's cool." 
Rockoff developed a relationship with Kiron Skinner, the Director and Taube Professor of the Institute of Politics and Strategy. Professor Skinner was her thesis mentor and introduced her to the inspiration for her topic, NYU Professor Bruce Bueno de Mesquita; he and Professor Skinner had co-authored a book together.
"She gave me a ride when I wanted to visit law schools and I didn't have a way to get to DC," Rockoff said. "She was driving out there for a meeting and she let me hitch a ride with her."
In addition to her studies, she was a student body vice president, a member of CMU Mock Trial, a teaching assistant, and a director with Scotch 'n' Soda Theater. She signed up for the crew during freshman year as moral support for a friend, ended up on the board, and directed Batboy: The Musical her senior year.
"It's a lot easier when you are passionate about everything that you're doing to squeeze it all in," she said. 
The time management that her workload and extracurricular activities required helped when she reached George Washington University Law School. As other students complained about the workload, she and another CMU graduate thought to themselves, this is fine. You all need to chill.
Internships during law school shaped the direction of her legal future. Serving as a law clerk for the Alliance of Artists and Recording Companies, a nonprofit that dispersed restitution to artists whose work had been illegally streamed overseas, showed there that there wasn't much room in copyright law. An externship with the Navy Judge Advocate General's Corps taught her about the power of prosec]utorial discretion; the Uniform Code of Military Justice still has adultery laws on the books, but prosecutors had the flexibility to focus their efforts on critical offenses including sexual assault.
Between her second and third semesters of law school, she interned at Chapman and Cutler LLP in Washington, DC, and she returned there after graduation. Here, she learned securitization, the bundling of repayable assets best known as part of the problem with the mortgage crisis in the 2000s. 
"I also realized that I was going to be 200 years old before I could afford to buy a house in DC," Rockoff said. "I met a really nice girl who is now my lovely wife."
Rockoff's wife is from Detroit. Rockoff loved Pittsburgh, felt Detroit had similar vibes, missed litigation, and realized that securitization is also a narrow field, which led her to look for jobs in Michigan. Now, she spends most of her time litigating – these days, in Zoom court, with comfortable pants and a blazer – and works mostly with real property and mortgage law. In addition to the practical knowledge Carnegie Mellon gave her, the network pays off as well.
"Don't underestimate the power of the relationships that you can form in the program," she said. "No matter what you are doing, those relationships will serve you incredibly well, because you are surrounded in the program and the school as a whole with very smart people."
She recently had a question on West Virginia courts that required some local knowledge of the local court system, and she knew a CMU graduate she could call. Her work frequently involves construction law, and if she needs a quick primer in commercial steelwork or masonry engineering, she'll text a friend who is a project manager for a big construction firm.
"You don't know what you'll need," she said, "and CMU has everything."