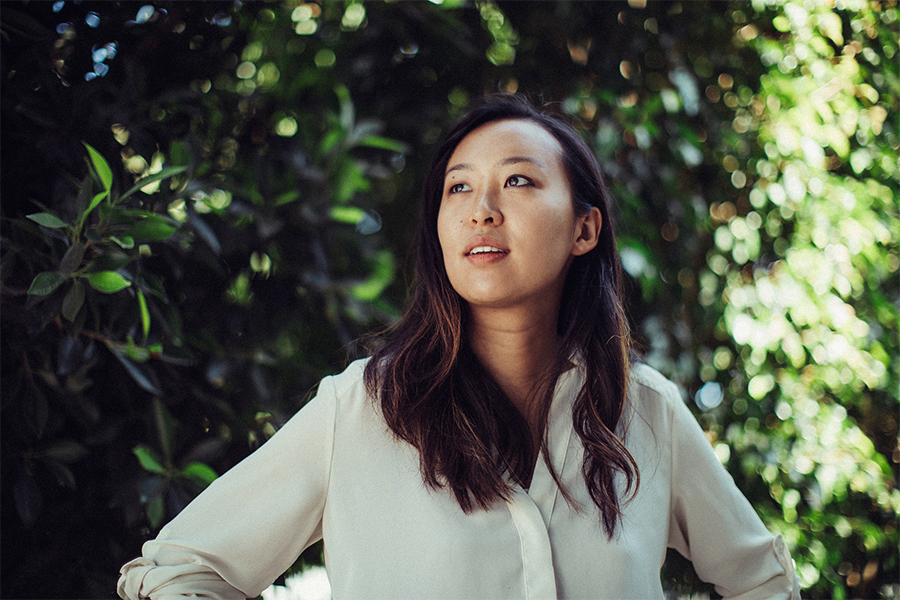 February 22, 2021
Directing and screenwriting with Yulin Kuang
By Bill Brink wbrink(through)andrew.cmu.edu
Yulin Kuang sat on a curb, exhausted, staring at her feet. She was directing an episode of "The Healing Powers of Dude," a Netflix comedy about a boy with social anxiety disorder and his support dog. Kids and animals make filming harder, and she had both; she'd set an alarm on her phone to track "pumpkin time," the window during which she could work with the kids before the rules governing child actors mandated that their day was over.
Someone asked her which direction they were shooting next. She pointed. As she stared at her feet, she noticed the shadows on the ground were moving. The crew was rearranging the fly swatters, giant machines that created shade.
"And I was like, oh wow – I did that," Kuang said. "Yeah, I love this."  
Kuang, a screenwriter and director who graduated Carnegie Mellon in 2012 with degrees in International Relations and Politics and Creative Writing, credited the university aiding her entrée into directing and providing her a broader background than she might have otherwise received. 
"I think it's a blessing that I ended up at CMU, because if I had gone to a film school or something like that, I probably would have been handing off my screenplays to other directors and they would have been directing it, and I never would have discovered for myself that I love directing," she said.
Kuang was born in China and grew up in Wichita, Kansas, and New Jersey. When she applied to Carnegie Mellon, she thought she wanted to be a journalist, an aspiration she harbored through freshman year, but she realized that she liked the idea of the White House press corps in the television series The West Wing rather than the job itself. Her sophomore year, she considered publishing as a career, but by junior year she joined the Filmmaking Club, got involved with cmuTV, and worked on independent projects with local filmmakers.
She learned the technical stuff as she went by watching YouTube tutorials and tapping into the talented people around her. After losing a cinematographer on a project, she walked into the hallway and saw a photo student. You know how to use a camera, right? she asked him. 
That guy (Zack Wallnau, CFA '11) is now her fiancé.  
While majoring in International Relations and Politics, she studied Russia, Eastern Europe, and globalization, in addition to a course on Ethics, History, and Public Policy that she found especially beneficial.
"What was helpful about IRP was it made me think about things on a larger scale," Kuang said. "It made me think outside of just my one small tiny pocket of the world. I think the thing that we really studied when I was there was globalism, and I think I thought about that a whole lot.
"It's like a spice. It adds some spice to me."
Kuang entered the film industry by finding people who had the entry-level jobs she wanted on LinkedIn, researching their backgrounds, and realizing she needed internships. After her junior year, she landed one with ABC, working on General Hospital, distributing scripts and checking for typos. 
"When I had finished my first day there, I went downstairs and I was told, you can walk around the set, and it was an empty set, but it still had the lights on so it had this magic glow about it," she said. "It's still very much in my brain. … It felt like church." 
After graduation, she entered the page program at NBC, working on, among other areas, The Tonight Show with Jay Leno.
"I don't remember that time particularly fondly," Kuang said. "I learned a lot, I learned a ton about the industry, but I feel like it's useful to acknowledge that some places are not where you're meant to thrive."
She soon found her place. On the weekends, she worked on her own projects, including short films called "The Perils of Growing Up Flat-Chested" and "Irene Lee, Girl Detective." Her coming-of-age stories about young girls were not reaching their intended audience at film festivals full of older men; eventually, somebody told her about VidCon, a gathering for those making videos on digital platforms and their fans. These were her people.
She started two YouTube channels, YulinisWorking and Shipwrecked Comedy. In 2014, she created "Kissing in the Rain," a web series with an accompanying 'transmedia experiment' on the social media platform Tumblr, where it went viral. This got the attention of New Form, a digital-focused production company founded by Ron Howard (who won an Academy Award for directing "A Beautiful Mind," which also won Best Picture, and also directed "Apollo 13" and "The Da Vinci Code") and Brian Grazer. They offered her $10,000 to make a short film as part of an incubator series.
That film became "I Ship It," about a woman getting back at her ex-boyfriend in a battle of the bands. She sold that to CW Seed, The CW's streaming platform, as a web series, and it won a Streamy Award. The CW made it a TV show – this time a musical about a TV fangirl working on a show, inspired in part by her walkthrough of the "General Hospital" set. 
"It premiered on the CW last summer to, I think, the second-lowest ratings the CW has ever had," she said. "We were promptly canceled. But I like to think it was a victory that we got on air at all, because there are so many scripts that never get made." 
But that show accomplished something important for Kuang: It got her into the Writer's Guild of America, opening the door to the highest levels of writing jobs. That allowed her to pitch for open writing assignments and join roundtables to punch up scripts, and eventually she sold her first feature film to New Line Cinema. It's called "Jade Palace," a movie about an Asian-American woman who moves back to New Jersey to help her father manage the family Chinese restaurant. The movie is not fully autobiographical (her parents are both biochemical engineers) but contains slices of her life in New Jersey.
"When I think about Chinese restaurants, I think about these restaurants where they have a Lazy Susan at the center of the table and there's these menus with over 180 items and they're all in Chinese," she said. "You pretty much need to go with my mom to know what to order."
Kuang is currently working on two pilots and adapting a novel called "I Believe in a Thing Called Love." She is now also a member of the Director's Guild of America, thanks to her work with Netflix, and thanks in part to her time at Carnegie Mellon. 
"Once you get here, leave some room to find yourself," she advised. "If I had stayed rigidly with the idea of who I was at 18, then I wouldn't be doing what I'm doing now."