Fine-tune how you teach to better reach every student.
---
DataLab Tools + Resources
DataLab's tools, an evolution of LearnLab's DataShop, can help you identify issues and adjust your instruction to improve your students' learning outcomes. Designed specifically for instructors, the tools guide you through data you have and its analysis and provide tangible recommendations based on the results.
---
DataLab Gradebook Calculator
Even if you do not have an online course, you probably have data on student performance that can be used toward improving student learning. Whether you keep student information at the gradebook level (where there is a score for each assignment) or assignment level (where there is a score for each item), we can automatically generate an analysis for you using the information that you already have.
What the calculator can do: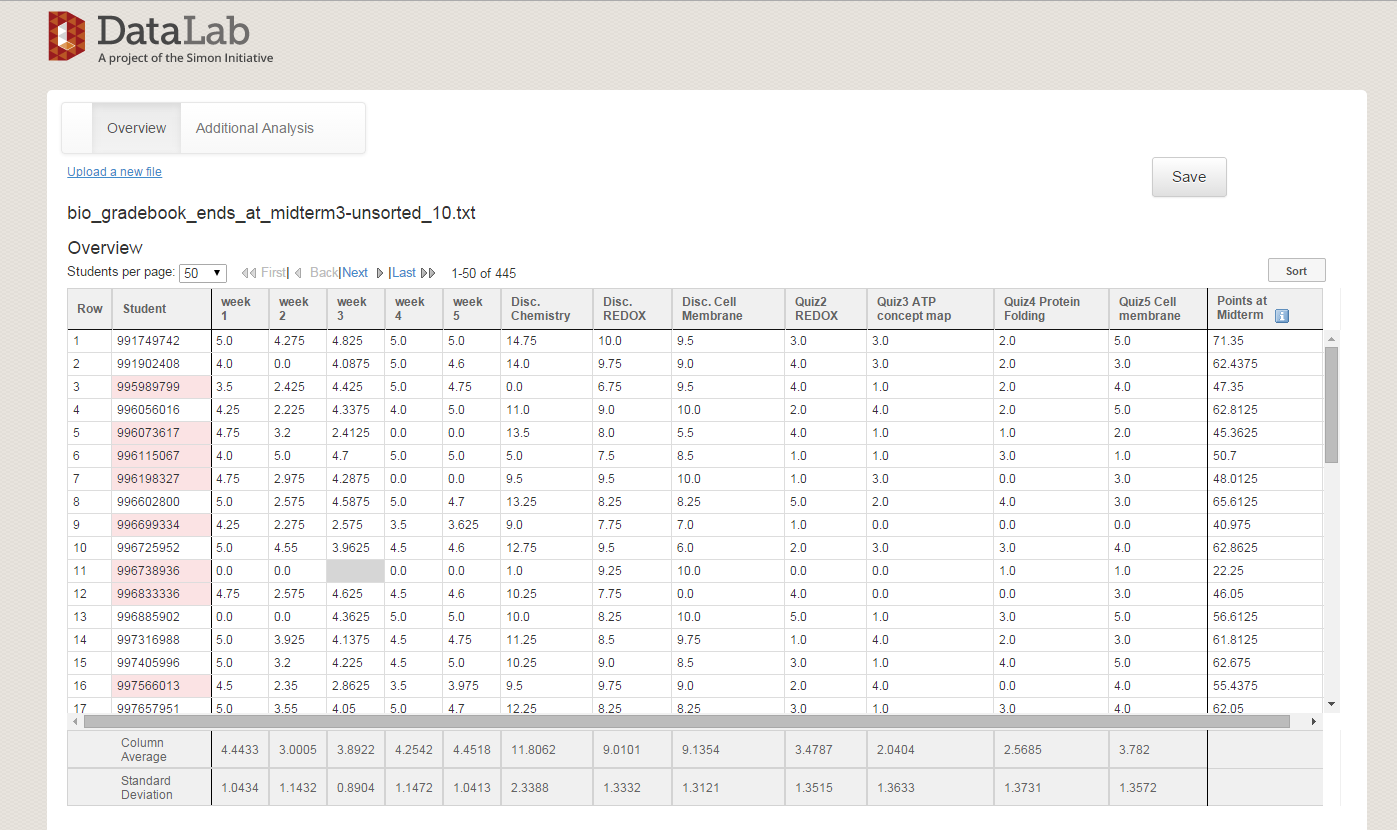 Identify the students who are struggling and predict their future grades.
Narrow in on areas where the course can be improved to help student understanding.
Target skills or concepts in the course that students are struggling to grasp.
Find unreliable test or quiz questions and ways to improve them.
---
How the calculator works:
For best results, your data should include at least 20 percent of the course work. The file should contain student scores per test, quiz or assignment as well as the total score for each. See a sample gradebook here.
Your students' privacy is protected: the analysis will be done locally on your computer and will not be uploaded to any servers.

Step 2: Run your analysis.
The tool provides options to answer multiple questions you may have.

Step 3: Get insights and recommendations.
See results and take action (e.g., send generated emails to struggling students).

Step 4: Take action.
Use what you've learned to improve your students' learning outcomes.
---
DataShop: Support for more sophisticated analysis.
Our DataShop tools can help with deeper research on fine-grained, longitudinal datasets. It also serves as a secure repository for educational data. Learn more about DataShop.
---
Other Helpful Resources:
Support for collecting the data you need or analyzing the data you already have.
There are many tools available to help you either collect data or analyze it. Some are more appropriate than others based on the evidence you have or the questions you want to answer. We've curated a list of those we recommend and when and how they might best be put to use.
---
Pushing our work forward:
The tools behind DataLab and DataShop are continually being improved to make contributing to the science of learning more accessible. If you are an educator, researcher or technology-company executive spearheading efforts to develop standards and promote best practices in online education, let's have a conversation.