Vaccine Requirements
for the Fall 2021 Semester
Consistent with scientific evidence on the importance of vaccine adoption to control spread of the virus, to the extent permissible by law, Carnegie Mellon University will require all enrolled students to be vaccinated for COVID-19, effective this fall semester. This policy will apply to all undergraduate and graduate students in U.S.-based programs.
CMU regularly updates the vaccines required by university policy, which will be updated by July 15 for the 2021-22 academic year. CMU's global locations will communicate vaccine requirements to its student bodies separately consistent with their regional contexts. Learn more about fall 2021 vaccine requirements.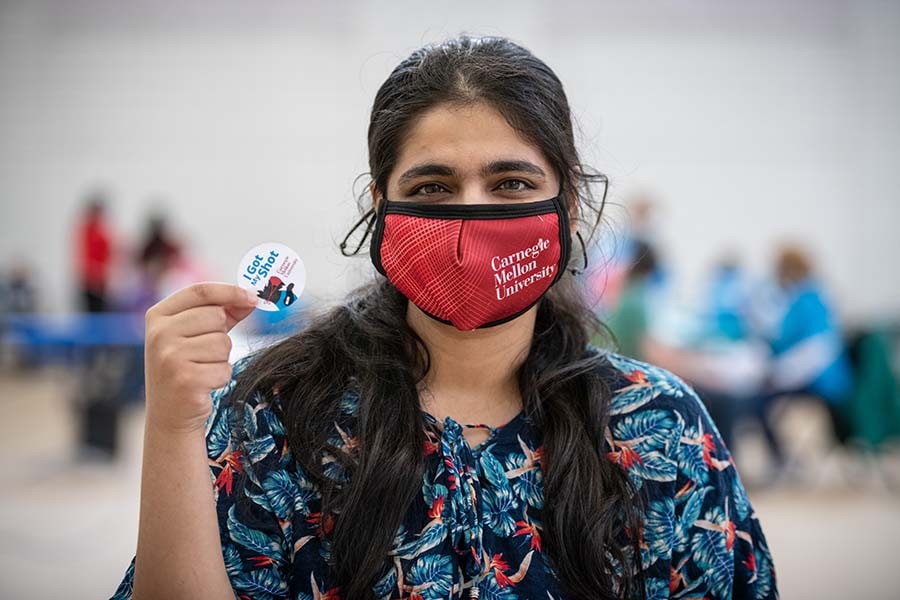 Important Considerations for Students
Requirements for unvaccinated students: CMU recognizes there may be some population of students who will not be vaccinated when the fall semester begins. We will secure student vaccination opportunities in the weeks leading up to the start of the fall to ensure all students have access to approved vaccines. For these students and for others who receive approved exemption from the vaccine requirement as described below, later this summer we will communicate mitigation requirements that will apply in order for them to participate in campus life.
International vaccines: We understand that many students may receive vaccines approved in other countries that have not yet been approved by the U.S. Food and Drug Administration for use in the United States. We are working with medical experts to inform our decisions. We will provide ongoing updates on the COVID website throughout the summer as more data becomes available to guide our planning and options to support our students living abroad. At this time, we expect that any vaccines that receive the World Health Organization's (WHO) Emergency Use Listing will meet our requirements.
As of June 1, 2021, the WHO has listed Pfizer/BioNTech, Astrazeneca-SK Bio, Serum Institute of India, Janssen (Johnson & Johnson), Moderna, Sinopharm and Sinovac COVID-19 vaccines for emergency use. 
Exemptions to requirement: Consistent with federal and state law, CMU will consider medical or religious exemptions to the vaccine requirement for students. Details on the process to request an exemption will be announced this summer.
Vaccine documentation: Students will be required to provide documentation of their vaccination prior to the start of the fall semester. The process for doing so will be communicated at a later date. As we develop the mechanism for gathering this information, we will do so in a manner that protects the privacy of our students, as we do with all medical records.
Faculty and Staff
We are currently studying a potential requirement of vaccination for all Pittsburgh-based faculty and staff, and after conferring with various stakeholder groups, will communicate more details in the weeks ahead.  Consistent with federal and state law, CMU will consider medical or religious exemptions to any vaccine requirement for faculty and staff.
We will also be coordinating with our other global locations about requirements for their faculty and staff. In the meantime, we continue to encourage everyone to become vaccinated as soon as possible, and not to wait for a decision on whether vaccinations will be required for faculty and staff.