Vaccine Clinics & Resources
Last updated: 10/15/21
Widespread vaccination is a critical tool to help stop the pandemic.
COVID-19 Vaccine Requirements for Fall 2021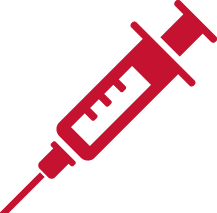 Consistent with scientific evidence on the importance of vaccine adoption to control spread of the virus, to the extent permissible by law, Carnegie Mellon University requires all students, as well as faculty and staff working in Pennsylvania, California, Washington D.C., New York and Virginia, to be fully vaccinated against COVID-19.
This policy applies to all undergraduate and graduate students, as well as visiting, non-degree, guest, and cross-registered students, in U.S.-based programs and students participating in approved study abroad programs overseas. CMU faculty and staff members taking courses as a non-degree student must also be vaccinated.
Read the vaccination and/or revaccination guidelines for both domestic and international students.
CMU's COVID-19 Vaccine Database
Students are required to participate in CMU's COVID-19 Vaccine Database as part of the university's fall 2021 vaccine requirement and must either request an exemption or upload confirmation of their vaccination status. If you have not done so already, upload your vaccination status to the CMU Vaccine Database immediately.
Faculty and staff are required to upload confirmation of vaccination status to the CMU Vaccine Database immediately, which means those who are not yet vaccinated will need to soon make plans to receive the vaccine.
Those who are granted an exemption must comply with additional mitigation requirements in order to participate in campus life, including the use of facial coverings, as well as completion of the Daily Self-Assessment and weekly Tartan Testing. CMU's global locations will communicate vaccine and mitigation requirements to their faculty and staff separately, consistent with their regional contexts.
Benefits of Getting a COVID-19 Vaccine
According to the CDC, getting a COVID-19 vaccine:
Helps keep you from getting COVID-19 and is a safer way to help build protection

Allows you to start doing more (once you are fully vaccinated) 

Serves as an important tool to help stop the pandemic
Learn more from the CDC about the Benefits of Getting a COVID-19 Vaccine.
Vaccine distribution information changes rapidly. This page will continue to be updated as additional information becomes available.
CMU Joins Nationwide COVID-19 College Vaccine Challenge
Carnegie Mellon is among hundreds of colleges and universities nationwide to accept the invitation from the White House and U.S. Department of Education to end the pandemic by joining the COVID-19 College Vaccine Challenge.
Participating colleges commit to taking three key actions to help get their campus communities vaccinated.
The three key commitments are:
Engage every student, faculty and staff member. Make sure every member of the campus community knows they are eligible for a vaccine and has resources to find one.
Organize your college community. Lead the way by identifying champions for vaccine efforts across campus and implementing a plan to get as many members of your college community vaccinated as possible.
Deliver vaccine access for all. Meet your community where it is: bring vaccines on site, and make it easy for students, staff and faculty to get vaccinated at sites nearby them this summer.
State and National Vaccine Data
Thank you to Allegheny Health Network and Giant Eagle
We are grateful to Allegheny Health Network and Giant Eagle for their partnership and support in securing our CMU community of students, faculty, staff and vendors hundreds of dedicated vaccine appointments.
Vaccine Resources