COVID-19 Vaccine Database
Students are required to participate in CMU's COVID-19 Vaccine Database as part of the university's fall 2021 vaccine requirement and must request an exemption or upload confirmation of their vaccination status. If you have not done so already, upload your vaccination status to the CMU Vaccine Database immediately.
Faculty and staff are required to upload confirmation of vaccination status to the CMU Vaccine Database immediately, which means those who are not yet vaccinated will need to soon make plans to receive the vaccine.
How to Enter Your Information into CMU's COVID-19 Vaccine Database
INSTRUCTIONS FOR ALL STUDENTS, FACULTY AND STAFF
Sign into HealthConnect with your date of birth.
From your home screen, you will be able to enter your COVID-19 vaccine information, schedule an appointment for Tartan Testing and view your previous Tartan Testing lab results.
To Enter Your COVID-19 Vaccine Information:
Select the "Enter My COVID-19 Vaccine Information" button.
Click the green upload button and attach an image of your COVID-19 vaccine record or document. You can edit the image by rotating the image to the left or right, if necessary.

PDF, PNG, JPEG and GIF files under 4MB are accepted. For mobile phone uploads, using the 'Take Photo' feature (after clicking 'Upload') may eliminate the need to edit an image.

From the drop-down menu, enter the date of your first and second dose (xx/yy/zzzz) and the name of the COVID-19 vaccine you received.
When finished, click the "done" button.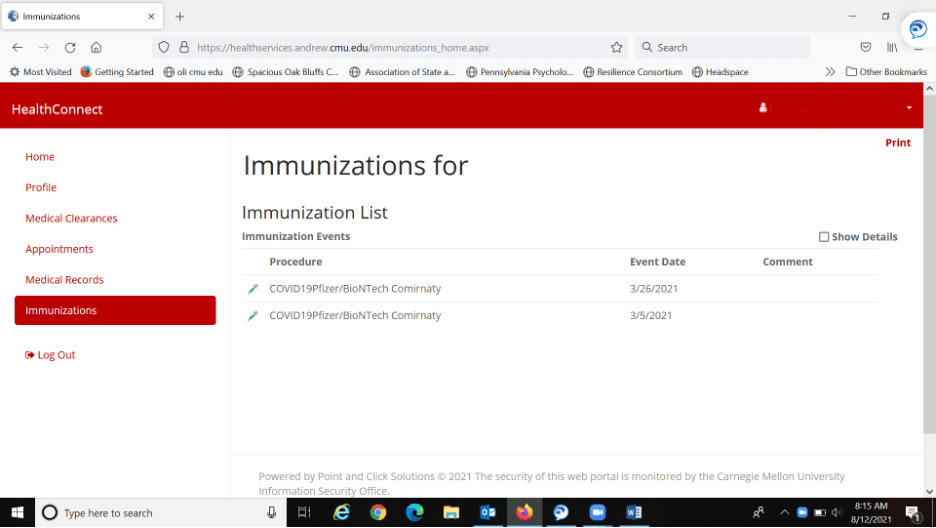 ---
Please disregard the following text that may appear on your HealthConnect homepage after you enter your date of birth:
You have not activated your Web Account.
You cannot use any of the Web Account services until you have activated your account.
Click Here to Activate Your Account.
Also, please note that you will not receive an immediate confirmation after uploading. A member of our UHS staff will review your upload within five business days. After your record is verified, you will see your COVID-19 vaccine listed under Immunizations in the left menu.
---
AFFILIATES
Affiliates (vendors, contractors, visitors and other individuals affiliated with Carnegie Mellon, but who are not employees or students) are exempt from uploading any COVID-19 Vaccination Information into the database.
Affiliates who are not fully vaccinated must comply with COVID-19 mitigation protocols, including wearing facial coverings, practicing physical distancing, completing CMU's daily self-assessment (PDF) and participating in Tartan Testing each week they will be on campus.
---
HealthConnect is CMU's secure online portal for University Health Services (our students' primary care provider). We have expanded the system's functionality so that faculty and staff will also use HealthConnect to enter COVID-19 vaccine information. HealthConnect is housed on campus and monitored by Carnegie Mellon's Information Security Office (ISO). Access to the stored information is limited to authorized personnel and treated confidentially.
If you have issues entering your COVID-19 vaccine information into the database, contact drbc@andrew.cmu.edu.