Staff Resources
Updated 6/9/22
Vaccines: Carnegie Mellon University requires all faculty and staff to be fully vaccinated against COVID19 (including booster dose when eligible) and to upload confirmation of booster vaccination status and date of vaccination to the CMU Vaccine Database in HealthConnect.
All faculty and staff eligible for a COVID-19 booster are required to upload documentation and date of vaccination within 60 days of their eligibility in HealthConnect.
Tartan Testing remains available to all staff who seek an asymptomatic COVID-19 test.
CMU's global locations will communicate vaccine and mitigation requirements to their faculty and staff separately, consistent with their regional contexts.
SUBMIT DOCUMENTATION TO Vaccine Database
At Home Test Kits: For employees participating in the pharmacy benefit, the Office of Human Resources is partnering with CVS Caremark for either direct coverage or reimbursement for the cost of COVID-19 at home test kits. For both options, employees are limited to eight tests per 30 consecutive days
Facial Coverings/Masks: Facial coverings

 

both indoors and outdoors are optional, but remain strongly recommended, for members of our community who are up-to-date with respect to COVID-19 vaccinations. Those who are not up-to-date on vaccinations must continue to wear facial coverings while indoors.
FAQ for Staff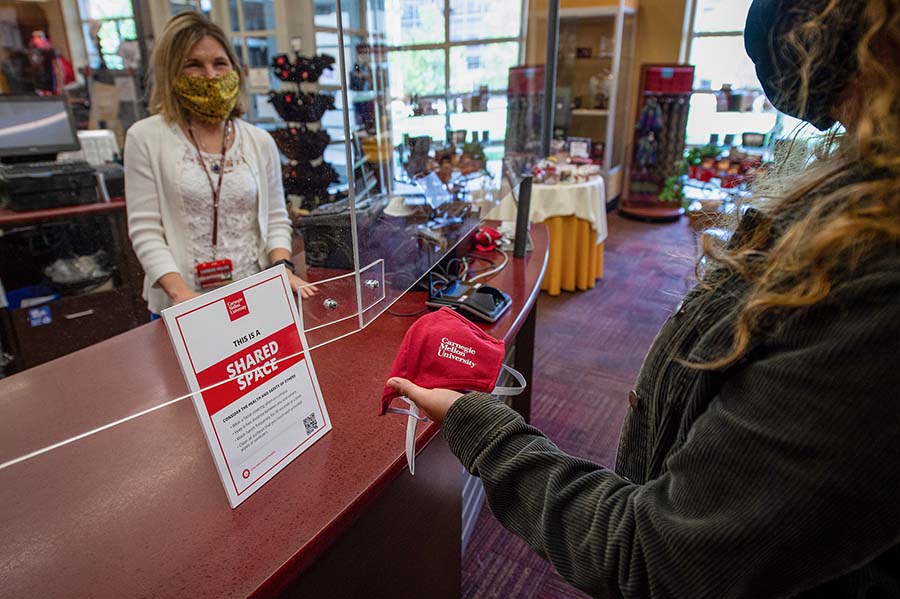 Thank you all for your continued passion for, and dedication to, Carnegie Mellon University, and especially for your hard work and flexibility during this pandemic.
CMU staff are a vital part of this institution who help us to deliver on Carnegie Mellon's extraordinary potential.
Additional Resources
Work and Leave Options [pdf] — A comprehensive matrix by scenario and information about unpaid time off and unpaid personal leaves of absence. As always, for illnesses that exceed seven calendar days, please contact the Leaves Department.
Temporary Amendments to PTO — Information about temporary exceptions to the Paid Time Off policy including COVID-19 Time Off, Emergency Time Off, Use of Unearned PTO and PTO Rollover Exceptions.
Health and Wellness
What If I Get Sick?
Our first priority is your safety and well-being. Learn what to do if you experience symptoms on the Symptoms & Reporting page.
Mental Health and Emotional Support
CMU provides resources to help academic and staff employees and eligible dependents cope with these types of life events through the Employee Assistance Program (EAP). You may also call the EAP line directly at 1-844-744-1370. The EAP provides confidential, short-term counseling at no cost to the employee.
If you know a student who needs help, or a student comes to you, you are encouraged to point them to Counseling and Psychological Services (CaPS). CaPS counselors are available at any time, day or night, at 412-268-2922.
Medical Requests for Accommodations
Consistent with CMU's commitment to maintain the health, safety and welfare of its faculty and staff, the university will provide a reasonable accommodation to eligible faculty and staff who, because of the COVID-19 pandemic, require workplace accommodations to enable them to perform the essential functions of their job, unless doing so would create an undue hardship.
Faculty and staff who seek workplace accommodations should submit a request through the Office of Disability Services.
Family Care Resources
Four temporary child care services available to CMU faculty, staff and graduate students:
Flexible child care for children ages 24 months to 5 years
Full-day on-campus proctoring for children ages 6 to 12 years in online schools

Kindergarten Proctor and Play for children currently enrolled in fully remote, mostly asynchronous kindergarten

Family and child care concierge service


Through the Care@Work program, Care.com prescreens qualified caregivers to help eligible individuals find backup emergency care for children and adults. Users can also access Care.com to establish a learning pod, nanny share or other distance learning support.
For additional help or suggestions, review the Care.com Back-to-School Resource Guide.
CareLink allows CMU faculty, staff and students to share their services with others on campus in need of help. Use CareLink to find child care, tutors, pet care and more, all from other members of the CMU community.
Faculty and staff members can use the EAP for assistance with finding child care, counseling and emotional support, webinars and other resources to help you and your family cope during the pandemic.