Research at CMU During the COVID-19 Pandemic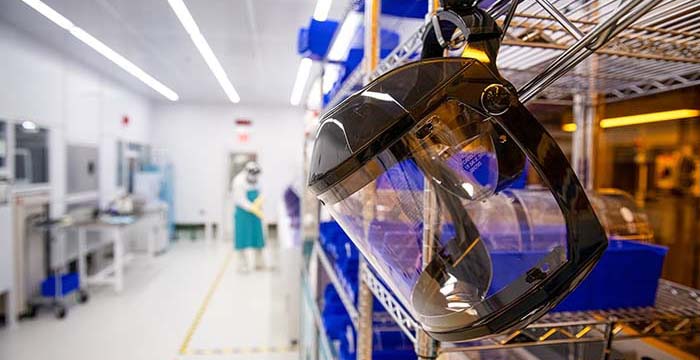 Update on Research Status
At this time, the only research-related activities permitted on CMU premises are those approved by each college's dean, the Vice President for Research and the university COVID-19 coordinator.
---
Last updated November 20, 2020
After a recent pause, we are resuming submission of new research plans and amendments (including changes in personnel) to existing plans. Plans and amendments must continue to outline a conservative approach to the amount of time spent on-site and the number of people simultaneously accessing research spaces, even for brief periods of time. Deans, Associate Deans for Research (ADRs), and the OVPR will continue to scrutinize these aspects of new and revised plans.
Please do not send unsolicited requests for return plans to deans or the OVPR.
Note: All researchers must continue to operate remotely until authorized to return to CMU premises.
The OVPR is requiring weekly reporting in order to confirm the ability of researchers to adhere to their approved plans and/or make adjustments to continue to meet the university's minimum requirements. These reports have identified gaps in processes and procedures that we have worked quickly to resolve. We are aggregating some of the information gleaned from these reports and throughout this process into a best practices document for researchers to reference as they formulate and execute their own return to research plans upon request.
Researcher Return Details
Responding to illness, exposure and/or a positive COVID-19 diagnosis
As part of the plan to return to on-site operations, researchers are required to acknowledge their awareness of the university policies and procedures on the following:
Lab continuity and ramp-down plans
All research faculty should have already developed continuity plans for their lab groups in preparation for a ramp down of research. A return of on-site research will require you to summarize these plans in the event that public health circumstances require another suspension or remote migration of research activities within 24 hours.
Use the researcher pandemic preparedness guide (a 2-page self-examination; .pdf) to help you with your plans.
Return to on-site research plan submission
Every individual person, lab/facility and activity that wishes to restart work on-site is required to be covered by an approved work plan. Faculty PIs and facility directors are encouraged to review the current plan template (.docx) so that they are familiar with the requirements. However, please note the following:
Do not submit a plan to the OVPR unless approved to do so by your dean's office.
The plan template content and structure will likely change over time. Check periodically for new versions/updates before completing your own plan when requested to do so.
Modifying or revising an approved research plan
Research plans are "living documents" that may be modified or revised as circumstances require.  Revisions can include:
Addition/removal of personnel.
Addition of new spaces.
Additional usage of personal protective equipment (PPE), such as face shields, to facilitate training or other lab activities that require individuals to be in close contact.
Revised processes for training new lab members.
Change in research projects if they affect safety (e.g. addition of animal work or resumption of human subjects studies)
 The process to revise/amend an approved return to research plan is:
Revise the Word document version of your currently approved to reflect the changes you would like to make. Please do the following:

Use "track changes" or similar approach (highlights, different colors) to make changes easy to identify.
Ensure that the plan is self-consistent. That is, revising one section does not create conflicting information or process with another section. 
Ensure that any additional rooms/spaces and/or personnel that are added to a plan are considered in the processes and procedures that are described in the document. For example: additional personnel may require enhanced scheduling tools and processes.

Work with your Associate Dean for Research (ADR) to review plan amendments and receive any other relevant guidance.
Health and safety compliance requirements
All return to campus research plans, at minimum, need to address the following health and safety compliance considerations as outlined by university policy:
Physical distancing

Anyone who is sick must stay home

On-site personnel must undergo temperature checks when required

Cloth facial coverings

Personal protective equipment (PPE)
Hand-washing
Food handling
Cleaning and maintaining research spaces
All projects/facilities seeking to return to on-site operations must hold a consultation with CMU Facilities Management and Campus Services (FMCS) to be advised on proper cleaning protocols as well as the roles and responsibilities of lab personnel and/or others (including FMCS) in ensuring regular cleaning and disinfecting of active spaces. Details on these consults can be found in this back to work cleaning guidance (.pdf). 
In most cases, while FMCS can assist with an initial cleaning, it will be most appropriate for a lab to continue to oversee its own routine (daily) cleaning.
FMCS will facilitate the procurement of cleaning supplies and make them available to labs/facilities. Through August 31, 2020, FMCS will cover the related expenses. After August 31, the lab or department may incur a charge for cleaning supplies.
In all circumstances, FMCS will continue an expanded cleaning and disinfection regimen for common areas daily, based on scheduled occupancy.
Facility entrance/exit logging practices
As part of the return to on-site operations, every lab/facility must have a process to track the date, time and duration that personnel spend in a space. This information may be used to facilitate response processes such as contact tracing and cleaning in the event there is a positive COVID-19 case in a lab or building. An electronic tracking system is recommended. See the Best Practices for Planning to Return to On-Site Research document for guidance/recommendations for setting up an electronic log system if your lab/facility does not have one in place.
Regular reporting requirements
All approved projects/facilities are required to provide a weekly report on plan execution and compliance issues. Details related to structure and content of weekly reports will be provided to plan owners once the plan submission review and approval process is complete.
Human subjects considerations 
As part of pandemic safety and preparedness planning human subjects researchers must review and follow the following guidance documents:
In addition, research plans require that human subjects researchers provide details about the frequency of studies, the typical pool of subject participants, the processes that will be put in place for administering screening as well as the process with which researchers will meet and guide participants across campus to the study location.
Human subjects researchers continuing to do studies remotely are advised to review the following guidance documents:
A special note to graduate students 
Graduate students are vitally important to our research activities, and when your research is returning to on-site work, you can and should be included in the plans submitted for authorization to return. These plans are designed to ensure that all lab participants, including graduate students, are aware of and are able to meet the safety measures CMU is requiring for resumption of on-site activities. As we continue to expand on-site research, graduate student program timing will be one factor that deans consider as they prioritize the order and pace at which activities return.
Students who have questions and concerns about their work or returning should discuss with their faculty advisor, their department and college, and as always can reach out to Amy Burkert, Vice Provost for Education, for additional guidance and support.
More Information for Researchers
Grant Management and Proposal Submissions
Guidance and rules from sponsors continue to evolve. For general information, please see the compiled guidance from the Council on Government Relations:
Researchers with questions related to a specific research contract should contact the Office of Sponsored Programs, Sponsored Projects Accounting, or their contract officer.
Collaborating Visitors
Collaborating visitors may only be on-site if they are included as part of an approved research return plan and have gone through the collaborating visitor process. This process requires a signed document (to be provided by the Office of General Counsel (OGC)) acknowledging their obligations and circumstances surrounding their presence and participation in on-site research during the COVID-19 pandemic. Visitors approved prior to availability of this document from OGC are still required to sign this document as part of the lab plan review and approval process. 

Collaborating visitors participating in on-site work may be required to self-isolate for a period of time prior to coming on-site to adhere to visitor protocol, depending on if they travel in from out of state.
New visitor requests will be accepted and previously approved visits to Pittsburgh may move forward as planned. However, these collaborations may have to happen "remotely" as no work on-site may be performed without being part of an approved plan.
Associate Deans for Research (or equivalent) by College/Unit