Let's Take Care of Each Other
As we look forward to holiday travel and the end of the semester, keep your CMU community in mind with these simple guidelines:
Stay home if you're sick

Get your flu shot and COVID-19 booster if eligible

Tartan Test before/after your travel

Wear your facial covering indoors

Be courteous in shared spaces
CMU COVID-19 Vaccine Data, Case Numbers and Testing
More than 98% of CMU's students, faculty and staff are now vaccinated. View the dashboard for additional information related to CMU's vaccine database, case numbers, testing and more.
Tartan Testing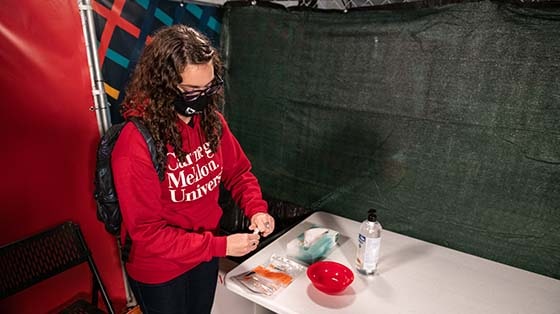 Tartan Testing is Carnegie Mellon's testing program for the diagnosis of COVID-19 in asymptomatic individuals and is an important element of the university's ongoing strategy to detect and prevent the spread of COVID-19 in our community.
Who Must Participate Weekly in Tartan Testing
Students

 

who are in progress with becoming fully vaccinated or those students who have been exempted from the COVID-19 vaccine requirement or facial covering requirement
Faculty/staff

who have not uploaded their vaccination information to the university's 

Vaccine Database

 

or who have been exempted from the COVID-19 vaccine requirement
In addition, the CDC recommends travelers get tested both before and after travel.
The test takes less than 15 minutes and same-day appointments are often available. Tartan Testing is also available for fully vaccinated CMU community members who desire a weekly test.
Support the health and well-being of our entire campus and surrounding community
Taking the daily self-assessment is one way to show you care about your community.
Find out how
Current Service Posture: Transitional
---
CMU Locations

Most information on this site applies to the Pittsburgh campus. Additional guidance is available for Africa, Australia and Qatar campuses. Other locations will be provided information by their program heads.