Vaccine Requirements
Last updated: 2/10/2023
COVID-19 Vaccine and Booster Requirements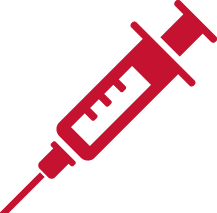 Consistent with scientific evidence on the importance of vaccine adoption to control spread of the virus, to the extent permissible by law, Carnegie Mellon University requires all students, faculty and staff to be fully vaccinated against COVID-19 (including booster dose when eligible) and to upload confirmation of booster vaccination status and date of vaccination to the CMU Vaccine Database in HealthConnect.
Students who have received WHO-approved vaccines are required to obtain a booster when eligible. Either mRNA booster (Pfizer or Moderna) is recommended. UHS is currently offering students the COVID-19 Pfizer bivalent by appointment. All students, faculty and staff eligible for a COVID-19 booster are required to upload documentation and date of vaccination within 60 days of their eligibility in HealthConnect. 
This policy applies to all undergraduate and graduate students, as well as visiting, non-degree, guest, and cross-registered students, in U.S.-based programs and students participating in approved study abroad programs overseas. CMU faculty and staff members taking courses as a non-degree student must also be vaccinated.
Accepted Vaccines
CMU accepts all World Health Organization (WHO)-authorized vaccines, in addition to the FDA-authorized vaccines in the U.S. This includes WHO authorized vaccines for boosters.
Exemptions
Anyone requesting to be exempted from vaccination or boosters will need to complete an application for exemption form:
• Students: medical, religious belief/strong moral or ethical conviction
• Faculty and staff: medical, religious belief/strong moral or ethical conviction
If you have already received an exemption from vaccination, you are automatically exempted from the booster requirement. If you are vaccinated but need to request exemption from a booster, an exemption form will need to be completed.
Benefits of Getting a COVID-19 Vaccine and Booster
According to the CDC, getting a COVID-19 vaccine:
Helps keep you from getting COVID-19 and is a safer way to help build protection

Allows you to start doing more (once you are up-to-date on vaccinations) 

Serves as an important tool to help stop the pandemic
Learn more from the CDC about the Benefits of Getting a COVID-19 Vaccine and the COVID-19 Booster.
Vaccine distribution information changes rapidly. This page will continue to be updated as additional information becomes available.
State and National Vaccine Data