Faculty Resources
Updated 1/17/22
Vaccines: Carnegie Mellon University requires all faculty and staff working in the United States to be fully vaccinated, including a booster when eligible, against COVID-19. Faculty and staff eligible for a COVID-19 booster as of December 16, 2021 are required to upload the documentation and date of their booster to HealthConnect by February 16, 2022. Anyone becoming eligible from December 16 onward is required to upload the documentation and date of their booster for verification within 60 days of their eligibility.
Those who are granted an exemption must comply with additional mitigation requirements in order to participate in campus life, including completion of the Daily Self-Assessment and weekly Tartan Testing. CMU's global locations will communicate vaccine and mitigation requirements to their faculty and staff separately, consistent with their regional contexts.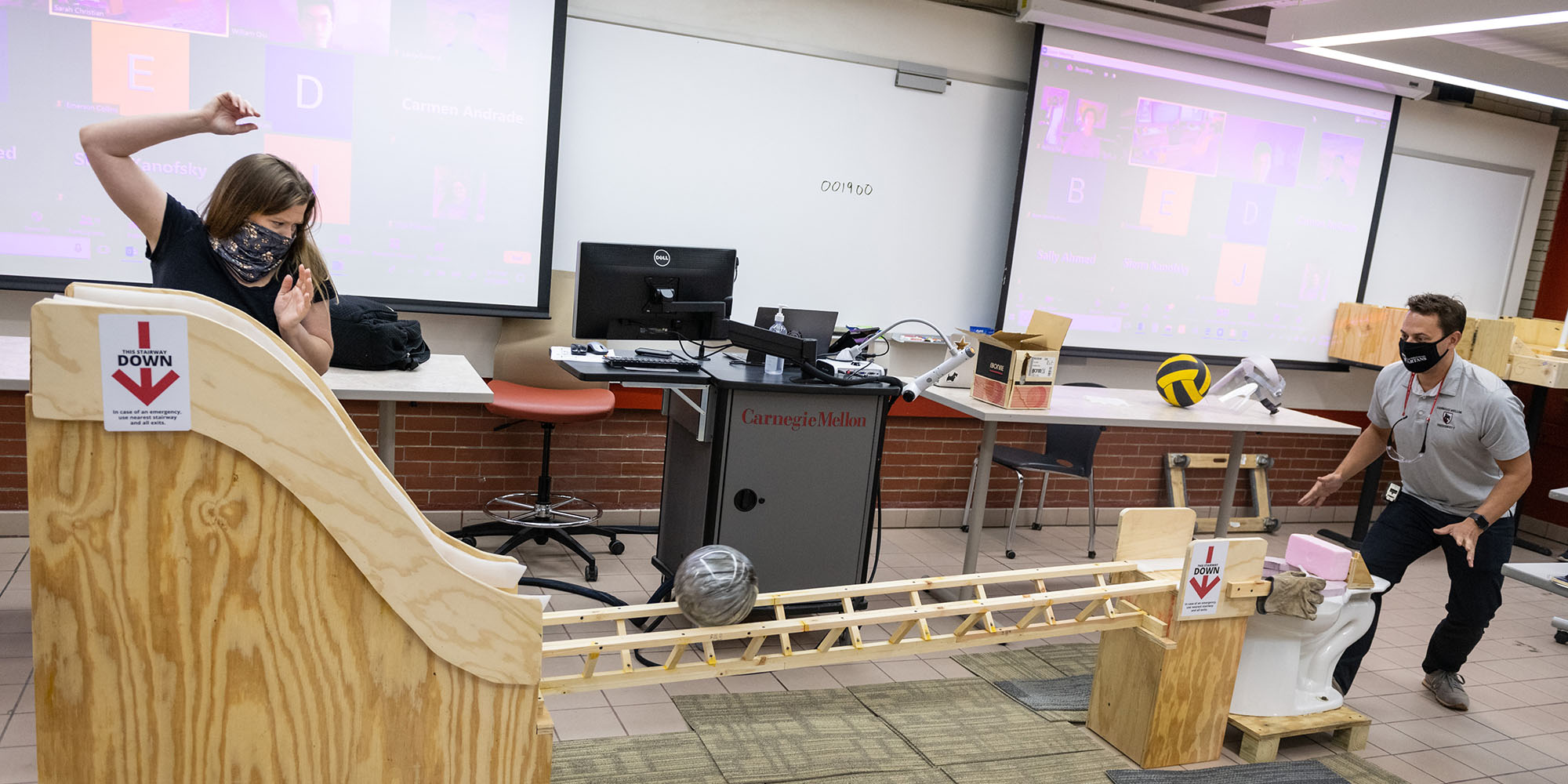 Our faculty's continued commitment to students, passion for teaching and support of one another will continue to lead to our success.
It's with patience, collaboration and resolve that we will continue to move forward together through these extraordinary circumstances to ensure delivery on the university's mission to provide a world-class education.
Travel and Visitor Protocols
To help protect the safety and well-being of the members of the CMU community, we are adhering to strict protocols for travelers and visitors to campus.
Travel Protocol
Visitor Protocol
Health and Wellness
What If I Get Sick?
Our first priority is your safety and well-being. Learn what to do if you experience symptoms on the Symptoms & Reporting page.
Mental Health and Support
CMU provides resources to help academic and staff employees and eligible dependents cope with these types of life events through the Guidance Resources Employee Assistance Program (EAP). You may also call the EAP line directly at 1-844-744-1370. The EAP provides confidential, short-term counseling at no cost to the employee.
If you know a student who needs help, or a student comes to you, we encourage you to point them to Counseling and Psychological Services (CaPS). CaPS counselors are available at any time, day or night, at 412-268-2922.
Medical Requests for Accommodations
Consistent with CMU's commitment to maintain the health, safety and welfare of its faculty and staff, the university will provide a reasonable accommodation to eligible faculty and staff who, because of the COVID-19 pandemic, require workplace accommodations to enable them to perform the essential functions of their job, unless doing so would create an undue hardship.
Faculty and staff who seek workplace accommodations should submit a request through the Office of Disability Services.
Meetings & Events
In-person Meetings and University-Sponsored Events
Effective as of 1/5/22
Indoor in-person meetings and university-sponsored events during the month of January 2022 are strongly discouraged.
Outdoor meetings and university-sponsored events are permitted up to 50% of outdoor facility capacity.
Requests for exceptions to these size limitations can be sent to drbc@andrew.cmu.edu for the COVID Coordination Team's consideration.
If a meeting is approved to be held indoors during the month of January, the serving of food is strongly discouraged. If food is to be served as part of an indoor meeting or event, the event should be hosted in a space that provides for ample physical distancing between participants.