Enjoying Your Stay
Commencement Welcome Area
Upon your arrival to campus, be sure to visit the Commencement Welcome Area for schedules, maps and other information that will make your visit to Pittsburgh and Carnegie Mellon an enjoyable one.
Saturday and Sunday
8 a.m. − 2:30 p.m.
Wean Commons, first floor, Cohon University Center
Accommodations
Make your reservation soon! Hotel rooms for commencement weekend book very quickly. Use the map to find hotels near campus and in the Pittsburgh area.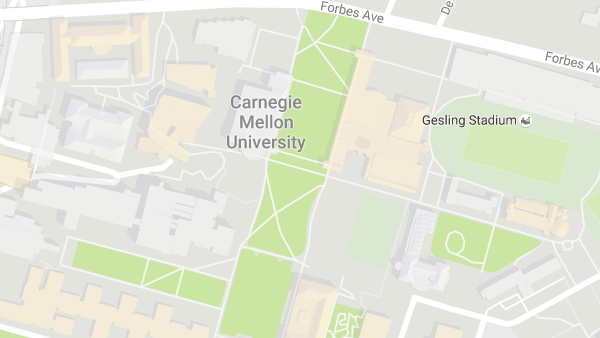 Pittsburgh Happenings
Welcome to Pittsburgh! While you're here, we hope you take advantage of all the attractions, culture and food that our city has to offer. Visit Pittsburgh offers information on local restaurants, things to do and other tips to help plan your visit.
For Guests Who Are Elderly or Have Disabilities
At the Main Commencement Ceremony
The ceremony takes place outdoors in Gesling Stadium, rain or shine! The stadium is NOT covered and there is no shade. If you or a family member cannot be in the direct sunlight or heat for a long period of time, we strongly encourage you to watch the ceremony from one of our indoor simulcast locations.
Seating sections for guests with disabilities will be available on the field surface. These seats are reserved for those guests who are in wheelchairs, who have difficulty with stairs and cannot access the bleacher seating, or guests who have other seating needs due to a disability.
Sign language interpreters will be stationed in front of the seating sections for guests with disabilities on the field. Closed captioning will be projected onto the screens in Gesling Stadium. Assistive Listening Devices will be available at the indoor simulcast location in McConomy Auditorium. 
Parking
All campus parking lots/garages are equipped with handicapped parking spaces.
On Sunday only, the entire first floor of the East Campus Garage will be reserved for elderly guests and guests with disabilities. You do not need a handicapped parking placard or hangtag to access this parking area. Tickets or prior arrangements are not needed.
Wheelchair Accessibility & Rentals
If you or a family member has difficulty walking, we strongly encourage you to bring or rent a wheelchair. Events take place all over campus and most campus buildings are only accessible by foot. All campus buildings are wheelchair accessible.
On Sunday only, a limited number of wheelchairs and electric scooters will be available to rent while on campus. For reservations, two-day rentals or hotel/home delivery, contact Pittsburgh Wheelchair Exchange.
Information for International Families
Please be sure to review the website of the U.S. Embassy nearest to you to get current information and visa requirements.
Applying for a B-2 tourist visa? Review this document for helpful information.
Additional supporting evidence for international guests may be needed. These may be in the form of:
An Enrollment Verification Letter, which may be requested through Student Information Online (login required)
A print out from the commencement website
These documents can be used to convey to the U.S. consular office the need for a timely visa decision.
Questions? Contact the Office of International Education at 412-268-5231 or via email.