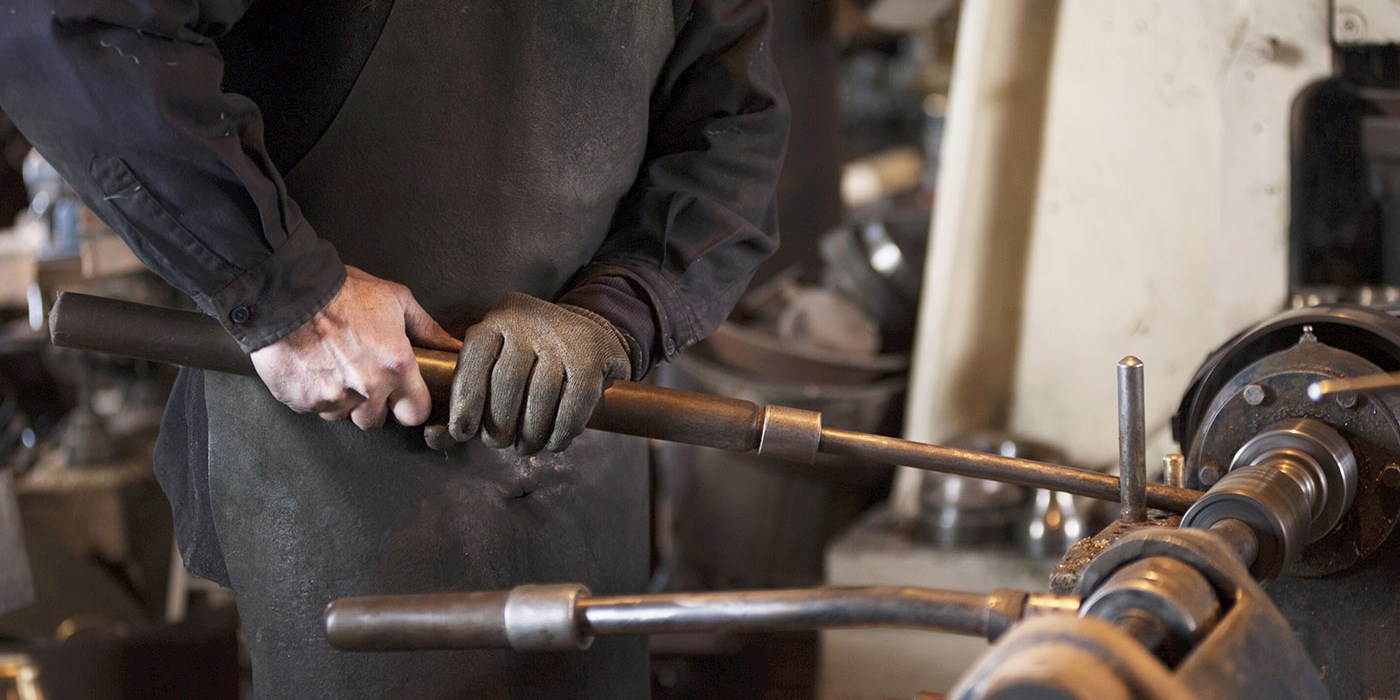 Shirish Pareek and his wife were seated comfortably in their living room, television on. So were their kids, ages 10 and 15. Homework done. Ready to watch. In the Pareek household, this event is a family one. Onscreen, the assembled crowd stands as the President of the United States strides in, shaking hands all around. Motioning the gathering to take their seats, he begins his 2015 State of the Union address.
Pareek had more than a passing interest in what was to come. The Carnegie Mellon alumnus is an active participant in U.S. manufacturing policy, which is understandable given his career. As founder and CEO of Hydraulex Global, the largest U.S. remanufacturer of hydraulic parts and equipment, he employs hundreds. In his Detroit, Memphis, and Seattle factories, he takes machinery that would otherwise be heaped into landfills and "brings it back to life."
His expertise in the manufacturing sector helped land him on the U.S. Secretary of Commerce's Manufacturing Council. Composed of 30 private-sector leaders, the council advises the Commerce Secretary on policies to strengthen the manufacturing economy. And as a member of The Cabinet, the Secretary of Commerce directly counsels the President of the United States.
Pareek leaned forward when the President began his remarks about jobs. Familiar words were spoken. "Didn't we just discuss this issue?!" Pareek excitedly asks his children. He is delighted to hear that much of the substance of Barack Obama's upbeat picture on the future of manufacturing jobs is based on the work of his subcommittee.
Clearly, he has come a long way from his youth in small-town India.
Impacting Millions
It all came down to one day and 12 hours that would chart his life's direction. The results from the prior day's test would soon be posted on the university bulletin board in the next town. Unfortunately, there was no way for the 18-year-old Pareek to get there. His father, a government employee, and mother, a teacher, scrounged up a friend who could get to the city and report back. It was a long, tense afternoon. His whole class had heard their scores by the time the phone call came.
You've been accepted, his father reported. The teen was overjoyed to be one of only 2,000 chosen from 2 million applicants to attend the country's premier engineering school, Indian Institute of Technology (ITT). Education was a value held dearly by the Pareeks, and their son had adopted it to his very core. These middle-class parents had somehow managed to send all three of their children, including their oldest, Shirish, to a private Jesuit school, the best in their town. With particular talents in math and science, he'd always been fascinated by engineering, as well as the lure of business.
To this day, Pareek recalls in vivid detail how he lay awake that entire night, knowing his life had changed. What he couldn't imagine was how he would one day change the lives of others.
Today, as a manufacturing council member, he impacts millions. Manufacturing is a significant arena that directly generated $2.1 trillion—more than 12% of our national GDP (value of all goods and services produced) in 2013, according to the Economic Policy Institute (EPI). The Commerce Department reports that every $1 spent in manufacturing creates $1.32 for the economy. The sector directly employs 12 million Americans—nearly 9% of the workforce—and indirectly supports more than 17 million more. As Commerce Secretary Penny Pritzker writes: Support for U.S. manufacturing is a top priority for the Obama Administration. … The strength of U.S. manufacturing is critical to our nation's economy and our competitiveness on the global stage.
That support is increasingly crucial.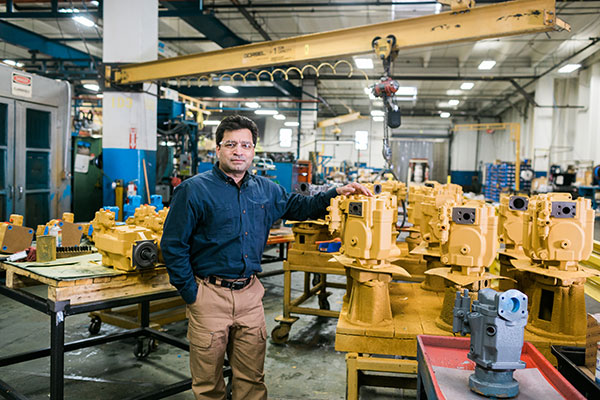 At its 1953 height, manufacturing contributed more than 28% of U.S. GDP, but it dwindled to just 11% by 2009, according to The New York Times. In employment terms, more than 7 million manufacturing jobs were lost from 1979's high of 19.5 million to the 12.3 million of 2014—5 million of them since 2010, according to the EPI. The Atlantic magazine describes "ghost towns of the 21st century," with pictures of desolate factories, shattered windows, and peeling paint, main streets quiet and boarded.
The U.S. percentage of global manufacturing has also continued to decline, though absolute output has remained generally steady. In other words, "We are making more than we did before, but less of the overall pie," explains Erica Fuchs, a CMU associate professor of engineering and public policy who is widely recognized as an expert in global manufacturing and policy issues. The growing pie has been largely due to the exponential increase in demand and production in developing countries like China.
Pareek highlights the "blind offshoring binge" of the 1990s and early 2000s, when U.S. producers focused intensely on cost and shifted their production out of the country. He points out that this singular focus ignored the importance of other critical facets of manufacturing that help keep the country solid and resilient.
First, there's our national security, our ability to make what we need, both militarily and otherwise, particularly noteworthy in an era of advanced technologies. Second are jobs, meaning solid employment for a thriving middle class, as well as the fact that manufacturing jobs create associated service jobs, a multiplier effect.
Third is innovation capability, tied to our ability to produce. Fuchs' research underscores the conclusion that distant production can indeed hinder technological innovation. "Sending U.S. products overseas to be manufactured may be cheaper, but it also may stifle innovation depending on the technology and the constraints facing firms," says Fuchs in her paper published in Science. She suggests that differences across technological and business contexts make it critical to avoid one-size-fits-all policy on manufacturing.
"Innovation has to be on the platform of existing technologies," Pareek insists simply. "There's no substitute for working with your hands using the current technology to create the next level of innovation."
"The reason the U.S. economy thrives is this constant turnover of ideas," adds Gary Fedder, CMU's vice provost for research and an expert on micro-electromechanical systems, manufacturing processes, and design. "If you're really going to innovate, you need to have that milieu of people—those who have the bright lights in their heads who prototype, as well as those who actually make the things, because there's a lot of innovation in that process. You need that feedback loop."
Lastly, there are the balance and strength of a diverse economy. "It's easy for people to think we can just have lawyers and bankers and push money around," says Fedder, "but the U.S. has no corner on the service sector. This is a big world, and there's a lot going on. There's no reason to think, for example, that the New York Stock Exchange is going to be the leading stock exchange forever and ever."
The past few years have seen possible buds of regrowth, as the United States added back nearly 800,000 manufacturing jobs. Some have trumpeted a rebirth, coining terms like "re-shoring." Factors cited for this turnaround include a rise in Chinese wages; the discovery of abundant domestic natural gas; and recognition that innovation, reaction, and delivery time are faster with production close by. Fedder and Fuchs, however, see the small increase as no more than a blip in the long-term historical pattern, and Fuchs questions the lasting economic reasons behind some of these moves.
With all these factors in play, the U.S. government has concretely demonstrated its increased support for manufacturing and the significance to our national strength. In 2012, the President unveiled the National Network for Manufacturing Innovation (NNMI), a series of public-private research institutes established "to create a competitive, effective, and sustainable manufacturing research-to-manufacturing infrastructure."
CMU has been and remains at the forefront of this effort. In 2010, Fuchs was one of 23 to participate in a presidential advisory workshop. She recalls the excitement of working, as a young professor and the sole policy academic, alongside such Fortune 500 executives as Google's Eric Schmidt. That workshop led to an association of industry, academia, and government, dubbed the Advanced Manufacturing Partnership, a move that President Obama announced at CMU's National Robotics Engineering Center in 2011. Alongside former CMU President Jared Cohon, Fedder served as one of five academic co-leads who worked with 13 industry co-leads to help generate recommendations that led to the NNMI's launch. Fedder then co-led the proposal that established the $70 million pilot manufacturing innovation institute in the tri-state region, the flagship America Makes, and he continues to serve on its executive committee.
Fedder likens it to the National Science Foundation's creation, wherein the government invested in basic science research to fuel the nation's future. With the NNMI, however, that investment provides a mechanism for fueling our economy through new ideas and ventures. "America has always had this growth pattern because we keep rejuvenating," he explains. "Just look at the companies today versus those of 30 years ago."
"It's easy for people to think we can just have lawyers and bankers and push money around, but the U.S. has no corner on the service sector. This is a big world, and there's a lot going on. There's no reason to think, for example, that the New York Stock Exchange is going to be the leading stock exchange forever and ever."
And reflecting CMU's commitment to the manufacturing sector, alumnus Pareek demonstrates his own dedication, a role he never could have envisioned as he began his undergraduate studies in mechanical engineering.
The boy from the small town set out for college, stunned by the intensity of the competitive atmosphere at ITT, Kanpur. Amid the rigors, he found time to captain the swim team and stay active in the student body government. Following graduation, he was drawn to the adventure of oil exploration, and his life became hard hats and steel-toed boots, his office a truck. It was a "high-stakes game" working with explosives, radioactives, and the latest measurement and testing technology all applied in exploring and producing oil. Despite the excitement, the world of business tugged. He wanted to do something on his own, to make a difference. But how? Start a venture in India? Attend an American business school? While pondering, he decided to pursue a master's of business administration in the U.S.
One day, while he was working in a remote oil field, a letter arrived. The Tepper School, CMU's top-notch business school, had apparently been impressed with his scores. He somehow got his hands on a U.S. news magazine and discovered the school was #1 in production operations management. "I'm an engineer; I'm in production," he thought. "That's the school for me." He started writing his application essays while sitting in an airport at 5 AM. And he was thrilled to be accepted.
Pareek describes his time in Pittsburgh during the 1990s "as a dream sequence" filled with new sights, new experiences, and friends who would remain lifelong, along with course material he'd use throughout his career, like Sunder Kekre's operations management and Jack Thorne's entrepreneurship classes, particularly enthralling during the dot-com boom.
He discovered consulting, fascinated that a 26-year-old from a non-business family could advise others, and snagged a summer internship with Deloitte and Touche. He loved the challenge and, with only enough money for the first semester, loved the very-welcome fellowship. Following his 1997 graduation, he took a position with McKinsey in operations consulting, putting his entrepreneurial dreams on temporary hold.
Temporary was the key word. "At CMU, I was shaped to be an entrepreneur, to create jobs for others and redefine an industry by taking risks," Pareek would later explain.
He joined a software startup but after its sale returned to his own experience—engineering, operations, CMU, and Pittsburgh. With Thorne's lessons on purchasing a small manufacturing operation ringing in his ears and armed with only a phone, he called an old classmate one evening. "Eric, I want to buy a small business and grow it. Any ideas?" Coincidentally, entrepreneur Eric Close (TPR '97) had a small company in heavy machinery parts that he was looking to sell. So in 2003, with a fortunately supportive wife and a toddler at home, Pareek found himself a business owner.
It didn't take long for him to parlay the small firm into much more. A few years after its purchase, as the construction industry faltered, Pareek took an unusual step. He decided to expand. He spotted a niche, a fragmented industry of mom-and-pop shops with no clear leader, something he'd learned at CMU. Using his education to manage the unpredictable nature of hydraulic repair and remanufacturing, he grew the business into a $90 million company with multiple locations.
Along the way, strong beliefs took hold. The McKinsey days when he had participated in "billions" worth of outsourcing auctions nagged at him. "It's not sustainable," he thought. "You can't keep consuming if you don't produce." He questioned the belief that low-value processes can be competitively outsourced, particularly after his non-U.S. part supplier of a decade offered to supply the entire piece of equipment. He'd seen it happen in industry after industry and thought, "Those guys are very smart, too. They're trained in the U.S. They've seen the world. When you let one part of your supply chain go, they'll make that part, then take the whole thing over."
He challenged those who proclaimed, "America will innovate and rest of the world will produce for us," thinking, "My son has no chance of innovating the next generation of engines if he has not seen today's engine. We were a country of doers and thinkers, which we must remain; otherwise, you become a country of advisors and consultants. Who, then, will innovate?"
He would point these ideas out repeatedly to friends and colleagues. Eventually, one made a life-changing suggestion. "Shirish, you should move into policy." While exploring presidential campaigns, he discovered the council, an active and visible entity, founded in 2004. Members represent industries from shipbuilding to technology and businesses of varying size, as well as the CEOs of top-10 companies.
Pareek notes the "selfless engagement" of this group of busy high-profile individuals, who make time for the hands-on council that meets quarterly, along with monthly subcommittee meetings and weekly conference calls. He's gratified to see tangible results of their work, and he appreciated that Secretary Pritzker (billionaire, entrepreneur, and daughter of the Hyatt Hotels co-founder) is a businesswoman looking for results. "She demands action," says Pareek with admiration. "She's not just satisfied by vague ideas. She says, 'Look, if it's the right thing, that's great. Give me a playbook; give me a business plan'—that's the term she uses—'Give me a business plan I can use to make it happen.'"
The council tackles issues from tax and trade to innovation and research, though Pareek's particular passion is—as it has always been—education and training, in this case, rebuilding the American workforce.
"We don't have a jobs problem," he declares. "We have a skills problem. You talk to any manufacturing executive, ask them the #1 issue. It's trained workers. In my factories, I have dozens of positions open for trained hydraulics workers. We can't find them." According to Deloitte, nearly 3.5 million manufacturing jobs will open over the next decade as Baby Boomers retire, but 2 million of these will go unfilled due to a skills gap.
As such, Pareek chairs the subcommittee on workforce and perception. "There's a perception issue," he stresses. "For 30 years, we have somehow felt that manufacturing is dirty and dingy and society has migrated its resources and its young to the service sector. We have somehow made ourselves believe that driving a piece of equipment, working on a shop floor, these are low-level jobs."
On the contrary, a manufacturing worker averages a healthy $77,000 per year, 17% more than comparable service jobs, according to the Commerce Department. Today's facility is clean, technical, and highly advanced. Pareek's subcommittee is working to bring applicable engineering, production, and trade skills into middle- and high-school coursework, while encouraging community/college/industry partnerships for apprenticeship programs in order to leverage the infrastructure of community colleges to train future manufacturing, production, and trade skills workers.
It's a big step in the right direction, but is there a larger solution? One thing it's not, Pareek says, is the mere "re-shoring" of old jobs.
"The reality is, those jobs aren't coming back," agrees Fedder. "It's 2016, and we're in a different world. There are still manufacturing jobs, but they're different than those of the '70s and '80s. They're evolving toward these higher-skill positions."
Then what? Pareek believes the solution requires a radical cultural shift. "Universities like Carnegie Mellon do amazing research," he explains, "but we don't have a culture of manufacturing anymore that allows it to flow from the university into the real world, with workers and innovators and entrepreneurs who love manufacturing. That ecosystem is the long-term solution."
­Fuchs has her own take. "The U.S. doesn't want everything back," she adds. "It's the wrong way to think about it. The U.S. needs certain types of manufacturing for national security and to continue to be able to innovate. To keep that manufacturing in the U.S., we need not to bring back existing manufacturing of existing products, but rather to create the products and processes of the future."
We have to change the playing field so that the products that consumers want are products that need to be made here. One important example is early-stage technologies in process-based industries like pharmaceuticals, chemicals, and semiconductors—which history shows stay locally while the technology behind the product remains at the technological frontier. Fuchs goes on to weave a compelling example of "making products in volumes of one," where sneakers, for instance, would no longer be mass-produced in distant factories, but 3D printed nearby, customized to your own specifications including not only size but also material, then delivered to your door by drone.
And she says CMU is poised to make it happen. "CMU's had a long history of quite significant involvement in leading the technological frontier in new material and process innovations." Fuchs points out. Dating back to its industrial beginnings, CMU has been both a well-documented pioneer and a leader in critical areas that include chemistry, materials science, robotics, design, machine learning, learning science, (for training an adaptive workforce), and engineering and public policy (to make sure technical realities are brought to bear when considering the policy implications of such investments)—all of which are likely to prove key to the revolution. And unlike at other universities, at CMU parties from across these disciplines are willing to work across disciplinary boundaries to solve real world problems like this one.
"There's a resurgence that I'm starting to feel," says Pareek, reminiscing about that long-ago day in his small hometown. "The winds are going in the right direction, and good things are happening. We just have to make sure we are ready."