It began with an unassuming book. It soon may mean the whirring of a drone landing softly on your front porch to deliver dinner. For Amazon, Inc., the behemoth that defies categorization, it's all in a day's work. Long recognized as a company focused on the long term, it plows earnings back into growth, changing retail technology and new ventures, yet manages to remain a darling of investors despite sporadic profitability. Last year, Amazon breezed by Walmart as the most valuable retailer (by market capitalization) on the planet.
From its incorporation in 1994—in founder Jeff Bezos's garage—Amazon has made shocking strides and fascinating turns, prone to doing things in a big way. Beginning simply with online books, the e-commerce startup exploded, quickly expanding into categories like clothing, consumables, and electronics. Since then, it has branched out from retail into everything, from its dominant cloud computing platform to television production and a streaming service to rival Netflix. Famously tight-lipped, Amazon inspires rabid speculation. Rumors abound, for example, that the company is developing its own delivery network to supplant UPS and FedEx, as it leases jets and sets loose a fleet of trucks. The opening of the company's first physical bookstore in Seattle led to media speculation about opening hundreds more.
Growth has been staggering—from revenues of half a million in 1995 to over $100 billion in 2015. And this burgeoning company that employs nearly a quarter of a million people worldwide is steered by approximately a dozen individuals—the senior team—who report directly to its unconventional founder.
For one crucial member of that team, however, his involvement didn't all follow from books, shoes, or music. It came on the heels of scientific supplies and chemicals.
It was 2002 when the call came, one that made Brian Olsavsky stop and take notice. After all, it was hard to ignore the CFO of Amazon. Olsavsky had been at Fisher Scientific, a laboratory supply company, for seven years. He was well ensconced in a responsible position in Pittsburgh, PA, where he'd previously attended Carnegie Mellon's Tepper School of Business. The top-notch business school, re-named for alumnus benefactor and hedge-fund billionaire David Tepper, was established on the foundation of a revolutionary analytic approach to business—management science. It had been home to nine Nobel laureates and countless accomplished faculty and alumni. Olsavsky was happy to be in Pittsburgh again. His wife was even happier, back in her hometown raising their three little girls, just a mile from her mother.
But this was Amazon calling, a hot, young Internet company, and the CFO was asking him to come on board in a very senior position, as a direct report … in Seattle. Olsavsky and his wife had some serious talking to do.
Olsavsky had enjoyed a typical suburban childhood, except, perhaps, for the incredible, ever-present smell of chocolate in the air. Milton S. Hershey had created the town out of a cornfield. His influence was everywhere in Hershey, PA, and growing up in the shadow of this captain of industry had an inevitable effect on the young man. Olsavsky was a twin, the two youngest of four children of an engineer father and homemaker mother. He was talented in math and science and, like many kids of the day, most interested in getting outside to play basketball and tennis.
His leadership ability and ambition showed themselves early. This president of his senior class was already set on a career in business. Following the lead of his father, who'd moved into shipping sales, Olsavsky decided the best route was an engineering degree and enrolled at Penn State. Though he studied mechanical engineering, he jokes today that, no, he's no engineering whiz—the future spouse he met at Penn State was really the one who put their gas grill together.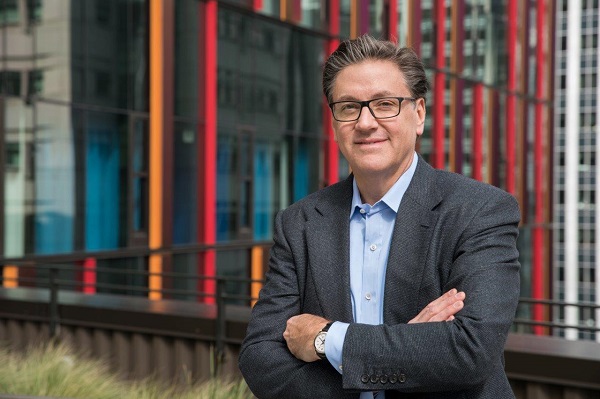 After graduation, Olsavsky headed off to Hartford, CT, where he spent two years as a production supervisor for a Glad plastics plant. It was an eye-opening introduction to adulthood that included numerous night shifts supervising 70 workers, all older than the newly minted graduate.
"At two in the morning, you learn a little bit about yourself, and you grow up pretty quickly," he muses today. "You have to be diplomatic, you have to try and be inspirational, and you have to keep the mechanics on your side because if the machinery goes down, you suddenly have 70 people sitting around doing nothing."
Sticking to his greater plan, Olsavsky soon began comparing graduate business schools and settled on CMU's Tepper School of Business. The high-ranking school was known for its analytic focus and reputation for building on a technical background. He was particularly attracted, though, by the school's small class size and the promise of knowing his classmates and teachers more intimately.
Once enrolled, Olsavsky was drawn to finance. Not surprisingly, he was elected game team president, as part of the school's capstone business simulation course. "Managing that team was also an experience in human behavior," he wryly recalls. "And we did really well," he adds.
"We also did really well early on, then faded into the close. It wouldn't surprise me if we came in dead last," jokes Tepper friend and rival game team president, Kevin Willsey (TPR'89) of their "allegedly good-natured" competition.
In all seriousness, Willsey, now chairman of global capital markets at JPMorgan Securities, recalls a down-to-earth, straight-shooter of a friend who was always open and more than willing to unselfishly help, even during their supposed rivalry. And where others classmates might fold under pressure "like a nuclear reactor with the rods pulled out, Brian was the guy on the opposite end of the continuum, with quiet, calm confidence like, 'OK, lay it on me, no problem.'"
The day before his 1989 graduation, Olsavsky married his Penn State sweetheart. The newlyweds stayed for the graduation ceremony, then set off for a short honeymoon and a move to Akron, OH, where Olsavsky had taken a position.
He was headed to BFGoodrich, following a few Tepper alums there. Significantly, he was also beginning a pattern of sniffing out opportunity—and the chance to really make his mark. BFGoodrich had just sold its tire business, so it was flush with cash and ready to build its chemicals and aerospace businesses. There were very few leaders and fewer MBAs, and he'd be working directly for the treasurer, gaining finance experience.
"I got a chance to jump in and make an impact really, really quickly," he says.
Five years in, word of that impact was apparently spreading, and Fisher Scientific came calling. It meant another move, this time to New Jersey, but opportunity was beckoning once again. Like Goodrich, Fisher was growing rapidly, building itself through acquisition. It was too good to pass up. After two years in Fisher finance, Olsavsky moved into the logistics arena and, with his family, to the Pittsburgh headquarters, all the while honing his management skills.
"Logistics is very interesting for someone with finance and engineering skills because it's this large optimization of vendors and products on one side and customers on the other," he explains. "You can have all kinds of combinations of number of warehouses, how much inventory you hold, etc."
It may be crystal clear to us where this was headed, but unbeknownst to the young Olsavsky, he was building a skill set—and clearly quite a name for himself—that would be irresistible to another burgeoning company. In 2002, the call came from Amazon.
Would Olsavsky come and head up Amazon Worldwide Operations Finance? Fisher's rapid expansion had slowed. Amazon was in its early stages, mushrooming and beginning to add a few senior-level executives. It could be his Next Big Opportunity.
But Seattle? They'd finally settled in with their girls, ages 4, 8, and 10. And it would be a serious cultural change.
"I'd had my head down working very hard in the 1990s, right through the whole Internet boom and bust," Olsavsky explains. "And Amazon was not high flying at that point," he adds. "The stock price had been over $100 and dropped to $7, so it was not a sure thing by any means."
But Olsavsky saw the "long-term potential of the Internet," particularly retail on the Internet. "It wasn't an easy extraction," he recalls, but in the end, they decided to go for it. "We said, let's give it two to three years. Let's see what this is all about and give it a try."
The family pulled up stakes and moved west.
Olsavsky found he loved Amazon, and he thrived in the turbo-charged atmosphere. "It was liberating," he declares. "You're growing so quickly that your biggest risk is building something too small and needing something bigger. It flips the whole dynamic from simply minimizing costs to making intelligent decisions to support this business that's on fire."
He spent his early years focused on acclimating, assimilating into the "fast-moving stream." And as Amazon grew around him, so did Olsavsky's responsibilities, with the job getting 30% bigger each year, as he describes it.
One has to wonder, with the parade of tantalizing offers, newer Big Opportunities, that surely came his way, what made him stay? Along with the fascinating scope and challenge of his position, he points to that culture—whip-smart colleagues and an environment "so different and so much better than what you've experienced at a normal company." It's a particularly interesting comment, given the recent media dust-up surrounding that very topic. "It's not a place for everyone," he admits, "but you know, you're never as good as they say in the press and you're never as bad as they say in the press."
Another Tepper alumnus, Marc Onetto (TPR'75), who led Amazon operations from 2006–2013, says much the same.
"Of course, in any big organization, there are people who are not happy, a few who just don't fit," he says. "Amazon is an exciting place, an intense place where you work very hard and there are a lot of challenges. But also lots of important opportunities to do great things. My years there were just fantastic."
Olsavsky moved on to head the North American, then the international retail finance, and the worldwide consumer business, and last June he stepped up to CFO. Willsey sent over a congratulatory email to his "really decent, unflappable" friend, knowing that his personal qualities were "something different" and boosted his obvious talent to "the very, very top of the mountain in a company with an enormous amount of collective IQ." Olsavsky now heads a team of thousands in countries across the globe. Amazon, in that time, grew from $3B in sales to more than $100B.
Olsavsky describes his position at Amazon as unique for a few reasons. First, there's Jeff Bezos. "It's very different working for a founder and owner," he says. And the focus on invention and innovation on behalf of customers is just unlike any other company I've seen." Of Bezos, Onetto just says, "Genius."
Olsavsky calls out the company's unwavering commitment to investing for the long term. "I know they talk a lot about it externally," he says, "but it is real. We work on two tracks. We're trying to run the businesses we're in as efficiently as possible, but we're also making very bold bets for the future at the same time."
Bold bets indeed. If cloud computing, robots, and television production aren't enough, how about filing as an ocean freight carrier, competing with Apple's iPad, or quick-delivering fresh food, to name just a few?
"Amazon is an interesting organization for financial people," Onetto points out, in reference to Olsavsky's special position. "It forces them to think beyond just cost, to consider, 'Really, are we spending our money wisely in terms of the customer experience?' Brian has developed a very special trust within the company as part of those decisions while at the same time, of course, being the one who reminds everyone how much money we're spending!"
He adds an interesting twist on Olsavsky's distinct Amazonian fit. "He's clearly very active and dynamic and at the same time a very calming personality. Brian is one of those guys; he is cool. He's never too excited either one way or the other, so he helps people stay focused on the long-term view—really one of his very strong points."
Sort of like the time the two co-chaired a Seattle alumni event. As Olsavsky took the podium, he calmly welcomed the group, smiled at Onetto, and casually announced they'd both be matching any donations made that evening. It was news to a surprised and amused Onetto.
Importantly, Onetto notes that as a key finance leader since he came on board, Olsavsky has played a notable role in the long-term growth of the company itself. In fact, according to The Wall Street Journal, many of the most successful CFOs are heavily involved, like Olsavsky, in the operations of the business and often develop strategy alongside the CEO.
Olsavsky strongly agrees, and it appears to be a key element in his own success.
"Brian is one of those guys; he is cool. He's never too excited either one way or the other, so he helps people stay focused on the long-term view—really one of his very strong points."
"The operational CFO is really coming into prominence," he says. "You have to know accounting, tax, treasury, but you also have to be able to be a full partner and help run the business. You need to be able to look around corners."
As opposed to those with more traditional accounting backgrounds in finance, he views his engineering and business degrees as adding valuable layers of necessary perspective.
"[The traditional route] is great training for finance and accounting skills, but those people can sometimes be less comfortable in diving deeply into business operations," he says. "When you're an engineer and have a business degree on top of it, you can be an embedded agent, if you will, on the business teams."
He sees his Tepper skills, the way of thinking, the confidence, as invaluable, literally "life-changing" and accelerating his remarkable career. It's one of the reasons he remains passionately involved with his alma mater. Another reason is the school's size.
"In a small school like Tepper, there's nowhere to hide," he quips. "It's not like you're sitting in a class of 2,000 people just taking notes."
On the other hand, he adds that the benefits of a class of just 200 carry a price after graduation. With fewer alumni in the workforce, "You can't stand on the sidelines and expect others to do the work."
And work he does. Among other activities, he founded and remains active in his Seattle alumni chapter, served on the school's alumni board, and has just joined the school's advisory board, along with Onetto and Willsey. As a result of all his achievements and work with alumni, Olsavsky was awarded the Alumni Distinguished Achievement Award from the university. Since his own 1989 graduation, he's actively recruited Tepper grads. If a relationship didn't already exist between CMU and his employer, he created one. When he joined Amazon, Olsavsky clearly recognized the company's premium on analytic talent—the type of talent that Tepper was ideally suited to provide, producing alumni like namesake David Tepper, founder of hedge-fund Appaloosa Management; Francisco D'Souza, co-founder and CEO of multinational IT company Cognizant; and James Swartz, founder of venture capital pioneer Accel Partners, to name just a few.
Olsavsky helped establish a remarkable recruiting pipeline, bringing many new Tepper graduates into Amazon. The company is now one of the largest recruiters of Tepper students, clearly a "great symbiotic relationship."
Olsavsky also welcomed a more experienced alumnus in 2006 and helped him acclimate—a grateful Onetto. The latter is also a highly involved Tepper alumnus who credits his analytic education for success at the quantitatively focused Amazon.
Onetto joined Amazon at the age of 56—older by 25–30 years than everyone who worked for him, as he tells it. The antithesis of obsolete, he was able to lead the operations of a cutting-edge Internet company using the analytic fundamentals he learned at CMU, "more valuable today than when I graduated."
Onetto joined Olsavsky in expanding the recruiting pipeline into operations, making Amazon one of biggest recruiters of CMU computer science and engineering students, as well. There are now more than 150 CMU alumni at Amazon. In fact, the two colleagues maintained a friendly competition—whose area could bring in the most CMU graduates? "I think Brian was more successful," Onetto says with a wink.
"Carnegie Mellon has these core strengths that it's maintained for years," says Olsavsky. "CMU hasn't changed, but it's remarkable to me how the world has come around, needing CMU skills in higher and higher demand."
In fact, Olsavsky points out that though Tepper graduates a small class, there have been a number of prominent CFO alums, at companies including IBM, Tesla, JC Penney, BlackRock and ironically The Hershey Company. "Hey, I didn't know that job was available!" he adds.
And Amazon. With Olsavsky and his company's accomplishments, the retail landscape has changed dramatically. Although the vast majority of retail dollars are still spent at physical stores, their sales have been declining 15% annually as online purchases have increased 17% per year, according to RetailNext. Walmart is closing 269 stores, and Macy's is slashing 4,500 jobs, also shuttering dozens of stores, reported The New York Times. Add to that the changes in technology, the ability to purchase via mobile devices, and delivery improvements like Amazon's move from standard delivery to two-day to two-hour. When the continued speed of change is mentioned, Olsavsky says simply, "I think it's accelerating."
"I don't think people always like to go to stores," he adds. "I think they've had to because it's the way you're going to get something in the next two, three, five hours. With our Prime Now service, we save you that trip, the gasoline, and that time, and give it back to you. Faster and faster delivery is the name of the game right now, and I think that it's going to continue to be in the future."
He does point out, however, that it's no easy feat to pull off—and still make money. "We know that customers value fast delivery, and it is up to us to provide this in a cost effective way." he says. (Drones, perhaps?)
"On the other hand," Onetto adds, "I have no doubt that there is also a place for traditional retail. But they will be forced to differentiate, to really bring an experience of high quality to the consumer, to reinvent themselves. This will be a difficult process, and some will not make it."
Onetto notes that online retail carries the additional benefit of being more environmentally efficient and believes that in some developing countries, retail may go straight from small shops to e-commerce, bypassing the large, electricity-consuming stores of the developed world.
"I am very excited by the future of e-commerce," he says, highlighting the growth in technology and sectors yet to be touched. "The world is changing and, I think, changing for the better."
"That line between physical and online is blurring to the point that there's no difference," says Olsavsky. "There are new competitors popping up every day who want to deliver things to your door."
He adds, "It's a good time to be a consumer."