The young Frenchman found himself in Pittsburgh in 1973 to pursue his MBA at Carnegie Mellon. The city today is a model for urban renaissance, but back then it was a bit of a culture shock for Marc Onetto. Born and raised in Paris, he had already earned a master's degree in engineering from the Ecole Centrale in the French city of Lyon. Lyon and Pittsburgh are both founded at the confluence of two rivers and are surrounded by rolling mountains. But Lyon was well on its way to becoming the second-most populous metropolitan region in France, after Paris. Pittsburgh, on the other hand, was just beginning to deal with two decades of a shrinking population owing to the decline of the steel industry.
The change of scenery didn't faze Onetto, though. "I loved the university immediately," he recalls. "I guess I tend to only remember the good things."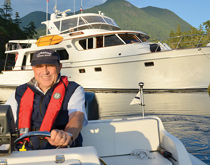 For him, the "good things" included the highly data-driven approach to business management he learned at Tepper and the diverse community of his classmates—from Europe and Asia as well as America, which exposed him to varied cultural perspectives. He jokes that, overall, his Tepper experience may have lacked good French wines for dinner, but it helped him immensely during his 40-year management career across industry giants: first at Exxon, then GE, and finally Amazon, where he retired in 2013.
As vice president and general manager of global supply chain for GE Medical Systems, Onetto spearheaded the globalization and quality-transformation effort using Six Sigma, which is a set of management tools and techniques for analyzing and overhauling product quality and customer service. His successful impact during his 1992-2002 tenure was recognized by Jack Welch, the GE chairman and CEO from 1981 to 2001. During that time, the company's value rose an astonishing 3,000 percent; and Welch, in his 2001 autobiography, recognized Onetto's contribution, which Onetto recounts with pride.
Onetto wasn't done impressing his employers. In 2006, he became Amazon's senior vice president of worldwide operations and customer service, under CEO Jeff Bezos. Onetto joined the company at age 56, never having formally studied computers. (His calculator at Tepper could do square roots—and he says that was cutting edge!) "One thing that I can tell you is that what I learned from Carnegie Mellon, even what I learned 41 years ago, … meant that I was never completely obsolete, even when I joined Amazon," he says.
Although he cites both Welch and Bezos as inspirations, Onetto, too, has become an influential business leader in his own right. Post-retirement, he started a consulting company that guides business leaders through transformations and transitions. Amazon's new CFO, Brian Olsavsky, a 1989 Tepper MBA who worked alongside Onetto during his tenure there, isn't surprised that his former colleague has continued to work in this capacity even in "retirement."
"His consulting firm is named 'Leadership from the Mind and Heart,'" points out the Amazon exec, "because he cares very deeply about the people and organizations close to his heart—his family, the country of France, and Carnegie Mellon, to name a few."
This care has manifested itself in Onetto lending his business acumen not only to clients but also back to the university. In 1999, he began serving on Tepper's Business Board of Advisors, and last spring he donated $500,000 toward the forthcoming Tepper Quadrangle expansion, joining the rest of the board members, who also made significant gifts.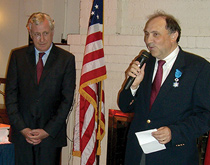 His re-involvement with the university actually began in the early 1990s, when he and his wife established the Marc and Sally Onetto Graduate Fellowship Fund to provide financial aid to prospective Tepper MBA students from the European Union. The goal of the fund is to foster the same diversity of students that he found so valuable, which he had noticed wane, partly due to financial concerns for international students unable to receive government aid. The couple has continued to contribute to the fund, to the tune of around $1 million.
"He makes philanthropy and service a priority," says Olsavsky. "In fact, Marc's example encouraged me to set up a scholarship as well."
Several dozen European MBAs have benefitted from the Onettos' aid in the intervening years. The most recent beneficiary is 2014 graduate Simon Laridan (TPR'14).
Laridan actually had the opportunity to meet with Onetto before making the decision to attend Tepper, an encounter that convinced Laridan to attend CMU. It paid off; the Lille, France, native now works for Amazon.
"Marc took time to tell me a lot more than what you can find online about Amazon's culture and career opportunities," Laridan reflects. He was struck by Onetto's accessibility and enthusiasm for engaging with prospective students. "And most importantly, he listened to my career goals and made sure I was in contact with the right people."
Laridan and Olsavsky aren't alone at Amazon, either; Onetto was also instrumental in establishing a bridge between the company and Carnegie Mellon's School of Computer Science, and Amazon now recruits more SCS graduates than any other tech company.
In August 2014, Onetto was honored with the Tepper School Alumni Achievement Award for his contributions, which are measured not only in money but also in the time he's spent on campus, the businesses and careers he's influenced, and the students he's helped attend the MBA program to experience those "good things" he credits with shaping his career.
Laridan, an example of one such student, muses, "If I can have my legacy look the closest to Marc Onetto's legacy, I would be very happy."