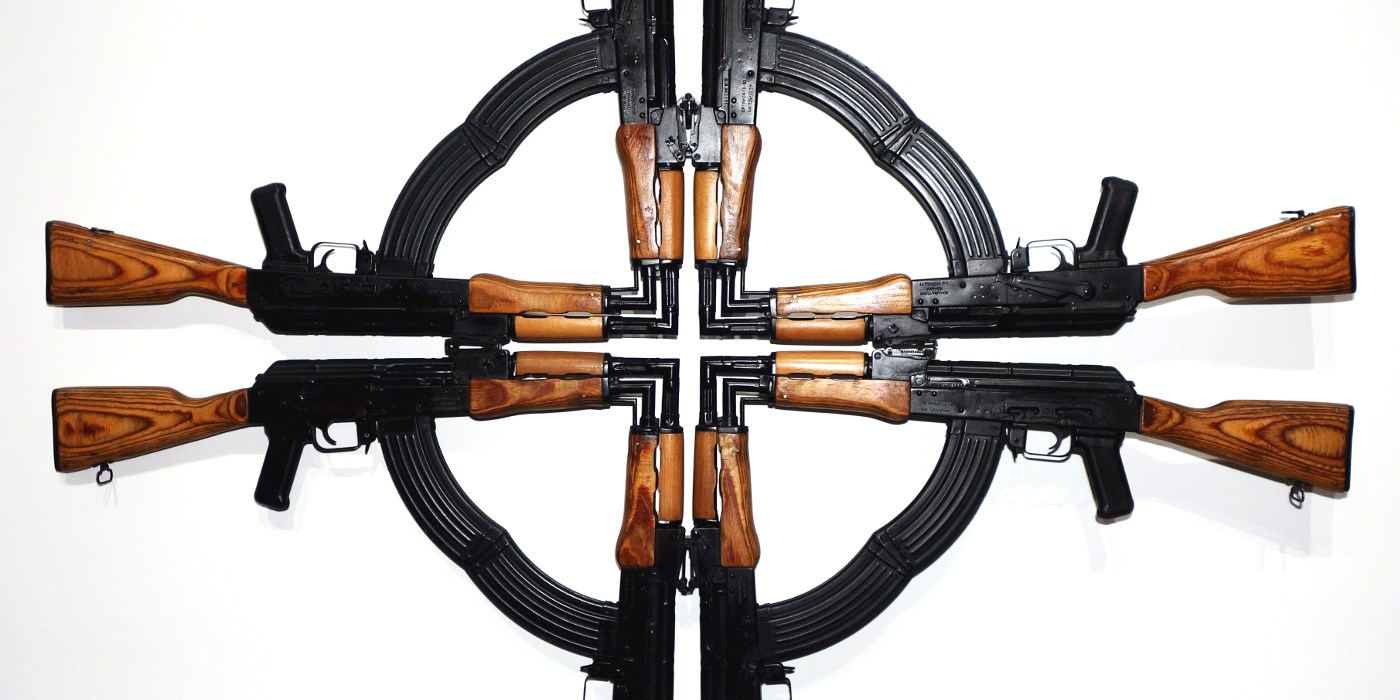 Eight AK-47s—wooden pistol grips polished and gleaming, barrels blacker than black, hanging on a wall of a downtown Pittsburgh art gallery. Bent and welded together, the semi-automatic assault rifles form an eight-pointed Maltese cross. During its ten-week display, the sculpture attracted a diverse audience—art aficionados, non-experts, kids touring the gallery, even passersby off the street.
What were they thinking? What were they feeling? Awe at the power concentrated in so many guns, maybe. Wonder at whether the guns were loaded. Fear. Fascination. Perplexity. Anger.
"Cross for the Unforgiven" (top image) was created by Mel Chin, an award-winning artist known for inserting art into unlikely places such as destroyed homes and toxic landfills to raise social awareness. The piece is part of UNLOADED, a multimedia exhibition traveling the country that explores the availability, use, and impact of guns in our culture. There is live ammunition in at least one of the artworks, though it's sealed in marble and thus can't be used. Still, the show's bold premise is menacing.
Because you can't bring up guns without opening the Pandora's box that is gun control in America.
The Gun Fight
Pick a headline. Sadly, they're easy to find. Take the 14-year-old boy who was fatally shot in the head while walking home from school just a few miles from the Pittsburgh gallery. Or the recent mass shooting at Umpqua Community College in Oregon.
One side of the debate insists that the shootings are a consequence of how easily the shooters could obtain firearms, and they claim that tighter gun control laws could have prevented the shootings. The other side of the debate insists that people, not guns, commit crimes; that shooters may be deterred when victims or others nearby are also armed; that "bad guys" don't follow rules anyway, so it's pointless to enact more of them.
Each side touts persuasive stats and strikes the other side with phrases such as "liberal gun grabbers" or "conservative gun nuts." (Those are the mild ones.) Hateful language rules, especially on the web, where it's easy to be masked in anonymity.
The art in UNLOADED tackles the issue in a way that disrupts name-calling, at least momentarily, by removing guns and gun talk from the usual context. One example is "Ungun," built from animated sequences of 5,000 images extracted from guns found in hundreds of films found online. Their visual disintegration reflects artist Jessica Fenlon's observation of how gun talk "devolves into shouting matches that shatter social relationships."
Curator Susanne Slavick's art has explored loss and the aftermath of war abroad and, more recently, gun violence in the United States. Showcased in museums and galleries from New York to China, her work has garnered prestigious fellowships and awards from, among others, the National Endowment for the Arts. Most of the pieces she selected for gun-related themes existed well before the exhibit. Featuring nearly two-dozen artists from around the world, UNLOADED made its premier at SPACE gallery in Pittsburgh before heading off on a nationwide tour with stops in six states and counting.
Given that her artwork explores pressing social issues, it's no surprise that Slavick's research included being active online and on social media. The web is, after all, where many people get their news and where digital activism has sparked sweeping political change. What disturbs her is the dearth of civil conversation about guns and the futility of trying to interact with opposing views.
"It's too psychologically draining, and it's not effective," says Slavick, Andrew W. Mellon Professor of Art at Carnegie Mellon University. "How can you get people to have a dialogue? Is it even possible to change minds or find any middle ground?"
The late Preston Covey, who was the head of CMU's philosophy department, addressed this as well when he wrote: "Indeed, the controversy over gun control has been called a 'culture war,' because it evokes impassioned conflict amongst people's deepest sensibilities and convictions about how best to secure human life and limb, individual liberty, social order, or an appropriate balance."
Standoffs on the Web
One of the most dangerous places to venture online is in the comments section of a story about a shooting or gun control, where the tug-of-war over this deeply polarized issue is apparent.
When it comes to guns, people simply don't engage online with perspectives that don't match their own, and there's proof that they swing farther left or right when shootings make headlines. A group of CMU researchers, including PhD candidate Danai Koutra, analyzed web browsing logs for more than 25 million users in the United States in the weeks just before and after the Sandy Hook shooting in December 2012. They found that before the shooting, most users accessed gun-issue sites that fell within the same political stance; then during the surge in gun-related browsing following Sandy Hook, those users continued to access content they agreed with but of an even more extreme variety.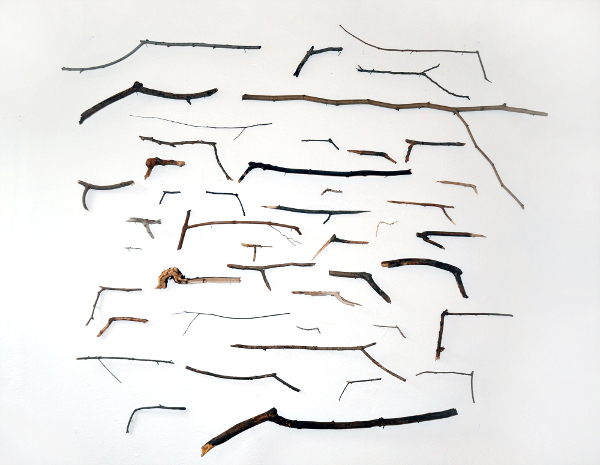 "Any instant case of gun control policy serves, in effect, as a rabbit hole leading to an underlying warren of issues: questions of fact, questions of value, and questions of how to try the facts and weigh the values at stake," wrote Covey.
That's because it's a slippery slope, says Kim Stolfer, founder of gun rights group Firearm Owners Against Crime. His organization boasts 2,000 activist volunteers and 108,000 members or online subscribers in Pennsylvania and a dozen other states. Just like Slavick, he too is frustrated by the national dialogue.
"We don't feel like we're treated fairly by the media," he says. According to him, the media tend to report the shootings but not how the past few decades have seen a "significant" drop in crime nationwide. Nor do they play up stories of how guns save people—like the citizen in Warren, Mich., who shot a bank robber, foiling a holdup and potentially saving bystanders' lives. He asserts that guns are simply a scapegoat for the underlying causes of violence, such as poverty and racism.
Such frustration on both sides spills onto the web and prevents dialogue, and dialogue is what Slavick, through art, is trying to create.
Curating Guns
Ironically, the Internet is where Slavick found several of the works she invited to be part of UNLOADED. She came upon a Facebook post by artist Jennifer Nagle Myers, a sketch of sticks found in the woods that resemble gun shapes. It reminded Slavick of how her son would play. "I never bought him toy guns, yet he would make them out of tinker toys and sticks." Another piece in the exhibit, by Anthony Cervino, enlarged and fabricated the pieces left over from a model assembly that a child might play with, plastic sprues eerily similar to the shapes of Uzis, bazookas, and rifles. The artworks are accompanied by stories of how they were created as well as gun stats related to the issues they raise. Issues like kids with guns, guns and masculinity, and gun access. (Mel Chin was amazed at the ease with which he could purchase those eight AK-47s, even as the cashier casually asked him, "What are you gonna do, start a war?") Although the stories and stats run parallel to the pieces, the art on its own does not necessarily announce where it falls on the political spectrum.
"The exhibition left it open as to which side it was on," said Chris Korch, preparator at SPACE. "It was open enough that some patrons saw it as presenting guns in a positive light or even glorifying guns."
Several works are arguably ambiguous, others more straightforward.
Andrew Ellis Johnson's "Rehearsal" is brazenly explicit: human ears cast in marble are plugged by bullets. The CMU faculty member created this physical rendition of "see no evil, hear no evil" to "represent the adamant refusal to face the facts on gun violence" by those who oppose stricter gun control.
But could it perhaps depict a gun-control lobbyist with ears sealed to the truth? To Stolfer, yes. "If I knew that giving up my guns would save a life, and not cost a life, I would do it," he says.
You read that right—a gun rights advocate is willing to lay down his arms to save a life. He just doesn't believe that's the answer.
"The fact is that it would only grow crime," he says, citing England, where the homicide rate initially increased after a 1997 law required civilians to surrender firearms. Although criminologists say the sweep did inhibit lethal weaponry in later decades, other say rates before and after don't differ significantly.
Slavick's own art in the show includes a series of screen-printed pillows bloodied by the impact of bullets. It evokes the intimacy of home and calls to mind the alarming rates of domestic violence in this country. The National Center on Domestic and Sexual Violence reports that a woman's risk of being murdered increases 500% if a gun is present during a domestic dispute.
"When we're asleep is when we're most vulnerable," she says of the project, which was originally created in 2002. "It's the idea of not being safe even in the most private sphere."
Yet gun rights advocates see a different story. There's the domestic violence victim in New Jersey, where gun laws are among the strictest, who was fatally shot by her attacker while awaiting a gun permit that was submitted six weeks prior. It could be proof that not only is a woman safer in such situations if she's armed but that more restrictions make it unreasonably difficult for law-abiding citizens to obtain a gun. Stolfer, who has trained thousands of people to shoot, has personal experience with the issue. He gave shelter and (armed) protection to two family members who fled domestic violence situations. His advice for a woman to protect against an attacker twice her size? Learn to shoot.
"I love training women," he says. "They want to do it right, and they have a multitasking mindset that makes them uniquely suited to self-defense."
Artist Renee Stout weaves themes of women and guns with the complexities of violence in urban minority neighborhoods, which are overwhelmingly affected by gun violence. Winner of the 2012 Janet and Walter Sondheim Artscape Prize and a 1980 graduate of CMU, Stout is known for her work engaging themes of African diasporic culture. Her piece in UNLOADED, "The Conversation," features a gun floating above words expressing a desire to "put on perfume and make guns." Although she supports gun control, this piece grew out of a complicated urge for arms, in part, from living in a "challenged neighborhood in an area of DC, called Shaw, in the 1990s… It wasn't people in the neighborhood I felt that I needed to be suspicious of or protect myself from as much as it was a system, including the police, that perpetuates a lot of what creates a so-called 'dangerous' neighborhood," she says. "As an African American woman, my perspective of what constitutes a 'threat' to my well-being is very complex. For example, some Americans may see 'The Oath Keepers' as heroes, while I feel they are a gun-toting group that poses a threat to the well-being of this country. Yet, the FBI cracked down on the Black Panthers in the 1960s because they were carrying guns to protect their communities under attack by corrupt police. Many white people saw them as a threat to the country's well-being. There is no clear-cut definition of the 'good guys' and the 'bad guys.'"
This context is where criminologist Alfred Blumstein believes the really troubling aspect of the gun issue lies—not the North Dakota resident touting rifles for game and hunting, but the handguns on the urban streets that disproportionally impact minorities.
Blumstein, Professor of Urban Systems and Operations Research at CMU, has researched various aspects of crime and the criminal justice system for 40 years. Former director of the National Consortium on Violence Research, a multi-university initiative funded by the National Science Foundation, he thinks that vying for gun control is generally hopeless because of the political environment.
His research does point to one major counterforce to guns in the streets and the sprawling black market that supplies them: stop and frisk. In particular, he alludes to New York City in the 1990s, an aggressive stop-and-frisk initiative in which police confiscated illegal guns. The murder rate dropped a whopping 80 percent.
"However," he says, "There's widespread agreement that the NYPD took it too far and lost the trust of the community as a result." A federal judge ruled that the NYPD's use of stop and frisk was unconstitutional and amounted to racial profiling. Blumstein contends that it could still be effective if done in connection with the community, with trust built between police and neighbors.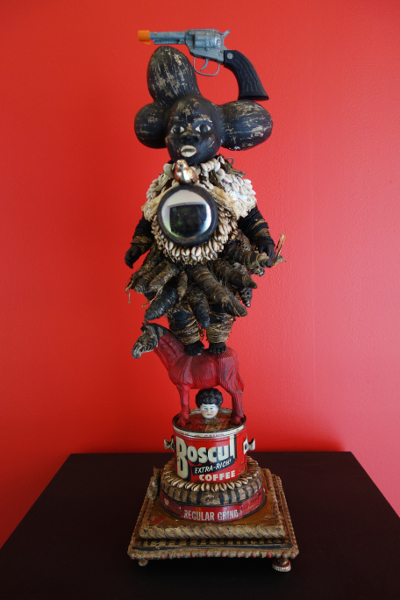 To repair and build trust is slow, and we are in dire need of it right now. Parallel stories of police officers being ambushed and African Americans being shot by law enforcement testify to the ruinous effects of distrust on both sides. How in the world could you convince someone in such a hostile context not to purchase and carry a gun?
Blumstein advocates for early socialization—identifying at-risk populations and funding proven programs for youth. But "the payoff [for that] will be on someone else's watch, so it's hard to get the political will to do it."
Instead of waiting for politicians, show the most vulnerable among us love and art, argues Vanessa German, a Pittsburgh community activist and artist featured in UNLOADED. She also resides in what can be described as a "challenged neighborhood" as she has been awakened by gunshots. Yet, she says, she admires the "love and bravery" witnessed on  the streets, too. Her mixed-media sculpture in UNLOADED shows a black girl balancing a toy gun on her head. Outside the gallery, through her project, Love Front Porch, German invited neighborhood kids to create art on her front porch, encouraging creative expression and hopefully deterring the influence of gun culture. With more than 4,000 followers of her Facebook pages, she uses social media to share art and poetry about the daily heartbreak of gun violence. In one post, she captions a sculpture, "…the museum is one of our last places of refuge." The piece depicts a woman crying crystal-beaded tears and holding a young man's sneakers, maybe those of a son taken from this world too soon.
Like German, some who visited the gallery knew gun violence personally.
"I met a perfect stranger who told me she lost her son to gun violence," says Slavick. "I just had to hug her, and she hugged me right back. It was this very human moment. It's not about art anymore."
A Different Kind of Gun Show
Perhaps the admission-free gallery, in a public space, removed from the isolated parameters of a virtual community, could appeal to people on either side of the gun debate, or those who wouldn't otherwise enter the conversation. Of course, artists have a point of view, and though some works manage to avoid pummeling the viewer with convictions, Slavick's is clear. She sees it as her form of activism.
"I don't think that any single art work is going to change the world," she says. "But I think art is a way of shaping personal and public consciousness and provoking people to reconsider things both intellectually and emotionally in ways that maybe reading or talking don't allow for, or that happen in a different way."
The question is whether a gun rights advocate would visit such a show, open to considering the complexities guns bring up for people all along the political spectrum—fear, anger, and the like. Stolfer was unaware of UNLOADED, but upon learning about the exhibition traveling the country, he asked: "Where's the next stop?"
Editor's Note:
To date, these are the venues that have committed to the UNLOADED tour. Check back for updates on additional venues:
Handwerker Gallery, Ithaca College; Ithaca, N.Y.
Monday, January 25 – Friday, March 6, 2016
Urban Institute of Contemporary Art; Grand Rapids, Mich.
Mid-March – May 2016
iMOCA; Indianapolis, Ind.
October – December 31, 2016
Harris Art Gallery, University of La Verne; La Verne, Calif.
September – October 2017
Top image, Mel Chin, Cross for the Unforgiven: 10th Anniversary Multiple (2012), 1 of 2, AK-47 assault rifles (cut and welded), 54 x 54 x 3 inches