Creative Healing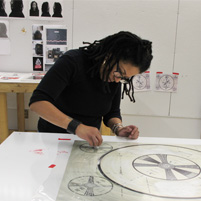 Renée Stout (A'80)
From the time 3-year-old Renée Stout (A'80) began scribbling on the toes of her tan Buster Browns, her mother knew she'd become an artist. What she couldn't know was that her little girl would one day be an award-winning creative force.

The Carnegie Mellon University alumna's work reflects the belief system of African peoples and their descendants. Using a variety of media, Stout confronts the issues of the human condition through her alter ego, fictitious herbalist and fortune teller Fatima Mayfield, encouraging self-examination and healing.

"When I make art, I have a need to process my life's experiences in a way that makes them tangible," Stout said. "I also hope what I've left behind contributes to telling the story of our times, helping future generations to make sense of it all."

Stout's creations — from drawings to mixed media installations — have been exhibited internationally and are featured in many art history publications and collections, including the Smithsonian American Art Museum and the National Gallery of Art. Her numerous awards include the Pollock-Krasner Foundation Award, the Louis Comfort Tiffany Foundation Award, the Driskell Prize and the Sondheim Award.

As a child, Stout's supportive parents kept her stocked with art supplies and took her for weekly classes at Pittsburgh's Carnegie Museum of Art. She chose to attend CMU's renowned College of Fine Arts, never considering another. The school is a family affair — Stout, her sister and cousin attended at the same time.

"Good seeds were planted by some great teachers during my time at CMU," Stout said. "When I moved to Washington, D.C., to build a career, those seeds began to click. I find myself constantly drawing on the words of my professors as I continue to hone my craft."

"I especially appreciated that my CMU education was so well rounded," she added. "Not only do I continue to be inspired by the art classes that I took, but I also draw on lessons I learned about human interaction from my humanities classes."

The 2014 Alumni Achievement Award winner returned to Carnegie Mellon to participate in the School of Art's DRAW2014.

"It was an amazing experience to be back," she said. "I literally teared up as I walked through the doors of the Fine Arts building after 34 years."

Stout said that she keeps many irons in the fire, which includes the work she's doing for a trio of film shorts.

Through it all, she treasures an important memento.

"I keep a little talisman to represent my time at CMU and all that I learned; a tiny pendant that I purchased in the CMU bookstore, shortly before graduation," she said. "It features the famous Andrew Carnegie quote, 'My heart is in the work,' so small you need a magnifying glass to see it. I wear it every time I prepare for a big show."
Related Links: College of Fine Arts | School of Art | Alumni Awards
---