University News Briefs
Carnegie Mellon Places 2nd in State's RUSH to Recycle Challenge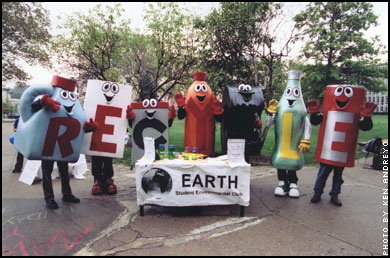 Carnegie Mellon placed second in two categories of the Department of Environmental Protection's 2002 RUSH to Recycle Challenge for 19 Pennsylvania colleges and universities.
Carnegie Mellon placed second in the overall amount of recyclable material collected (143.30 tons or 286,600 pounds) and in the pounds per student (48.22 pounds) categories. The challenge ran from Oct. 7 through Nov. 30, 2002.
"Thanks to everyone who has made our recycling program a success over the years," said Barb Kviz, environmental coordinator for Facilities Management Services. "Even though the recycling contest is over, we need to keep improving our recycling efforts for Carnegie Mellon to be a leader in Green Practices." Recyclable materials collected included bottles, cans, cardboard, office paper, newspaper and plastic bottles.
The university will receive a plaque from the DEP honoring its accomplishments and a $1,000 cash award.
Biomedical Security Software Available to Public Health Organizations
Software that detects a sudden increase of symptoms indicative of a possible bioterrorist attack has been made available at no charge to public health organizations. The software was developed by the Biomedical Security Institute (BMSI), a joint collaboration of Carnegie Mellon and the University of Pittsburgh.
The software is available from the Real-time Outbreak and Disease Surveillance System (RODS) Web site at http://www.health.pitt.edu/rods. Although the software is free, a simple license agreement is required.
BMSI co-directors are Carnegie Mellon's Andrew Moore, the A. Nico Habermann Associate Professor of Robotics and Computer Science, and Pitt's Michael Wagner, associate professor of medicine and intelligent systems.
RODS monitors hospital admissions and emergency records in real time for trends and anomalies suggestive of disease outbreaks, such as flu symptoms, respiratory illnesses, diarrhea and skin rashes. A sudden increase in any of these symptoms might indicate a bioterrorist attack. The software is now in use at hospitals throughout Pennsylvania and Utah. It was used during the 2002 Winter Olympics in Salt Lake City.
Using data that indicate where patients are from and which hospitals they are in, RODS pinpoints the information and plots it on maps. A spike in hospital admissions from a neighborhood, or a message that something is strange by RODS standards, could merely indicate the presence of a flu bug. Or it could mean that a chemical or biological weapon has been released. Based on these analyses, RODS generates alerts about public health conditions and sends them by pager to designated personnel.
Funding for the RODS system was provided by the Centers for Disease Control and Prevention, with additional funding coming from the Agency for Healthcare Research and Quality. Subsequent support for RODS was provided by the Defense Advanced Research Projects Agency and, most recently, by the Pennsylvania Department of Health.
Major Renovations Under Way at Henderson House
The university has begun a major renovation of Henderson House, the wood-frame residence hall that sits below Gladstone Road and the Schenley Golf Club building. The projected cost of the project is $3.95 million.
Henderson will be completely razed, except for its stone walls, and rebuilt as suite-style housing for 60 residents. A third floor will be added along with an elevator. The project is part of phase I of the Hill Master Plan to improve landscaping and pedestrian circulation between Henderson, Hamerschlag and Welch Houses.
Henderson residents have been reassigned to other campus housing for the spring semester. These students have priority to return to the "new" Henderson if they so choose.
Mosites Construction has been awarded the construction contract. Henderson House will re-open in August 2003.
Student Prototypes Aid the Elderly

Mechanical engineering students created several new prototype products last fall designed to help the elderly. Student projects included a modified snow shovel, redesigned shopping carts and a new "quick-twist" bottle cap for easy access to prescription medicines.
To help students understand the needs of seniors, several experts at Presbyterian Senior Care worked with the students to help design socially relevant products.
"The baby boomer generation is not quite ready for long-term care issues, but it is helpful to know we have a generation of engineers knowledgeable about design and consumer issues," said Suzan Krauland, vice president of managed care and community-based services at Presbyterian Senior Care.
"The mission of our design class is to give our students experience in dealing with a variety of engineering challenges while creating an innovative product," said Mechanical Engineering Professor Jonathan Cagan, co-author of a new book called "Creating Breakthrough Products." The book, which offers a revolutionary approach to building tomorrow's products, connects strategic planning and brand management to product development.
Students Develop Web Site To Help Tissue Engineering Firms
Carnegie Mellon students developed a new Web site last fall to help tissue engineering companies navigate the complex U.S. Food and Drug Administration (FDA) regulatory process. Under the direction of Civil Engineering Professor Mitch Small, graduate and undergraduate students from Engineering and Public Policy, Social and Decision Sciences, and the Heinz School created models to help companies understand how to classify products when applying for FDA approval, which can take years.
According to the Pharmaceutical Manufacturing Association, the average development time for getting a drug to market is 15 years with a cost of more than $800 million.
CIT Names Staff Award Winners


Sarah Abdullah (center), administrative coordinator in the Carnegie Institute of Technology (CIT) Dean's Office, Steve Klim (left), facilities supervisor in the Mechanical Engineering Department, and Cynthia Peters, administrative coordinator in the Materials Science and Engineering Department, recently received this year's CIT Staff Recognition awards.
Abdullah and Klim were selected for their job performance, dedication, positive attitude and contributions as team players. Peters received the Timothy J. Burritt Education Award, which recognizes staff members for pursuing further education while working full-time. The award is named for the late undergraduate advisor in CIT.
Six Professors Honored by National Academy of Sciences New Program
Six professors, John L. Anderson (chemical engineering), Alfred Blumstein (urban systems and operations), William Eddy (statistics), Stephen Fienberg (statistics and social science), M. Granger Morgan (engineering and public policy) and Robert White (electrical and computer engineering), have been named to the National Academy of Sciences' new National Associates program. The program recognizes their extraordinary contributions to the National Academies through pro-bono service to programs at the National Research Council and the Institute of Medicine.
Membership in the program is for life, recognizing past service, and new designations will be made annually.
New Shuttle Service to PTC Introduced

University Police has announced a new shuttle service to the Pittsburgh Technology Center (PTC) on Technology Drive to better meet the needs of the university community. The PTC is the former Carnegie Mellon Research Institute (CMRI).
The shuttle operates between 11 a.m. - 11 p.m., Monday through Friday, on the hour and half-hour. The last run leaves the PTC for campus at 10 p.m. There is no service from 3 - 3:30 p.m.
The shuttle boards on campus at The Morewood Circle in front of Morewood Gardens on Morewood Avenue, and on Frew Street in front of Scaife Hall. The shuttle will only make stops or pickups at the designated boarding points. For last-minute changes in the service due to weather conditions, traffic, construction, etc., check the shuttle-escort bboard at official.shuttle-escort.
Sporting News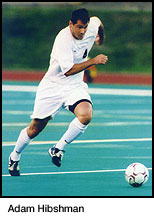 Adam Hibshman, a senior midfielder on the men's soccer team, was recently named first-team All-American by the National Soccer Coaches Athletic Association (NSCAA) and Adidas. Hibshman led the Tartans to a 16-0 overall record, the University Athletic Association (UAA) Championship and their fourth NCAA appearance in school history this past fall. He is the first Carnegie Mellon athlete (male or female) to be named the UAA Player of the Year for three consecutive seasons. Hibshman had eight goals and 10 assists in 2002.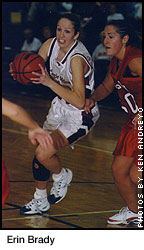 Erin Brady and Michelle Sodini, members of the women's basketball team, recently surpassed the 1,000 career point plateau in two Carnegie Mellon victories. Brady, a 6'2" senior forward majoring in biology and psychology, is the Tartans' leading scorer with an average of more than 15 points per game. Sodini, a 5'5" senior guard majoring in business administration, is the team's second-leading scorer with an average of better than 12 points per contest. Through Jan. 15, the Tartans owned a 9-5 overall record.