Art Gallery Presents Comic Release: Negotiating Identity for a New Generation
Comic Release: Negotiating Identity for a New Generation, an exhibition of work by artists who use cartoon and comic imagery, is on display at the Regina Gouger Miller Gallery through March 21.
Comic Release is a comprehensive exhibition about comic language. Artists from around the world are telling stories through cartoon imagery and they often use this accessible, widely recognized imagery to address difficult issues.
The artists take on difficult topics from events like the Holocaust and 9/11, to social inequities and personal issues. They create complex tales that at times make us laugh at ourselves.
"These artists use comic language and humor to interest people in serious and controversial issues," said Vicky A. Clark, independent curator and adjunct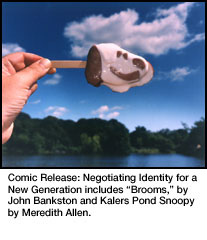 professor in the School of Art who helped to organize the exhibit. "Humor is not always about something funny; it is a way of deflecting feelings of anger, isolation and resentment."
The exhibition is co-curated with Barbara Bloemink, curatorial director at the Cooper-Hewitt National Design Museum, Rick Gribenas, artist and exhibitions coordinator at the Regina Gouger Miller Gallery, and Ana Merino, assistant professor at Appalachian State University.
A 180-page, color catalogue is being published by DAP Inc. in the spring. It will feature work by the artists and essays by Clark, Bloemink and Merino, an original "zine" by Gribenas, and an original cartoon by Post-Gazette cartoonist and Carnegie Mellon alumnus Rob Rogers.
After March 21 the exhibition will travel to the Center for Contemporary Art in New Orleans, the University of North Texas in Denton, Texas, and Western Washington University in Bellingham, Wash.
The exhibition is made possible by the Elizabeth Firestone Graham Foundation, The Heinz Endowment, Regina Miller and Marlin Miller, National Endowment for the Arts, Pennsylvania Council on the Arts, Juliet Lea Hillman Simonds Foundation, Inc., The Andy Warhol Foundation for the Visual Arts through the Pittsburgh Center for the Arts, and Pamela Auchincloss.
Gallery hours are Tuesday - Sunday, 11:30 a.m. - 5 p.m. For more information on the exhibit, contact Rick Gribenas at 412-268-4982 or richard5@andrew.cmu.edu.
Top
Eric Sloss