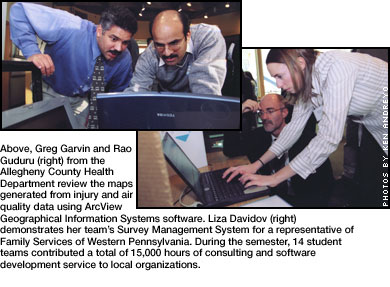 Information Systems Course a Mutually Beneficial Experience for Students and Clients
Carnegie Mellon's focus on collaborative problem-solving and its commitment to southwestern Pennsylvania serve as an appropriate backdrop each year for seniors in Information Systems Applications, the capstone course in the College of Humanities and Social Sciences' Information Systems program.
Students in the course are grouped into project teams that work with local community-based organizations to develop practical information systems solutions to meet real management needs. The program has been in place for more than 15 years, and students as well as area nonprofit organizations continue to benefit from its existence. The course is taught by Randy Weinberg, senior lecturer and director of the Information Systems program; Larry Heimann, senior lecturer; and Kevin Stolarick, lecturer.
Last semester, 14 local community organizations received approximately 15,000 hours of consulting and software development service from the Carnegie Mellon teams, said Weinberg. The market value of these services would be nearly $750,000.
"Our main focus is the community because the needs and opportunities for service are great," Weinberg said. "The course clients have access to talent that they otherwise couldn't afford. And for us, it's a way to give back something of value to the southwestern Pennsylvania community, which has been so supportive of our program."
Weinberg said that the three main factors in creating successful information system solutions are people, process and technology. While all three are emphasized in the information systems curriculum, this project gives students the opportunity to combine them in a real situation with a real client. During their junior year, students must complete a software development project—they work in teams to design and implement an appropriate information solution to a problem of their own choosing. But they don't interact with an outside organization. Information Systems Applications is where it all comes together.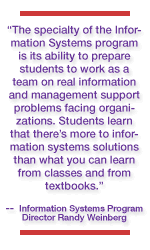 "The specialty of the Information Systems program is its ability to prepare students to work as a team on real information and management support problems facing organizations," Weinberg said. "In this project, students face the same challenges as real consultants. Students learn that there's more to information systems solutions than what you can learn from classes and from textbooks."
One of the "clients" this past fall was the Negro Education Emergency Drive (NEED), a nonprofit group that provides scholarships and grants to high school students from primarily low-income families in the Pittsburgh area. NEED was using a labor-intensive, paper- and mail-based application and record-keeping system. It was time-consuming and used human resources that could have been devoted to raising funds for needy high school students.
Carnegie Mellon students overhauled NEED's Web site and created an easy to complete and efficient online application for students. Once the student completes the application, the information is sent via email to NEED. The student's information is also stored in a database that can be accessed quickly and easily.
"This was a great experience," said project team member Ronald Mack. "They helped us greatly and we were able to help them."
Student Aashish Patel said working closely with NEED taught him how to work with a client and assess their needs and wants. He said it also emphasized the importance of user testing and being able to say "no" to a client if their ideas aren't feasible.
As a nonprofit organization that relies on outside funding, Family Services of Western Pennsylvania must develop objective and sound evidence of its positive impact on the community in order to stay in service. The group relies on paper customer satisfaction forms and clinical surveys to evaluate its success, which makes data analysis difficult. To make its system more effective, the team of students developed an electronic Survey Management System that organized data more efficiently and provided easier access to information. It also gave the organization a tool for analyzing consumer satisfaction and tracking individual consumer progress.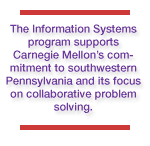 While most of the student teams designed Web sites or databases to solve their client's problems, the group of students working with the Allegheny County Health Department faced a different challenge. For years, health department officials have been collecting data on injuries, air quality and many other factors that directly relate to the health of the community, but they needed a way to package their raw data and present it to decision makers and the public.
The students approached the problem by using ArcView Geographical Information Systems (GIS) software to create maps of the raw data. They also included U.S. census data and the county's physical features on the maps. These maps and the underlying databases could then be analyzed to expose trends or linked to the latest environmental indicators to further an understanding of air quality and injury status within the county.
"They did an excellent job," said Chuck Vukotich, assistant deputy director of the health department. "This is the second year we've worked with the class and we've already asked to be involved next year."
Other community organizations involved in last fall's class included The Doorway, Beginning with Books, the American Psychological Association, the Pennsylvania Emergency Management Agency, the National Ferry Fleet Engine Analysis, Consumer Action Response Team, Animal Friends, Carnegie Museums General Services, Pittsburgh Technology Council and Carnegie Mellon Computer Cluster Services.
Top
Susan Cribbs