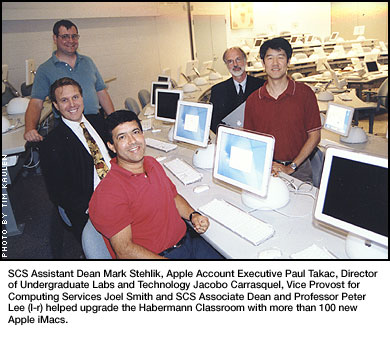 Carnegie Mellon Tears Down "Wall of Computing;" Installs State-of-the-Art Apple iMacs in Busiest Computer Cluster
Carnegie Mellon's School of Computer Science (SCS) has installed more than 100 powerful new Apple iMac computers in its A. Nico Habermann Computing Classroom, a facility that serves between 1,100 and 1,200 students each academic year.
With almost 75 percent of all students attending the university enrolled in at least one class in the Habermann facility in Wean Hall, the impact of the new machines will reach far beyond the doors of SCS.
"The new iMac flat-screen monitors perched on goosenecks can be turned aside at the request of the teacher," said Mark Stehlik, SCS assistant dean for undergraduate education. "The wall of computing that separated teachers from their students is gone now and this will change the nature of interaction in this lab space."
Stehlik also praised the "minimal ambient noise" of the new computers. "Previously," he said, "you could hear the room six feet away from the door. For a compact lab space these machines are absolutely wonderful. You can't help but be impressed."
Peter Lee, professor of computer science and associate dean for undergraduate education, noted that the new iMacs are as exciting for researchers as well as for the teaching faculty.
"For faculty, we have FreeBSD-based Unix machines that run Microsoft Office," Lee said. "Faculty doing research in the areas of high-speed networking, music and theoretical computer science are excited about the potential of the new Apple OS, Mac OS X.2."
Lee said Carnegie Mellon has had an historical relationship with Apple that existed for 20 years. He noted that the Pascal Genie was one of the first integrated development environments, and unique for its time in being deployed for introductory programming.
"The new Apple iMacs reinforce our efforts to put the best technology into our undergraduate teaching environment," Lee said. "It's fitting that these machines are in the Habermann Classroom."
The Habermann cluster is named for the late Nico Habermann who established the School of Computer Science as a college at Carnegie Mellon in 1989 and influenced the careers of many of the students who passed through its doors.
"Nico started the tradition of putting computers in front of every student in the classroom," Lee said. "We want to retain the tradition of cutting-edge software and hardware technology in our learning and research environments."
Top
Anne Watzman