Poetry Chapbook Project a Labor of Love
Students in Jim Daniels' Advanced Poetry Workshop leave their laptops at the classroom door. Instead of using desktop publishing software to create their class project, these students experience the painstaking printing technology used by Carnegie Tech students nearly 100 years ago.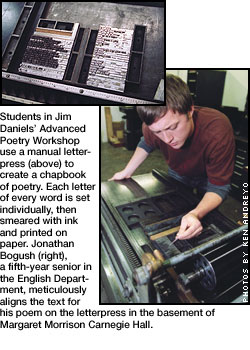 Daniels, professor of English and head of the Creative Writing Department, believes the old fashioned way encourages thoughtfulness and intimacy with one's work and fosters the class's feeling of community. His students experience the meticulous art of bookmaking by using a manual letterpress to create a class chapbook of poetry.
In the early days, student printers assembled pages of text by tediously selecting every individual letter of every word and determining the spaces between letters, words, sentences and lines. The typesetter tied together heavy letters and aligned the bundles in a letterpress. Next, the typesetter smeared the letters (which were upside down and backward to him) with a lead-based ink. Then, the actual printing onto paper could begin. However, one simple error in the typesetting could require realignment of the entire document and reprinting.
Daniels explains that as most people write on computers, the editing and revising process can be incomplete because the piece looks finished immediately. The poem never becomes messy with typeovers or cross-outs. The letterpress makes the revising process messy physical labor.
"The letterpress project forces every letter to earn its place in the poem," Daniels said. "As you align the poem letter by letter, you have a lot of time to think about it."
Junior creative writing major Stephanie Bodnar agrees.
"After working so intimately with one particular poem, I've realized that I'm constantly editing," she said. "I keep having an irrepressible desire to change certain words or lines, and the process has been a reminder that, for me, poetry is a work in progress. It perfects itself with time."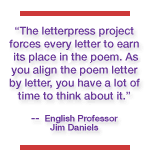 Bodnar and her classmates spent hours in the letterpress room in the basement of Margaret Morrison Carnegie Hall perfecting and reshaping their poems and designs. Bodnar said that her poem is a little less than one page in length with stanzas that are about half a page in width, and she spent six hours the first day of typesetting without even finishing it.
Senior creative writing major Mike Jehn admitted that his first typesetting session was a bit frustrating, "but ultimately it was a pretty therapeutic and stress-relieving activity. I was chugging along at a slow but comfortable pace."
Typesetting imposes a critical selection process for the students. They must decide which poem is their personal best and why. Because every student receives two copies of the class chapbook, Daniels feels that the students experience creative peer pressure to thoughtfully select one's best poem and create its best design.
Daniels and his students decide every detail of the class chapbook, from typeface and paper to the string used to sew the bindings. Every chapbook is individually crafted.
Jehn feels the class project is very rewarding.
"I have a presentable, high-quality product to show for my work," he said. "The book is a keepsake, something to remember the experience and my classmates by."
Top
Kathleen Anne Fischer