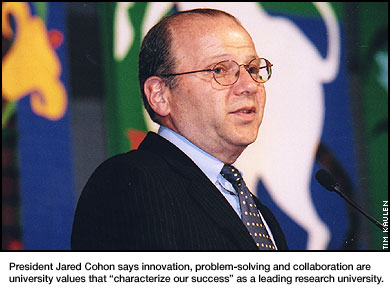 Trustees Reappoint President Jared Cohon to Second Term
Carnegie Mellon's Board of Trustees approved the reappointment of President Jared L. Cohon for a second five-year term at its meeting on May 20.

"It's clear that Jared Cohon's strategic and collaborative leadership brings Carnegie Mellon's interdisciplinary and highly entrepreneurial community together to focus on common goals," said Chairman of the Board of Trustees Erroll B. Davis Jr. "His vision and his leadership style are powerful assets to help Carnegie Mellon achieve even greater successes in the years ahead."

Cohon became president of Carnegie Mellon in 1997.

"I am delighted to have the opportunity to lead Carnegie Mellon as we pursue our strategic plan and seek new ways to apply our distinctive approach to education, research and innovation transfer to benefit society and business," Cohon said.

"Carnegie Mellon fosters collaborative problem-solving in a holistic environment that blends technology and the sciences with the arts, humanities, business and policy. Innovation, problem-solving, collaboration—all expressed within a diverse and energetic community—these are the values that shaped this institution 100 years ago and continue to characterize our success as one of the nation's leading research universities. Now more than ever, these strengths match up with important, emerging needs in our complex world."

Cohon's reappointment follows a review of his first five years in office by a Presidential Assessment Committee of trustees and faculty. The committee interviewed more than 70 students, faculty, researchers, staff and administrators as well as community, government and business leaders. Carnegie Mellon's by-laws to the Faculty Senate constitution calls for an ad hoc committee to periodically assist the Board of Trustees in evaluating the president.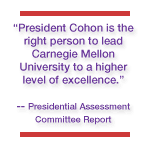 The committee praised Cohon for creating and nurturing a healthy, collegial academic environment, his ability to encourage innovation, creativity and teamwork, his temperament and drive, his management and leadership skills, and for providing an effective external voice for the university.
"President Cohon is the right person to lead Carnegie Mellon University to a higher level of excellence," the committee's report stated.
Cohon is a nationally recognized authority on environmental and water resource systems analysis, a discipline that combines engineering, economics and applied mathematics. He is chairman of the federal Nuclear Waste Technical Review Board. He is a member of the executive committee of the Council on Competitiveness, which focuses on U.S. economic competitiveness and leadership.
Cohon recently was named one of Pittsburgh's "Top 50" business leaders by the Pittsburgh Post-Gazette. Cohon and University of Pittsburgh Chancellor Mark Nordenberg were named "Pittsburghers of the Year" in 2001 by Pittsburgh Magazine for their initiatives to bolster the economic development of the region.
Cohon and Nordenberg are co-chairs of the Pittsburgh Life Sciences Greenhouse, a consortium aimed at building the region's biotechnology industry and adding 5,000 new jobs, and the Pittsburgh Digital Greenhouse, which has a similar mission for the information technology sector.
Cohon earned his bachelor of science degree in civil engineering from the University of Pennsylvania and his Ph.D. from the Massachusetts Institute of Technology.
Excerpts from the Presidential Assessment Committee's report can be found on the Faculty Senate Web site at www.andrew.cmu.edu/org/fac-senate/PACSlide.pdf
Teresa Thomas and Bruce Gerson
(06/21/02)