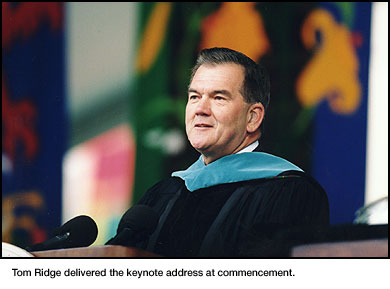 Homeland Security Chief Tom Ridge Challenges Grads to "Invent a New and Brighter Future"
Director of Homeland Security and former Governor of Pennsylvania Tom Ridge received an honorary doctorate in public policy, and gave the keynote address at Carnegie Mellon's 105th commencement on May 19. The following are excerpts of his remarks.

... It is a special honor indeed to return to my home state and city of birth, and to one of the finest institutions of higher learning in the world—Carnegie Mellon University.

I want to thank the students who took the time to send me their email. Hopefully, I have captured some of your thoughts, some of your concerns and some of your aspirations in my remarks.

Leaders and dreamers around the world have long recognized this university as a place of great discovery—and the place to "invent the future."

... The very name Carnegie Mellon opens doors of opportunity. And again, another graduating class has earned the key.

In my current position, I am reminded daily of how profoundly our world has changed—and how much you are needed to meet its challenges.

Whether you embark on a career in fine arts—or in the fine art of data storage systems—the world eagerly awaits you.

It needs your talent and creativeness—your confidence and your optimism—and that legendary Carnegie Mellon motivation and work ethic. Andrew Carnegie gave this university its motto: "My heart is in the work." That's appropriate—because there is much work to be done—to secure our homeland, to secure our world, and to secure our futures.

Along with your degree, you also inherit an important legacy as a Carnegie Mellon graduate. It is a legacy of not accepting the world as it is, but of putting your dreams and ambitions to work to change it for the better.

It's the kind of attitude that led Andrew Carnegie to look at a wooden bridge and say, 'That won't do. That is the past. Iron and steel bridges are the future.'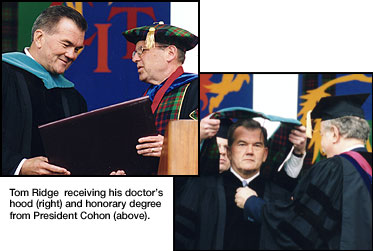 It is a determination to control your own fate and chart your own course—and by doing so, shape the world around you.
Our world changed forever on September 11th. Students had barely unpacked for the fall semester when the terrorists struck.
The terrorists didn't just strike at America —they struck at freedom-loving people everywhere. And they struck at our confidence in the future.
... In the year that many of you were born, another set of graduates sat in these seats and celebrated their achievements in a world that had also been shaken to its very foundation.
Entire industries, regional economies and a way of life were transformed seemingly overnight. It was a time of long lines, both at the gas pumps and the unemployment offices. It was a time when we were told we must lower our expectations....
The Carnegie Mellon graduates and faculty of that era did not accept the world as it was. Instead, they put their dreams and ambitions to work to change the world and invent a new and brighter future.
Far beneath the headlines, in the basement of Wean Hall, the late Professor Allen Newell and his team of computer engineering students, with help from the Department of Defense, were creating a network to enable computers to talk to one another.
It was the height of the Cold War; the Soviet Union had invaded Afghanistan. And the researchers sought a communications link that could survive a nuclear attack.
But they were on the cusp of more far-reaching breakthroughs—breakthroughs that would improve our everyday lives.
Fuzzy Mauldin and his team joined the research. And their efforts gave birth to a company called Lycos—and the first major search engine that would unleash the Internet era.
From the seeds of those endeavors grew the greatest revolution in productivity in history—a revolution that burns as brightly today as the FreeMarkets sign lighting up the Pittsburgh skyline.
Twenty-one years later, Pennsylvania has wired day care centers and digital high schools. It will conduct vision and hearing tests to spot learning disabilities online. Doctors can use the Internet to perform long-distance surgery through robotics.
... By thinking nationally, Carnegie Mellon also changed lives locally. Students and faculty have created over one hundred new companies, employing thousands and thousands of Pennsylvanians. It has helped this region, hit hard by the decline of the steel industry, not just to recover but to thrive—entering the 21st century with new energy, new vision and new opportunities.
... Each of these instances are stories of individuals who confronted a world whose options seemed constrained by larger events—and responded in a meaningful and significant way.
Through their endeavors, they would invent a new future. This is the legacy you inherit with the degrees you accept today. It is now your turn to add your chapters to this rich tradition....
A generation ago, Carnegie Mellon graduates helped unleash a period of unprecedented innovation in spite of economic uncertainty. Now we face a new challenge: homeland security. An enduring vulnerability to the possibility of terrorist attack. Another revolution in research and technology in its service can re-ignite that engine of innovation.
Your education has prepared you for this moment. You know that creativity, whether it's artistic or technological, is the vanguard of liberty. You know that the ability to dream —and to realize the fruit of your labors in pursuit of those dreams—are among this country's most precious gifts....
... Twenty-one years from now, how will the world have been changed by what we do today? What far-reaching and unexpected breakthroughs will result? One thing we do know. Technology is not just about gadgets and devices. Technology is about empowering individuals, businesses, communities and countries to shape their destinies. Technology is about building a better world. 9-11 will always be a part of your world—and of your memories as students. As many of you wrote to me, your most poignant memory will be the candlelight vigil by the Fence.
The terrorist attacks left us shocked and angry and sad. But, I dare say, also inspired. Just 80 miles from here, a planeload of passengers decided to steer their own aircraft into the ground rather than accept the fate the terrorists had chosen for them.
Like those brave patriots, you too have a choice. You can accept the fate laid out for you—or you can chart your own course.
I believe—I really believe—I know which path you'll choose. In closing ... let me offer a word on the lesson that I have come to recognize as the most important in life.... I believe the greatest contribution we can make to the world is the one we are willing to make to those people closest to us.
The title that means the most to me is not congressman or governor or director of homeland security—but father, husband and friend. You will live in a world where the lines between work and home are constantly blurred and often erased. Take time to enjoy life, to love those closest to you, and to be there for them....
Keep faith with the love of family and friends. Stay focused on the point of the compass where your dreams will lead you. For I have no doubt that one day a speaker shall stand here and inspire new graduates with the story of the Class of 2002 which, when confronted with a very, very uncertain world, invented—for themselves and for their country—a much brighter future. Thank you for the opportunity to enjoy this very important day with you. God bless and Godspeed.

(06/21/02)