Berry, Cornuéjols and Jones Earn Top Faculty Distinction
Guy Berry, Gérard Cornuéjols and Elizabeth Jones have been named university professors, the highest academic distinction faculty members can achieve at Carnegie Mellon.

The title is awarded on the basis of national and/or international recognition for research, artistic and literary accomplishments, and other scholarly activities. The new university professors were recognized at this year's commencement.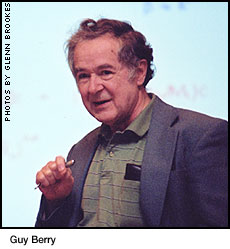 Guy Berry
Berry, professor of chemistry and polymer science, is widely recognized as a leader in rheology and light scattering of polymers. Rheology, a branch of mechanics, is the study of those properties of materials that determine their response to mechanical force.
Berry has a long history of outstanding contributions to the literature in experimental fluid physics using mechanical methods and light scattering, as well as in theoretical concepts of the rheology and thermodynamics of complex fluids. His work has advanced the study of important issues in the conformation and dynamics of macromolecules.
His contributions have impacted both academia and industry in many fields, including polymer science, fluid physics, chemistry and chemical engineering. He received the prestigious Bingham Medal in 1990 from the Society of Rheology and the American Chemical Society's Pittsburgh Award in 1994. A symposium entitled "From Structured Fluids to Complex Nanostructures" was held in his honor this past May.
"Guy Berry is one of the true giants of our outstanding Chemistry Department," said Provost Mark Kamlet. "He has a lifetime record of important contributions to our understanding of flexible and semiflexible polymers, with important research publications in six separate decades. It is our honor that Guy Berry is on our campus."
Berry began his career in polymer science as an undergraduate laboratory assistant at the University of Michigan. After earning his doctor's degree in 1960 he accepted an appointment as a Fellow at Mellon Institute to work on the light scattering studies of dilute solutions of polymers. He became a senior Fellow of the Mellon Institute in 1965 and joined the faculty of Carnegie Mellon when Mellon Institute merged with the Carnegie Institute of Technology in 1967. He was promoted to professor in 1973.
During his tenure at the university Berry was head of the Chemistry Department and acting dean of the Mellon College of Science (MCS). He developed and directed the polymer science curriculum, which has been used by students from various departments and colleges over the past 25 years.
"Guy has been a cornerstone of the Chemistry Department," said Richard McCullough, dean of the Mellon College of Science. "His contributions in his field have been outstanding and his commitment to students and fellow scientists has been very impressive."
Berry has authored about 200 publications and is co-editor of Progress in Polymer Science and the Journal of Polymer Science: Polymer Physics. He is an editorial board member of several other journals as well. Berry has held visiting professorships at the University of Kyoto, University of Tokyo and Colorado State University.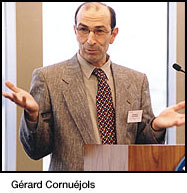 Gérard Cornuéjols
Cornuéjols, a professor of operations research, is the Ford Distinguished Research Chair at the Graduate School of Industrial Administration, where he has been on the faculty since 1978.
His teaching and research interests include operations research, integer programming, logistics and optimization methods in finance with contributions in location and distribution, integer programming algorithms, graph theory, packing and covering problems. He has published 60 articles in specialized academic journals, two books and 15 articles in books, book chapters and refereed proceedings.
In 1977, Cornuéjols received the Lanchester Prize for the best published paper in the English language in the field of operations research from the Operations Research Society of America and The Institute of Management Science. He became the von Humbolt Fellow in 1982 and was awarded the Fulkerson Prize in 2000 for his outstanding paper in discrete mathematics from the Mathematical Programming Society and the American Mathematical Society.
Cornuéjols is the editor-in-chief of Mathematics of Operations Research. He has received numerous research grants from the Office of Naval Research and the National Science Foundation over the years and has supervised 13 doctoral dissertations.
"One of the great strengths of GSIA is the analytic sophistication, yet practical relevance, of its approach. There is no better example of this than the work of Gérard Cornuéjols," said Kamlet. "He has won the prestigious Lanchester Prize and the equally prestigious Fulkerson Prize, and he is editor in chief of the major journal in his field (Mathematics of Operation Research). Gérard Cornuéjols is extremely deserving of this university professorship."
"Gérard brings tremendous energy and focus to everything he does," said Business School Dean Douglas Dunn. "Students find his classes stimulating and challenging. His research agenda and leadership are broad and inclusive across all of Carnegie Mellon University. Gérard is a wonderful citizen, colleague and friend."
Cornuéjols earned his Ph.D. in operations research at Cornell University, has a bachelor's degree from Ecole Nationale des Ponts et Chausses in Paris and is a certified civil engineer.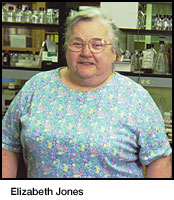 Elizabeth Jones
Elizabeth Jones, the Dr. Frederick A. Schwertz Distinguished Professor of Life Sciences and head of the Department of Biological Sciences, is internationally known in the field of genetics.
Jones's research takes genetic approaches to learn how proteins in yeast cells reach their proper destinations. Because proteins and functions have been almost obsessively conserved during evolution in all advanced cells, what she learns about cellular assembly in yeast is almost always directly applicable to human cells.
She is the author of two textbooks about genetics and has edited a two-volume and a three-volume monograph on the molecular and cellular biology of yeast. Jones also has published more than 70 papers.
In the course of her career, she has earned many honors including a National Institutes of Health (NIH) Research Career Development Award and a John Simon Guggenheim Foundation Fellowship. The NIH has continuously funded her research for 31 years. She has received the university-wide Robert Doherty Prize for Excellence in Education and the Julius Ashkin Teaching Award from MCS.
"Professor Beth Jones is truly one of the 'best of the best' here at Carnegie Mellon," Kamlet said. "She is a superb researcher who has made pathbreaking contributions in molecular genetics.
"She is editor of the top journal in her field, the journal Genetics. She is an outstanding administrator in her role as head of the Department of Biological Sciences. And, she is a wonderful teacher, with great dedication to her students. In short, she is the complete package."
Jones is a member and Fellow of the American Association for the Advancement of Science, a member and former president of the Genetics Society of America, and a member of the American Societies for Cell Biology, Human Genetics and Microbiology. She is also a member of the Pittsburgh Cancer Institute and the Center for Light Microscope Imaging and Biotechnology. She was recently elected as a Fellow to the American Academy of Microbiology.
"It is wonderful to see Beth Jones, a most prominent educator and researcher in MCS, being honored with a university professorship," McCullough said. "Beth's contributions in the field of genetics have been recognized worldwide. She is most deserving of this honor."
Teresa Thomas, Mike Laffin and Bruce Gerson
(06/21/02)