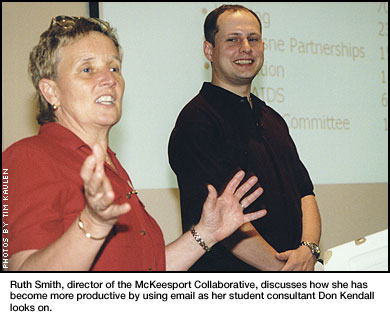 Students Help Nonprofits Enhance Productivity Through Technology
Eighteen students played the role of technology consultant this past semester helping area nonprofit organizations take steps toward crossing the digital divide.

The students, enrolled in the class "Technology Consulting in the Community," helped nonprofit administrators create and maintain databases, establish and operate email distribution lists and computer networks, connect to the Internet, produce maintainable Web sites and manage their computer files with greater efficiency.

Students first worked with their "community partner" to analyze their current situation, identify needs and make recommendations for improvement based on resources—time, money and personnel. The ultimate goal for the students was to teach their partners how to use technology to enhance the productivity of the organization, and to leave behind a manageable and sustainable system that's easy and efficient to use.

Director of Community Technology and Adjunct Instructor Kathy Schroerlucke said the class gives students an experience that sets them apart from their colleagues and gives them an edge in the marketplace after graduation.

"Students get practice in structuring unstructured problems," Schroerlucke said. "They develop an ability to understand the problem in its own context, analyze the problem and focus in on a scope of work that will benefit the client. It requires them to work on a higher intellectual and analytical level than they're used to.

"We've had two students say that employers are more interested in their consulting experience than anything else. And one said she got a job because of her consulting experience."

Don Kendall, who earned his bachelor's degree in business administration with a minor in computer science this past May, worked with Ruth Smith, program director for the McKeesport Collaborative, an agency that provides health care and social services for women and their families affected by substance abuse. Smith works with two case managers, more than 60 volunteers and many collaborative agencies to ensure that participants get the services they need. When Kendall first met Smith he found that she used a computer merely to type monthly meeting minutes and an annual report. Large mailings were done manually and she used unreliable floppy disks to store her documents. She also lacked a single resource, or guide, that provided information about all the community agencies that work with the collaborative.

"Our (use of) technology was probably in the minus column," Smith said during the students' final mid-May presentations in Rangos Hall. "I didn't know much about computers. Now, people tell me I'm an email nut."

Smith said she now communicates with collaborative agencies by email and saves between four to five hours every time she processes a mailing.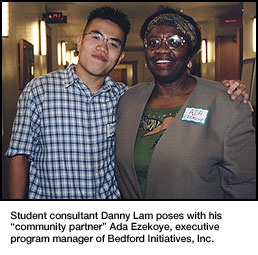 Kendall also helped Smith to link her computer to the Internet and to organize her files in her computer hard drive, instead of using floppy disks. He also helped in the creation of a Web site that includes a directory of services and links to the many agencies that work with the McKeesport Collaborative.
"Don understands my level and I understand his language," Smith said. "It's been a wonderful experience."
Kendall said he liked the class because it gave him "the opportunity to work hands on in an actual problem area" and to apply knowledge he had learned from previous courses. He said the course gave him the skills to "effectively evaluate a situation and provide solid solutions" while enhancing his technical abilities.
Jared Silver, a junior computer science major, worked with Gale McGloin, executive director of the Pittsburgh Mediation Center in East Liberty. Silver helped McGloin and her staff reconfigure their one large database into several tables to meet specific needs. He also helped the staff learn to use email and several computer applications, such as Excel and madTrack, a specialized software package for case management and mediation.
Silver helped to re-design the center's Web page (http://trfn.clpgh.org/pmc) by adding interactive buttons and colors and gave McGloin the necessary skills she needed to update the site.
"Jared was extremely helpful," said McGloin, who is considering hiring Silver as a work-study next fall to continue the work they've started. "He was very patient and endeared himself to our staff. Everyone liked him very much. He did a great job."
Silver said the class was one of the few he's found that is "applicable to real life."
"We were taught how to observe, listen and interpret real life settings and then how to use our technical knowledge to improve our partner's situation. We also had to develop the skills to explain technical matter to non-technical audiences," he said.
Silver, who said he would recommend the class to other students, said he developed a close relationship with McGloin and the staff over the course of the semester. Their achievements made him proud and gave him a sense of fulfillment.
"I had originally taken the class because I had no prior experience in technical work and I was looking for something that would prepare me for the business world. I got that and so much more. It's hard to believe that I had such an impact on a real organization in the community.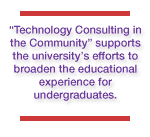 "This class allows students to escape the ' nerd' persona and develop a more warm, human side," he said.
Andrew Dubois, a junior computer science major, helped Anne Molloy to create an online catalogue for the new library in progress at the Rodef Shalom Synagogue in Oakland. Using a software package called libraryCom, Dubois helped Molloy build a database of all library holdings. He also reconfigured her computer, which enabled them to develop a backup system on CD.
"It was great to work with Andrew," Molloy said. "He's very bright and personable and does very well communicating with those who don't have his computing expertise."
Molloy said the class is a "smart program" for both student and community partner.
"The biggest benefit of the class is that it forces you to carve out three hours of your week to move ahead on a project. Otherwise I would have found 100 other things to do with my time and these things wouldn't have gotten done," Molloy said.
In addition to the McKeesport Collaborative, Pittsburgh Mediation Center and Rodef Shalom Synagogue, community partners this past semester included Citizens to Abolish Domestic Apartheid, Inc., Braddock Carnegie Library & Community Center, 4 Kids Early Learning Center, Mon Valley Initiative, Joy-Full-Gospel Fellowship, Bedford Initiatives, Inc., Northside Coalition for Fair Housing, First United Methodist Church of Pittsburgh, BTC Center, Inc., River Valley School, Christian Life Skills and Mon Valley Providers Council-Technology Management.
For more information about the course and to read the student consultants' reports, visit the Web at http://www.cmu.edu/tcinc
Bruce Gerson
(06/21/02)