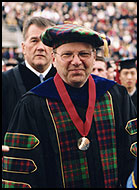 Trustees Reappoint President Jared Cohon to Second Term
President Jared Cohon marches into Gesling Stadium during commencement last May. His reappointment follows a positive review of his first five years in office by the Presidential Assessment Committee. "President Cohon is the right person to lead Carnegie Mellon to a higher level of excellence," the committee said. More...

Cohon Named to Homeland Security Advisory Council
U.S. President George W. Bush has appointed Carnegie Mellon President Jared Cohon to his 16-member Homeland Security Advisory Council.
The purpose of the council is to provide the president with advice on homeland security matters. Council members are drawn from state and local government, the private sector, educational institutions, and public policy and nonprofit organizations.
Cohon is a national authority on environmental and water resource systems analysis, a discipline that combines engineering, economics and applied mathematics. He is chairman of the federal Nuclear Waste Technical Review Board and a member of the executive committee of the Council on Competitiveness, which focuses on U.S. economic competitiveness and leadership. He became president of Carnegie Mellon in 1997. More...


---
Berry, Cornuéjols and Jones Earn Top Faculty Distinction
Guy Berry, Gérard Cornuéjols and Elizabeth Jones have been named university professors, the highest academic distinction faculty members can achieve at Carnegie Mellon.
The title is awarded on the basis of national and/or international recognition for research, artistic and literary accomplishments, and other scholarly activities. The new university professors were recognized at this year's commencement. More...