H&SS Honors Philosophy's Robert Cavalier for "Striking Generosity" and "Innovation"
Robert J. Cavalier, a senior lecturer in the Department of Philosophy, has been named the winner of the 2001-2002 Elliot Dunlap Smith Award for distinguished teaching and educational service in the College of Humanities and Social Sciences (H&SS).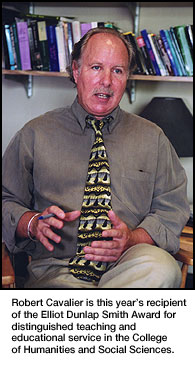 H&SS Dean John Lehoczky cited Cavalier's "striking generosity and cooperativeness" as well as his "energetic innovation" as among the reasons for his receiving the award. "These virtues in addition to his other documented achievements clearly recommend him for recognition for outstanding teaching and educational service in our college," Lehoczky said.
Cavalier, an innovative and accomplished lecturer, has successfully incorporated multimedia technology in his teaching.
He helped to develop the H&SS minor in multimedia production, which he directs, and his interest in Web-based courseware has led him to produce "The Issue of Abortion in America," three interactive multimedia presentations on CD-ROM that help students examine the context of the abortion debate.
The interactive programs are linked to a Web site that provides supplemental information and a forum where students can exchange ideas and opinions about philosophical issues.
Cavalier extends his knowledge of philosophy and ethics to other arenas at Carnegie Mellon. He has been responsible for organizing "Open Mind Monday" lectures for the campus community, as well as the "Ethics for Lunch" speaker series. Both of these programs help to expose people from different academic fields to various philosophical and ethical issues. He recently received a gratitude award from the Academy of Lifelong Learning at Carnegie Mellon for his contribution to their programs.
He has received several honors for his work, including the Innovation Excellence in Teaching, Learning and Technology Award in 1999. This year, he was elected president of The International Association for Computing and Philosophy. He was appointed chair of the American Philosophical Association's Computers and Philosophy Committee in July 2000.
Cavalier was assistant director of the national Inter-University Consortium for Educational Computing from 1987-1991. He has been executive director of the annual Computers and Philosophy Conference since 1988.
Cavalier earned his bachelor's degree in philosophy from New York University, and his master's and doctor's degrees from Duquesne University. He joined Carnegie Mellon in 1987 as a project scientist in the Center for the Design of Educational Computing. In 1995 he became a lecturer in the Philosophy Department.
Laine Towey
(06/21/02)