Saturday, May 18

8:30 a.m. - 4 p.m.; 6 - 8:30 p.m.
Commencement Information Area
Kirr Commons, University Center (UC)
8:30 - 9:45 a.m.
Phi Beta Kappa Honor Society Initiation Ceremony
McConomy Auditorium, UC
9 a.m. - 5 p.m.; 6 - 8 p.m.
Cap-and-Gown Distribution
McKenna/Peter/Wright Room, UC
9:30 - 10:30 a.m.
Phi Beta Kappa and Phi Kappa Phi Honor Societies Joint Reception
Rangos Hall, UC
10 a.m.
ROTC Commissioning Ceremony
Naval Science
Banquet Hall, Soldiers & Sailors
Memorial Hall
10:15 - 11:30 a.m.
Phi Kappa Phi Honor Society Initiation Ceremony
McConomy Auditorium, UC
11:30 a.m. - 12:30 p.m.
Senior Honors Convocation
Gesling Stadium.

Seniors receiving university and college honors will be recognized and presented with honors medallions and cords. Caps and gowns are not required. Tickets are not required.
Noon - 2 p.m.
Commencement Picnic
Intramural Field Tent

Graduating students, their families, guests and faculty are invited to attend. Tickets are required. Each graduating student is entitled to three free tickets to the picnic. Tickets will be distributed from 8 a.m. - 7 p.m., Monday - Friday, May 1-15 at the UC Information Desk. Students must pick up their tickets in person. Additional tickets are $12 per adult and $6 for children under age 8.
2 p.m.
Aloha Reception
Mellon Institute Conference Room

The Health Professions Program (HPP) will host a reception for pre-health program graduates, their families and friends. For further information contact the HPP office, 412-268-8494.
2 p.m.
Graduate School of Industrial Administration Master's and Doctor's Diploma Ceremony and Reception
Soldiers & Sailors Memorial Hall
2 p.m.
Master of Information Systems Management and Master of Science in Information Technology Diploma Ceremony
Philip Chosky Theater, Purnell Center for the Arts
4 - 6 p.m.
Carnegie Mellon Action Project (CMAP) Pre-Dinner Reception
University Club. For further information contact the CMAP office at 268-2150.
6 p.m.
Information Systems Diploma Ceremony
Philip Chosky Theater, Purnell Center for the Arts
6 - 7:30 p.m.
Graduate Student Assembly Reception
Schatz Dining Room, UC.

The Graduate Student Assembly hosts a reception for doctor's candidates, their friends and family preceding the doctor's hooding ceremony.
6:30 p.m.
Entertainment Technology Diploma Ceremony
Carnegie Museum of Natural History
8 p.m.
Doctor's Hooding Ceremony
Wiegand Gymnasium, UC

Doctor's candidates will be recognized and hooded individually on stage. Caps and gowns are required. A reception for candidates, their family and friends will immediately follow the ceremony in Rangos Hall, UC. NOTE: Doctor's candidates and program participants should gather for robing and procession line-up at 7:15 p.m. in Rangos Hall, UC.


Commencement Day, Sunday, May 19

8 a.m. - 3 p.m.
Commencement Information Area
Kirr Commons, UC
7:45 - 8:30 a.m.
Baccalaureate Celebration
General Motors Dining Room, UC

The Carnegie Mellon Interfaith Council will lead an interfaith baccalaureate ceremony. A light breakfast will be served at 7:45 a.m. Attendance is optional. Caps and gowns are not required. Tickets are not required.
8:30 - 10 a.m.
School of Computer Science Continental Breakfast
Perlis Atrium, Newell-Simon Hall.

A breakfast for School of Computer Science graduates and their families. Reservations are required. Please make reservations by sending email to Catherine Copetas at copetas@cs.cmu.edu.
8 - 10 a.m.
Diploma Ceremonies and Receptions
Various locations
9 - 11 a.m.
Cap-and-Gown Distribution
McKenna/Peter/Wright Room, UC
10 a.m.
Robing for Faculty and All Degree Candidates
Various locations on campus.
10:30 - 11 a.m.
Procession of Graduates into Gesling Stadium
From various locations across campus.
11 a.m. - 12:30 p.m.
Commencement Ceremony
Gesling Stadium
Noon - 5 p.m.
Cap-and-Gown Return
McKenna/Peter/Wright Room, UC (Caps and gowns may also be returned from 9 a.m. - 5 p.m., Monday, May 20 in the McKenna/Peter/Wright Room, UC.)
12:30 - 4 p.m.
Diploma Ceremonies and Receptions
Various locations
First Aid

A first aid station will be available in the Athletic Training Room, first floor, UC. Hours are 11 a.m. - 4 p.m., Saturday, and 10 a.m. - 3 p.m., Sunday. If an emergency occurs call Campus Police at 412-268-2323.
Retail Services

University Shoppe and Entropy

The retail stores, on the first floor of the UC, will be open throughout the weekend. The stores offer books, clothing, film, memorabilia, snacks and sodas.
Hours are: Entropy (convenience store)
9 a.m. - 5 p.m., Saturday, 9 a.m. - 4 p.m., Sunday
University Shoppe (clothing and
memorabilia)
9 a.m. - 6 p.m., Saturday,
9 a.m. - 4 p.m., Sunday
Parking

Free parking is available in all campus parking areas on Saturday and Sunday. Metered parking is available on Frew, Margaret Morrison and Tech streets.
On Sunday, the first floor of the East Campus Garage will be available for guests with special needs. Parking attendants will assist guests from the Forbes Avenue garage entrance. No special arrangements are necessary.
Parking will also be available in the Software Engineering Institute (SEI) garage on the corner of Winthrop and Dithridge streets ($2 a day). Complimentary shuttle service will be available Sunday for transportation to and from the SEI garage and diploma ceremony sites.


ACS "In the Mood;" Honors Walter Blenko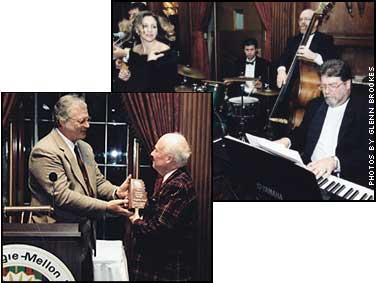 Walter Blenko (E '50) received the Andrew Carnegie Society (ACS) Special Recognition Award at its 30th anniversary celebration at the Duquesne Club downtown. Blenko, a charter member of the annual donor organization, was honored for his exemplary loyalty, generosity and longstanding commitment to ACS and the university. Presenting the award to Blenko is past ACS President Larry Cartwright (above). Performing at the event was "In the Mood" (top-right), a musical ensemble that includes several faculty members of the School of Music, including vocalist Betsy Lawrence, bass player David Pellow and pianist John D'Amico.


Going Up?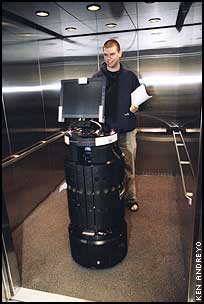 "Vikia," a robot with personality-plus that rode an elevator in Newell-Simon Hall, was one of seven mobile robotic creations on display at the Advanced Mobile Robot Programming class exhibition on May 1. Other projects in Assistant Professor Illah Nourbakhsh's class included "Ernie," a psychotic elevator robot, a dancing robot named "PYOR" and "Robotic Music Interactive," a three-member musical troupe— two robots that interact with onlookers.



Virtual Worlds Come Alive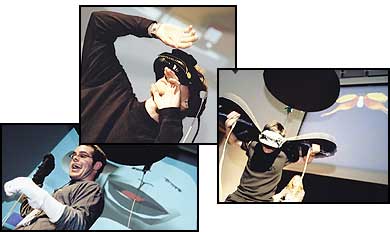 Students in Building Virtual Worlds, a course offered by the Entertainment Technology Center, presented their project work in a packed McConomy Auditorium in late April. The course requires students from a variety of academic disciplines to pool their talents to build desktop and immersive (helmet-baed) interactive virtual worlds that they could not have created alone. This semester's projects included the "Sock Puppet Dating Game" (left), "The Matrix" (center) and "When the Clock Strikes," the world of a butterfly trapped in a clock tower.

(05/10/02)