Grad Students Dominguez and Katz Cited for Teaching, Service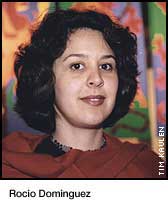 Graduate students Rocio Dominquez and Jacques Katz were honored at the Education Awards ceremony on April 29 for their teaching and service to the university.

Dominguez, a doctoral candidate in the Modern Languages Department, earned the Graduate Student Teaching Award for her contributions to teaching and mentoring undergraduates. She has taught three levels of Spanish since she began the Second Language Acquisition doctoral program in 1998.

Katz, a doctoral student in the Psychology Department, was presented with the Graduate Student Service Award for advancing the interests and improving the quality of life of graduate students. He is a former president and social liaison officer for the Graduate Student Assembly (GSA).


Rocio Dominguez
"Rocio is truly a dedicated and skilled teacher, a patient and positive mentor for our undergraduates, a talented developer of pedagogical materials, and a strong contributor to our professional development program with a local area school district," said G. Richard Tucker, head of Modern Languages, and Susan Polansky, associate head, in their nomination letter.

"We are tempted to use the word 'charismatic' to describe her teaching and her pedagogical interactions with our graduate students," they said.

"Rocio knew how to make our elementary Spanish II class both educational and fun," said one of her students. "Her methods of instruction involve enjoyable activities that keep students participating in the class. We sang songs, had a guest speaker and lively discussions on essays we've written and movies that were homework assignments. I've never seen an entire class so involved and enthusiastic about learning a foreign language!"

"She is a wonderful teacher and a great person to know," exclaimed another student. "She has inspired me to continue with Spanish and Latin American studies."

Dominquez was also lauded for her key contribution to the development of "Spanish Online," a project sponsored by the Andrew W. Mellon Foundation.

Jacques Katz
Katz was praised for many contributions, including negotiating an amendment to the student government constitution that resulted in the GSA receiving $50,000 more per year for activities and programs; pioneering the development of a graduate student project award and GSA Conference funding; and urging the university subsidization of health insurance in more needy departments (which has already gone into effect in some departments).

Katz has also worked to encourage interaction among students across disciplines by allocating GSA funding to support interdepartmental mixers. He collaborated with university administrators to develop more on-campus parking and to consider the unique safety needs of graduate students, who tend to work late on campus.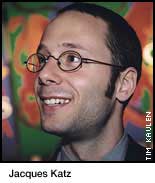 "His work as GSA president was infused with the belief that multiplying the ways in which graduate students connect with each other, with Pittsburgh, and with their programs improves not only their experience here at Carnegie Mellon, but also the climate of the academy in general, and the work that it produces," said Nancy Klancher, director of the Graduate Programs Office. "These qualities and values are effective, constructive, generous and rare."
"I found that Jacques was effective at listening to people and considering the individual needs of diverse graduate students," said Takahiro Noguchi, a master's degree candidate in the School of Art. "He was able to make the needs of one group of students... a concern for all. In addition, while manifesting a relaxed and positive presence, Jacques was personally committed in trying to make Carnegie Mellon a better environment for graduate students.... All in all, a class act indeed."
Edmund Delaney and Lisa Ritter
(05/10/02)