Poet Jim Daniels has Three Books Published in One Month
Jim Daniels, professor and director of Carnegie Mellon's Creative Writing program, has scored a hat trick as three of his poetry books were published in just one month.
The new titles, "Digger's Blues," "Night with Drive-By Shooting Stars" and "Greatest Hits," gives Daniels a total of 16 published books, a one-act play and a screenplay.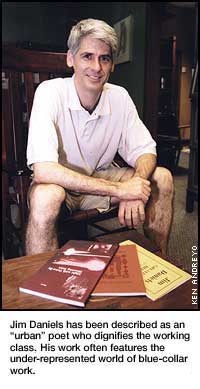 A native of Detroit's working-class neighborhoods, Daniels, like his father and many of his friends, worked at Ford Motor Company and other jobs before earning a bachelor's degree from Alma College in 1978, and a master's degree from Bowling Green University in 1980.
Daniels, 46, has been described as an "urban" poet who dignifies the working class, as his work often features the under-represented world of blue-collar work.
"Digger's Blues," published by Adastra Press and printed in the form of a limited-edition chapbook, is the sequel to his 1989 chapbook "Digger's Territory." The subject of the poems, the Digger, has aged and matured since the character was first introduced to readers in 1989, yet continues to be "the auto-worker's everyman," Daniels said.
"Night With Drive-By Shooting Stars" is Daniels' most recent full-length book since "Blue Jesus" in 2000. Both are published by New Issues. In this poetry text, Daniels explores the implication of the working class in his personal and family life.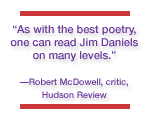 "Greatest Hits" is part of a project by Pudding House Press in which many notable poets are asked to compile their favorite 12 pieces of work. This chapbook contains an introduction to, and history of, Daniels' selections.
"As with the best poetry, one can read Jim Daniels on many levels," wrote critic Robert McDowell of Hudson Review.
Daniels' other full-length books include "No Pets," "Blessing the House," "Punching Out" and "Places/Everyone." His earlier chapbooks are "Niagara Falls," "The Long Ball" and "On The Line."
Daniels' new books are available through the publishers and amazon.com.
Teresa Sokol Thomas
(05/10/02)