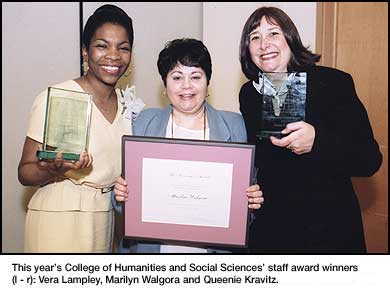 Kravitz, Lampley and Walgora Receive H&SS Staff Awards
Queenie Kravitz, Vera Lampley and Marilyn Walgora were honored for their exceptional work at the sixth annual College of Humanities and Social Sciences (H&SS) staff awards ceremony and luncheon on April 16.
H&SS Dean John Lehoczky presented the Outstanding Service awards to Kravitz, graduate program coordinator in the Psychology Department, and Lampley, graduate program coordinator and assistant to the department head in Modern Languages. Walgora, an administrative assistant in the Social and Decision Sciences Department, received the Newcomer Award. She joined the department this past fall.
Recipients were determined by a committee of H&SS employees, who made their selections based on job performance, dedication, positive attitude and citizenship.
The Outstanding Service Award winners each received $500 and a glass plaque. The Newcomer Award winner received $75 and a certificate.
Queenie Kravitz
A member of the Psychology Department since 1994, Kravitz was praised by her colleagues and graduate students for her seemingly endless patience and objectivity and for her efforts to foster and ease relationships between faculty and students.
Nomination and supporting materials lauded Kravitz for coordinating a Visitors Weekend for prospective graduate students, which received overwhelmingly positive feedback. Kravitz was cited for her attentiveness and professionalism in handling visitors' schedules and travel arrangements and for her overall hospitality to the visitors.
"I, as does everyone else, feel so thankful that Queenie is always there whenever I need her, for whatever I need from her... a letter, a piece of information, a chat or just simply a hello from Queenie with her warm smiles," said graduate student Yue Shang.
"Queenie certainly makes a difference in my graduate life, and it is because she cares."
Vera Lampley
Lampley, a member of the Carnegie Mellon community for more than 10 years, has been a staff member in the Modern Languages Department since 1997.
Department Head Dick Tucker praised Lampley for exceptional job performance and for her welcoming attitude toward her colleagues and daily tasks.
"Vera is a model citizen in the best sense of that word," he said.
Tucker also said that Lampley makes an excellent and lasting impression on all those with whom she comes in contact. He added that she serves the university, the college and the department with "good grace and cheer."
Lampley was commended for her participation in the department's diploma ceremony during commencement, in honor society activities and in the department's Student Advisory Council.
Marilyn Walgora
According to Business Manager Amy Patterson, Walgora has quickly adapted to her new position, and in the process eased the work of those around her. She said Walgora's positive "can-do" attitude extends to faculty, staff and students. For example, she said Walgora organized a birthday party for a first-year graduate student because she was concerned the student would spend her birthday alone.
"Marilyn is the kind of person that does the little extras that add something special to the work environment," Patterson said.
Assistant Professor Jennifer Lerner supported Walgora's nomination. Lerner admitted that although faculty members can be "picky perfectionists," Walgora strives to meet their needs without getting frustrated.
***
Service awards were presented to staff celebrating milestones in years of service. Recipients were Muriel Fleishman, Psychology (35 years); Carole Deaunovich, Social and Decision Sciences, Rose Krakovsky, Statistics, and Amy Hallas Wells, History (20 years); Pamela Snyder, Psychology (10 years); and Daniel Bothell, Psychology, John Clark, Statistics, Ruth Fraser, Psychology, Daniel Josephs, English, Cynthia Lamb, Carnegie Mellon Press, and Genevieve Placone, Psychology (5 years).
Kathleen Fischer
(05/10/02)