Lee, Faulk and Garoff Garner University's Education Awards
Laura Lee, associate professor of architecture, Harry Faulk, associate dean emeritus of the Heinz School, and Steve Garoff, professor of physics, received this year's Education Awards at a special ceremony, April 29 in Rangos Hall.

Lee earned the William H. and Frances S. Ryan Award for Meritorious Teaching. Faulk garnered the Robert Doherty Prize for Excellence in Education, and Garoff was presented with the Undergraduate Academic Advising Award for Outstanding Contributions to Academic Advising and Mentoring.

Laura Lee
Vivian Loftness, head of the School of Architecture, says Lee has "a tireless commitment to every student she teaches. She dedicates weekends, evenings and holidays.... The strength of her teaching is fully reflected in the overwhelming number of students who sign up for her Interdisciplinary Summer Study programs."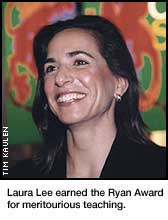 Loftness said 42 students enrolled in Lee's summer study program in Rome in 2000.
A recent College of Fine Arts alumnus praised Lee "for always being available to her students despite an extremely busy schedule that included a full course load, presenting papers, writing articles, planning symposiums, entering design competitions, performing pro bono architectural work and sitting on a number of committees."
Mark Mentzer, associate head of the School of Design, says Lee is "possibly the most dedicated teacher I have experienced in my 27 years of teaching. Her lectures are structured beautifully and she is able to draw the students into a dialogue with ease.... She is in total command of her subject and is able to get her message across with clarity and passion.
"There is a true love and respect that Laura exudes for the traditions of her art and yet she is very open to fresh insights and new knowledge that comes from the interactions with students and colleagues," Mentzer added.
Senior Lecturer Jed Harris of the School of Drama said he "was constantly impressed" by the stream of students stopping by Lee's office to ask questions or seek her help. "I never saw her turn a student away and she always responded to their needs in a genuinely caring manner."
The fact that many students stopped by, Harris added, is a clear indication "that she is a teacher that many architecture students feel is their first stop when they need help."
Lee's students express high admiration for her. "She embodies everything you would want in a professor. She is also very understanding and caring," wrote one student in her faculty-course evaluation.
Another student described Lee as "more like my partner than a professor.... She brings out the best in us. She assigns a lot of work but does far more herself, which makes her compassionate to our struggles. She chooses exciting projects and organizes them well."
"Laura Lee has always been accessible and extremely supportive," another student added. "I never once felt that her teaching was limited to her designated class or office hours. She was a full-time source of insight, support and encouragement."
Harry Faulk
University Professor Alfred Blumstein, dean of the Heinz School from 1986-93, said he has "never seen anyone ... who has been more dedicated to the educational mission and to the students enrolled in the program he supervises" than Harry Faulk.
"He was the creator of the MPM (Master of Public Management) mid-career program that has so benefited the Pittsburgh community, the various nations who have sent their mid-career public service managers here to the program, and the many Carnegie Mellon staff who have finished the program."
"Typically the Doherty Award is made to a Carnegie Mellon faculty member for his classroom contributions to education in the university," says Professor Robert Strauss.... "For better than a half century, Harry has made a remarkable difference in all levels of education in western Pennsylvania: as a science teacher, principal, superintendent, manager at an intermediate unit, associate dean at the Heinz School, and elected school board member.
"One can not travel throughout the region's schools without meeting his former students, colleagues, employees or 'students of students' ('grand-students'), all of whom attest to the interest, attention and help Harry has provided over the decades in making sure that each person he has met fulfilled his or her promise."
Adjunct Assistant Professor Toni Pellegrini believes Faulk's "greatest contribution has been as a mentor and friend to the literally thousands of students (and faculty and staff) whose lives he's touched during 23 years of service to the university.
"When I became an adjunct assistant professor in the Heinz School's Master of Public Management Program, one of my first impressions of my new 'boss' was that he possessed an extraordinary ability to interact with students, staff and faculty in a manner that supported and encouraged their professional growth and personal dignity....
"Everyone called him by his first name, at his request, and did so with a great amount of pride in such a personal relationship.... It is difficult to adequately describe the effect his kindness, concern and example has had on all of us."
Stephen Garoff
Students praised Garoff for his "support and advice on all aspects of life."
"I have gone to him countless times," wrote one student. "His door is always open and if you stop by he is always willing to listen. And when he's done listening he will offer the best advice he can from his amazing reservoir of experience."
Another student notes that Garoff teaches a course that is at the core of the department's undergraduate experimental program.
"The course, Modern Physics Lab, is one in which the department wisely requires all undergraduates to spend a semester absorbing Professor Garoff's advice on how to be a physicist." This advice, the student added, "is plentiful, easy to take and ... incredibly useful."
One student who felt she could never appreciate any class that started at 8:30 a.m., changed her view after her first class in the Modern Physics Lab.
"Somehow, Professor Garoff was able to hold my attention for the whole hour.... The class was just great! I learned so much in that class because of the way it was structured. He really helped everyone to develop their presentation skills. Besides knowing the physics behind the various experiments we worked on, we came out of the class with the communication skills to share it."
Professor Robert Suter describes Garoff "as a role model for students and faculty alike. While people may disagree with his opinions on specific issues, his energy and dedication are unquestioned and appreciated by all. His positive influence on undergraduate students and programs extends beyond the influence of any other individual in our department."
Edmund Delaney
(05/10/02)