Six Alumni Were Victims of Terrorist Attacks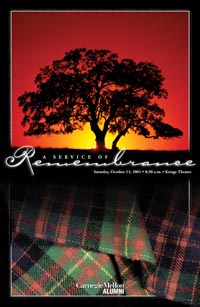 The enormous impact of the Sept. 11 attacks on the World Trade Center and the Pentagon became even more personal to the Carnegie Mellon community with the news that six alumni are confirmed dead or missing.
Confirmed dead are Fred Kuo Jr. (E'69) and Norma J. Lang Steuerle (HS'69). Kuo, who died in the World Trade Center, was a senior consultant with Washington Group International Inc. Steuerle died aboard the plane that crashed into the Pentagon. She was on her way to Thailand for a reunion with her husband, who was working in Singapore, and her daughter, who is a U.S. Navy physician in Okinawa.
Those reported still missing in New York City are Lawrence Kim (HS'97), Alan Linton (IM'97), Jonathan Uman (IM'90) and Matt Yarnell (HS'97).
A "Service of Remembrance" was held Saturday, Oct. 13 during Homecoming Weekend to pay tribute to the victims of the Sept. 11 national tragedy and to specifically honor and remember the above Carnegie Mellon alumni. A tree was planted near the tennis courts in their memory.
"On behalf of the entire Carnegie Mellon family, I offer my deepest sympathies to the families and friends of these individuals-and to anyone else who may have suffered a personal loss in New York, Washington, or Somerset," said President Jared L. Cohon in a letter to the university community, alumni and parents of Carnegie Mellon students. "Thousands of your colleagues-on campus and beyond-are thinking of you and your loved ones with heartfelt condolences.
"This is a hard time for America, but I think we all believe in the basic strength of this country and its ability to rebound from adversity, even attacks as devastating as these.
"American universities, especially international research universities like Carnegie Mellon, have a particularly important role to play," Cohon said. "Working through this tragedy and preventing others like it calls for forging stronger connections and a deeper understanding among the people of the world. . . . It is Carnegie Mellon's responsibility, as a meeting ground for the world's cultures, to instill such a vision in today's students, tomorrow's leaders."
Edmund Delaney
(10/19/01)