Pennsylvania Governor Mark Schweiker has pledged $6.2 million in state funding to support a new $31.4 million corporate research facility in Panther Hollow on the Carnegie Mellon campus.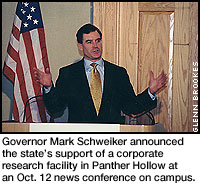 The new 120,000-square-foot building, scheduled to begin this spring with occupancy slated for summer 2003, is a project of the Panther Hollow Development Corporation (PHDC), a nonprofit partnership between Carnegie Mellon and the Carnegie Museums of Pittsburgh.
The partnership, created last February, aims to develop new facilities in the Panther Hollow corridor for technology companies and startups that wish to expand their research, education and tech transfer collaborations near Pittsburgh's major research universities and organizations.
At an Oct. 12 news conference announcing the building plans and the state's financial commitment, President Jared L. Cohon said the PHDC project is about supporting the economic development of the region, creating "high-quality" jobs for university graduates and creating an environment which nurtures the development of new companies. He said the new facility would strengthen Pittsburgh and Pennsylvania as a technology center.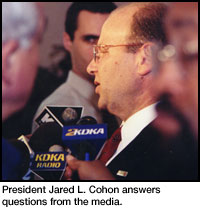 "The Panther Hollow project will promote research collaborations with corporate partners while giving national technology companies the venue to locate closer to Oakland's major research universities," Cohon said.
"We are delighted that Intel Corp., Rand Corporation and the Pittsburgh Digital Greenhouse, along with a number of other major high tech companies and startups, have expressed serious interest in leasing space in this new building."
Governor Schweiker praised the PHDC as an "exemplary partnership" that will help create a "smart economy" and "120,000-square-feet of economic opportunity for people who want to labor in Pennsylvania."
"The new building will facilitate collaboration between tech firms and the university, resulting in new private investment, cutting-edge technology products and good-paying jobs," Governor Schweiker said.
"This educational endeavor will lead to commercial opportunities that will empower Pennsylvanians. There is no more perfect a place to launch this project than from the number one computer engineering school in the country-Carnegie Mellon University. This is a remarkable intellectual powerhouse."
Ellsworth Brown, president of Carnegie Museums of Pittsburgh, said the PHDC hopes to attract new corporate investment, retain the region's talent pool and strengthen Pittsburgh's performance as a center for high technology innovation and job creation.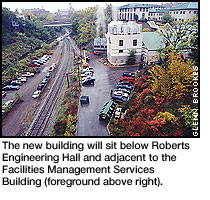 "Oakland is our city's intellectual capital, and its development is an important part of a much larger vision for a stronger, more vibrant region," he said. "This project will make Oakland a better place. If Oakland thrives, we will thrive."
Earlier this year, Intel Corp. established a new laboratory in Pittsburgh to do research in software systems for data storage. The lab, headed by Carnegie Group Professor of Computer Science Mahadev Satyanarayanan, is now located in temporary space on the corner of Forbes Avenue and Craig Street.
Satyanarayanan, said a goal of the new lab in Pittsburgh is to encourage collaboration between Intel researchers and Carnegie Mellon faculty and students. He said the temporary location will only be adequate for a short time and that he looks forward to the possibility of leasing space for the long term in the new facility.
"The new lab's continued growth is dependent on a better facility," Satyanarayanan said.
The four-story, glass and mason structure is being designed by the Pittsburgh-based architectural firm L.D. Astorino and Associates. The building will sit atop a four-story parking garage that can accommodate 270 vehicles. J.J. Gumberg and Co. has been hired to oversee the development and construction.
Larry Gumberg of the J.J. Gumberg Co. said "green design" principles would be used in construction to allow researchers to fully collaborate throughout the building. He said the facility will employ a "raised access floor system" that will allow researchers to "plug and produce" from their computer laptops virtually anywhere in the building.
The system, in which air conditioning units and electronic wiring is placed underneath the floor, was derived in part from research conducted at Carnegie Mellon's Center for Building Performance and Diagnostics and its innovative "intelligent workplace" on the top floor of Margaret Morrison Carnegie Hall.
A large portion of the remaining funds needed for the building ($25.2 million) will be financed through revenues generated by tenant lease arrangements.
-Chriss Swaney and Bruce Gerson
(10/19/01)